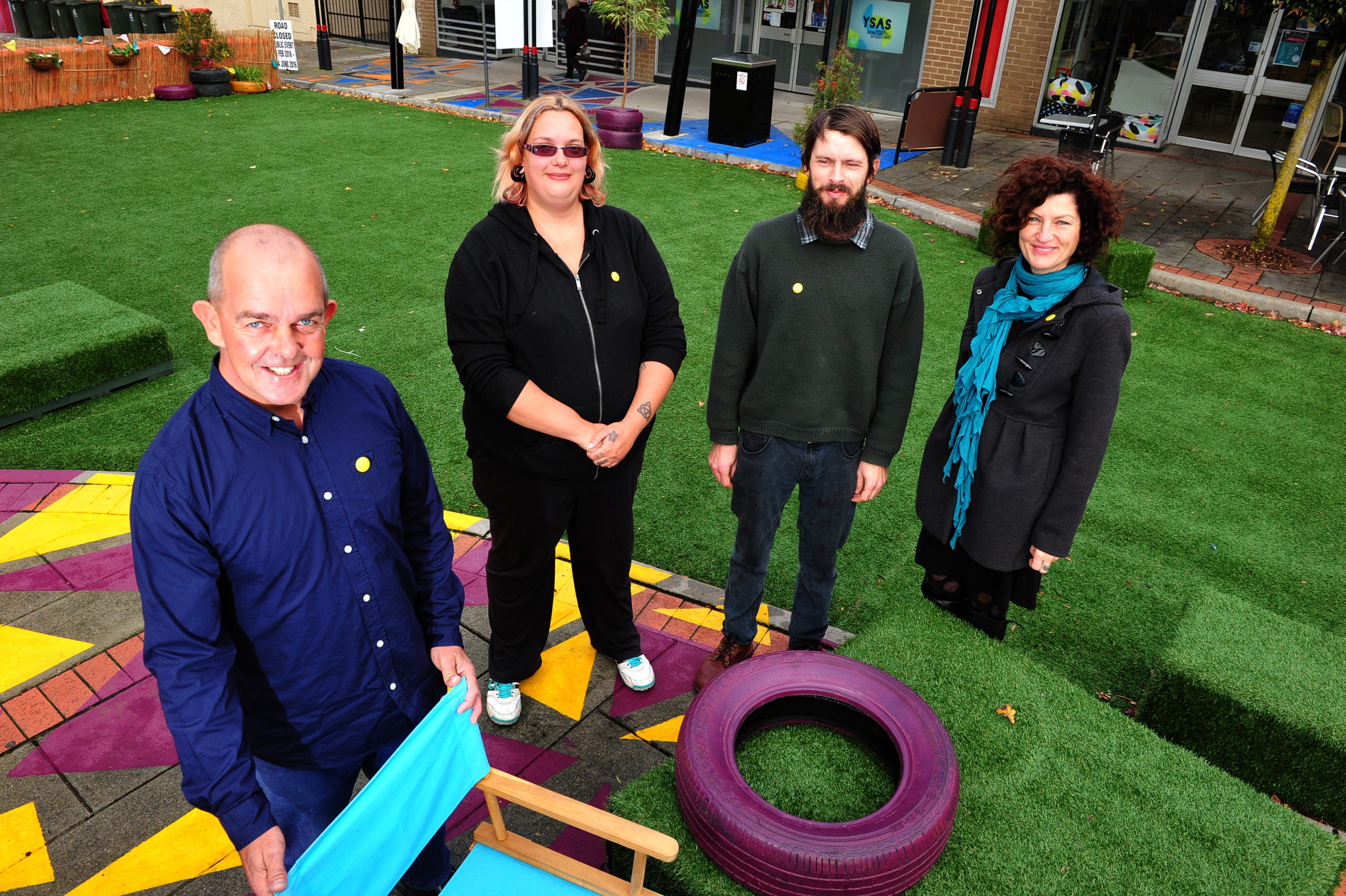 Morwell traders would like the town's pop-up park to stay.
They say the town square-like space has created a "buzz" in its short life, having begun to form the heart of the town's central business district.
Morwell Traders' Ruth Codlin has sent a letter to Latrobe City Council indicating the traders' "unequivocal support for the park" and requesting it remain beyond June.
ReActivate Latrobe Valley has also joined calls for the park's permanency, with group co-director Rosalea Monacella suggesting it could "take on another life" in winter.
"It's not necessarily about having the same activities that happen in summer, but it's actually having other activities that are appropriate for the seasons," Ms Monacella said.
"And it allows the space to not become static in a way; the parks or town squares that are successful are ones that are continually being activated."
Late last year Latrobe City councillors voted to transform the corner of Morwell's Tarwin Street and Commercial Road into a makeshift town square-like space using VicHealth funding.
The park began to take shape in February and has since welcomed major companies such as the Australian Ballet, Arts Centre Melbourne and Circus Oz to hold public workshops.
Giant games, open-air story-time, fitness classes and art in the park have also been regular features – a sight Morwell cafe owner Tania Reid has been delighted to see.
She said locals did not embrace the space straightaway, but since momentum began to build and more events were held in the park, all she had heard was positive feedback.
"There were just negative feelings from everybody; no one really embraced it at all," Ms Reid said.
"I think they just couldn't see the benefit of it being in the middle of the street and there was just no positive feedback at all from customers and the community in general.
"This was at the beginning. (That all changed) probably about a month in, and now we haven't found one negative comment."
Ms Reid said the project had been an eye opener for the community and she would show her support if it were to stay.
So too did local proprietor John Bellerby, who described the park as a great innovation that he would like to see become a permanent feature of Morwell's CBD.
He said although there was initial negativity about the impact on traffic flow along Tarwin Street, it was just a matter of getting used to change.
"It's something new, it's something different and it's being utilised," Mr Bellerby said.
"It's achieving things on a couple of different levels; certainly it's adding a buzz to the town and also it's probably helping bring people to town, so there's a benefit to all of the traders as well.
"May it continue."
Latrobe City mayor Michael Rossiter said in a statement the park was designed to "challenge the way we use and transform the public space".
He said the challenge was to see whether people would play, explore, relax and be active in a space that was once used as a road and for parking cars.
"The community response has been fantastic. Far beyond what we could have wished for," Councillor Rossiter said.
He said there had already been a considerable amount of anecdotal feedback about the space's success, but council wanted all voices to be heard.
It will be seeking feedback from residents and traders alike to both inform and guide any decisions about the park's future.
Those who wish to make a comment on the Tarwin Street Pop-up Park should visit www.latrobe.vic.gov.au and head to the 'Have Your Say' section.
The Morwell 50 Mile Farmers Market is on again this Saturday with more local food, arts and craft producers set to line Tarwin Street.
Emmet Blackwell, who became the Morwell market manager in March, wants the market to give people an experience of food, art, music and other entertainment.
He is hoping to generate a steady flow of stallholders and people to the town each month, and believes the town's pop-up park is helping to achieve that goal.
"(People are able to) have an increased level of interaction and have conversations that wouldn't otherwise be had if people were just at the supermarket," he said.
"People are staying and enjoying some music or letting kids play and that provides them time to connect with other people they might not usually get the chance to."
This Saturday's market will feature live music and children's activities, with Circus Oz also holding free workshops throughout the morning.
The Morwell 50 Mile Farmers Market runs from 8am to 1pm on the second Saturday of each month along Tarwin Street, Morwell.
To see what's on offer at the market or to get involved visit www.50milefarmersmarket.com