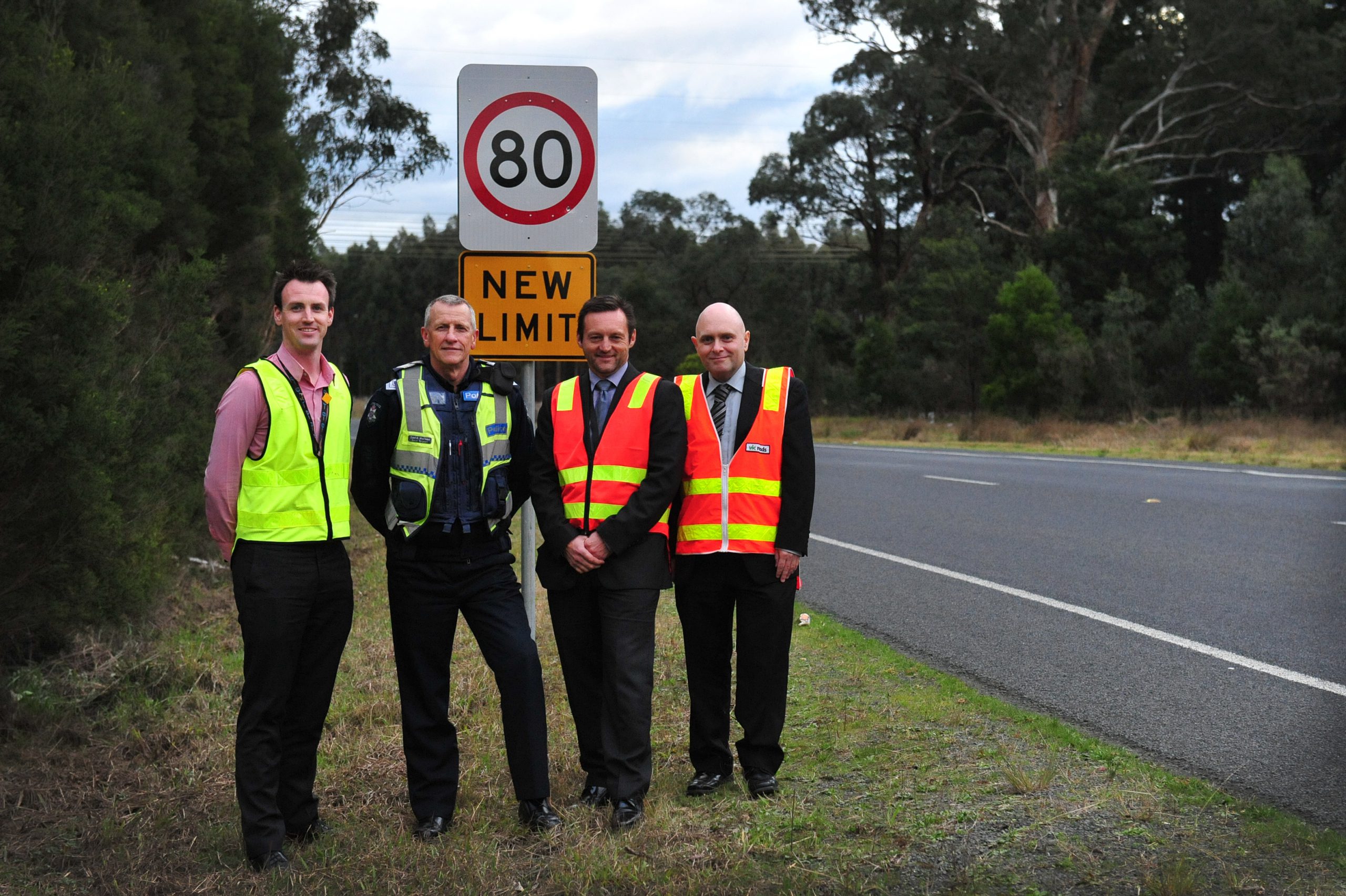 A consistent speed limit of 80km/h will be introduced along five Latrobe Valley back-roads in a bid to reduce serious injuries.
The Morwell-Maryvale Road, Old Melbourne Road, Traralgon West Road, Airfield Road and Scrubby Lane have all been targeted by authorities.
Latrobe City Council chief executive Gary Van Driel said there were already sections of these roads where the limit was 80 kilometres per hour and introducing a single safe travel speed was about creating a safer drive for motorists.
"We know introducing safer speeds significantly reduces casualty crash risk, so it makes sense to make the whole sections of these roads 80km/h," Mr Van Driel said.
"These roads do not have the safety features of the Princes Highway between Morwell and Traralgon, where the speed limit is 80km/h.
"A head-on crash at 100km/h will almost always result in serious injury or even death.
"Statistics show that the same crash at 80km/h will not be as serious. There is also a 60 per cent decrease in serious casualty crashes when these safer speed limits are applied."
Mr Van Driel said drivers would not be sacrificing much of their time to reap these safety benefits.
"We've conducted studies that show that journey times are not significantly impacted by introducing a safer travel speed. In fact, the same journey on the Old Melbourne Road, travelling at 80km/h instead of 100km/h, takes only 30 seconds longer."
He said he understood the change in speed limit would mean a cultural shift for drivers who regularly used these roads. Mr Van Driel said council had already had success introducing safer travel speeds in Moe.
"Latrobe City Council advocated introducing a safer travel speed along VicRoads-managed Old Sale Road in June this year in response to community demand. We will continue to look for other examples on our local road network where our community's safety can be enhanced," he said.
Victoria Police Traffic Advisor for the area, Senior Sergeant David Watson, said too many casualties had resulted from collisions on these roads and the move would make a real difference to the outcomes of any future collisions.
"In the last five years alone there have been at least 17 crashes on these back roads, including three fatalities and four serious injury crashes," Snr Sgt Watson said.
"The ripple effect from these deaths and serious injuries impacts upon families long after the actual collision and we must explore every reasonable option to reduce road trauma so we provide our full support to this change."
VicRoads regional director eastern region Scott Lawrence said council's initiative aligned with a broader strategy being implemented across the state as part of a five-year goal of reducing the road toll by 20 per cent and serious injuries by 15 per cent.
"Introducing safer travel speeds is a key pillar of the Safe System approach that recognises humans are vulnerable to the forces exerted on them in a crash. We can reduce road trauma by adopting safer speeds, changing road-user behaviour, improving roads and driving safer vehicles," Mr Lawrence said.