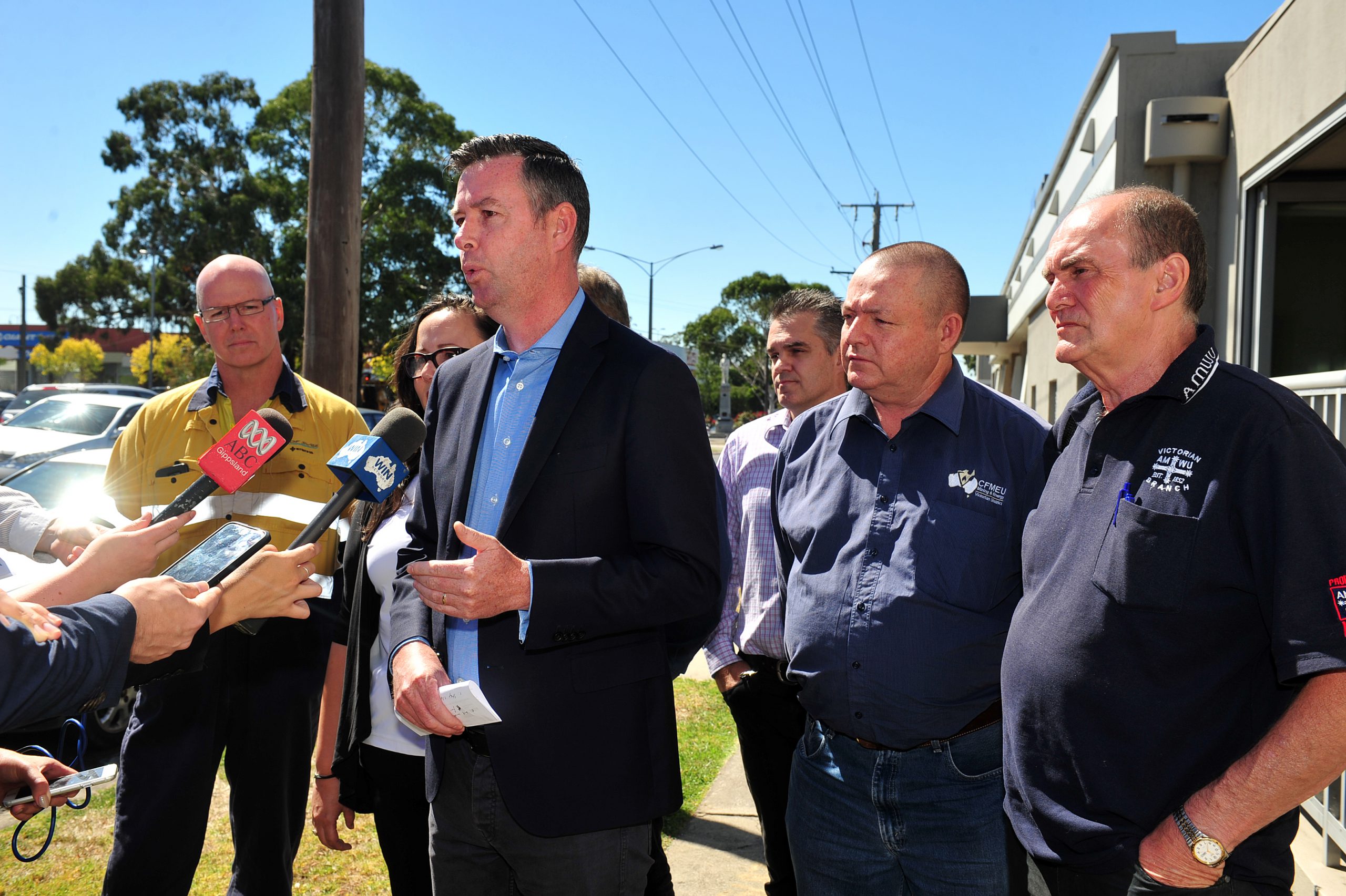 A SCHEME allowing redundant Hazelwood employees to move to another power generator is a step closer after winning the support of Loy Yang A owner AGL.
State Industry and Employment Minister Wade Noonan yesterday announced the government had secured AGL's in-principle agreement after meeting with unions representing Latrobe Valley power industry workers in Morwell.
"This would be a scheme which would see displaced Hazelwood workers be able to transfer to Loy Yang A and a scheme that would see early retirement packages offered to Loy Yang A in order to create vacancies for workers being displaced at Hazelwood," Mr Noonan said.
The proposal is expected to create vacancies for about 150 Hazelwood workers, but the minister indicated more positions could be created as discussions progressed with other operators.
Older workers at Loy Yang A will be given an opportunity to retire early, creating positions for younger Hazelwood workers.
The State Government will provide funding to enable the plan to go ahead but the amount will not be known until it is finalised.
Discussions were ongoing with EnergyAustralia to extend the scheme to Yallourn power station and mine, Mr Noonan said, describing talks as "constructive".
But he could not say the same about Hazelwood and Loy Yang B owner, ENGIE.
"We have on a number of occasions tried to work with them in relation to a pooled redundancy that would see workers have some opportunity to move from Hazelwood, to Loy Yang B and maintain their service history and their entitlements," Mr Noonan said.
"Despite what I would consider to be a number of attempts including a discussion I've had with their CEO, at this stage they are not willing to commit and that is disappointing."
An ENGIE in Australia spokesperson said the company continued to work closely with Victorian Government agencies on the proposed transition of Hazelwood employees to other Latrobe Valley generators.
"There are a range of significant issues to be addressed if this proposal is to proceed and ENGIE in Australia is committed to working with agencies and other generators to ensure all aspects of the proposal are effectively addressed," the spokesperson said.
"It is important to note that ENGIE in Australia continues to meet all the commitments, including its corporate social responsibility commitments, it made at the time the Hazelwood closure was announced.
"In addition to all the direct closure related commitments, the company has as recently as this week reaffirmed with its CSR partners in the Latrobe Valley that it will again contribute more than $600 000 to local causes and organisations."
The local union movement has slammed Engie's failure to commit to the plan but welcomed AGL's decision to get on board.
"I think it's a positive move, we're a fair way along with Energy Australia (too)," Gippsland Trades and Labour Council secretary Steve Dodd said.
Member for Eastern Victoria Harriet Shing said work to secure the scheme had been ongoing since Engie announced the closure of Hazelwood in November.
"There's been an enormous amount of hard work which has taken place over the last few months since Engie made its decision to cease production from the end of march," Ms Shing said.
"Congratulations to AGL on being able to reach in principle agreement with the State Government as part of a partnership approach to making sure that people with valuable skill sets can continue in the sector."