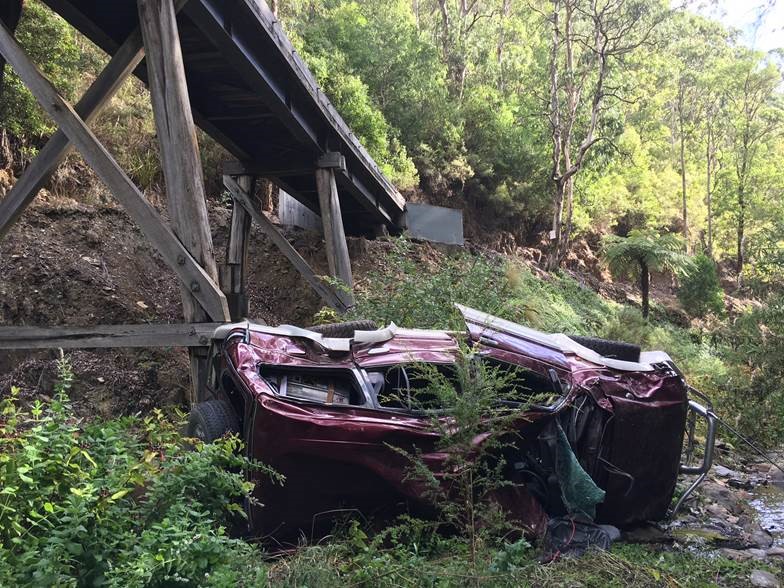 A driver was lucky to escape without serious injury after his Mitsubishi Pajero plummeted 15 metres down a cliff face and into a creek at Walhalla on Friday night.
The driver, a 21 year-old man from Berwick, was knocked unconscious on impact after his car failed to make the first sharp bend on the Walhalla Road just outside the township.
Erica and District Fire Brigade captain Laurence Swan said the driver was unconscious for a short period of time before the brigade arrived.
"(The driver) managed to get himself out of the car by the time we got there," Mr Swan said.
"He was standing fairly dazed when the crew arrived. It was a hell of a smash.
"We had only just had a fairly light shower and it looked like he might have just touched the brakes and kept going, the road was pretty slippery."
Walhalla Goldfields Railway president Michael Leaney said the car narrowly avoided the historic railway's bridge by metres, citing the situation could have been "catastrophic" if the train was operating at the time.
It's understood the driver was the only occupant of the vehicle and was returning to a campsite at Thomson River.
An Ambulance Victoria spokesperson said a man in his early 20s was trapped for a short time when his vehicle went down an embankment.
The spokesperson said he had cuts, grazes and bruising and was taken to Latrobe Regional Hospital in a stable condition.
He was later transported by road to The Alfred Hospital the following morning in a stable condition.
Moe police are investigating the incident.