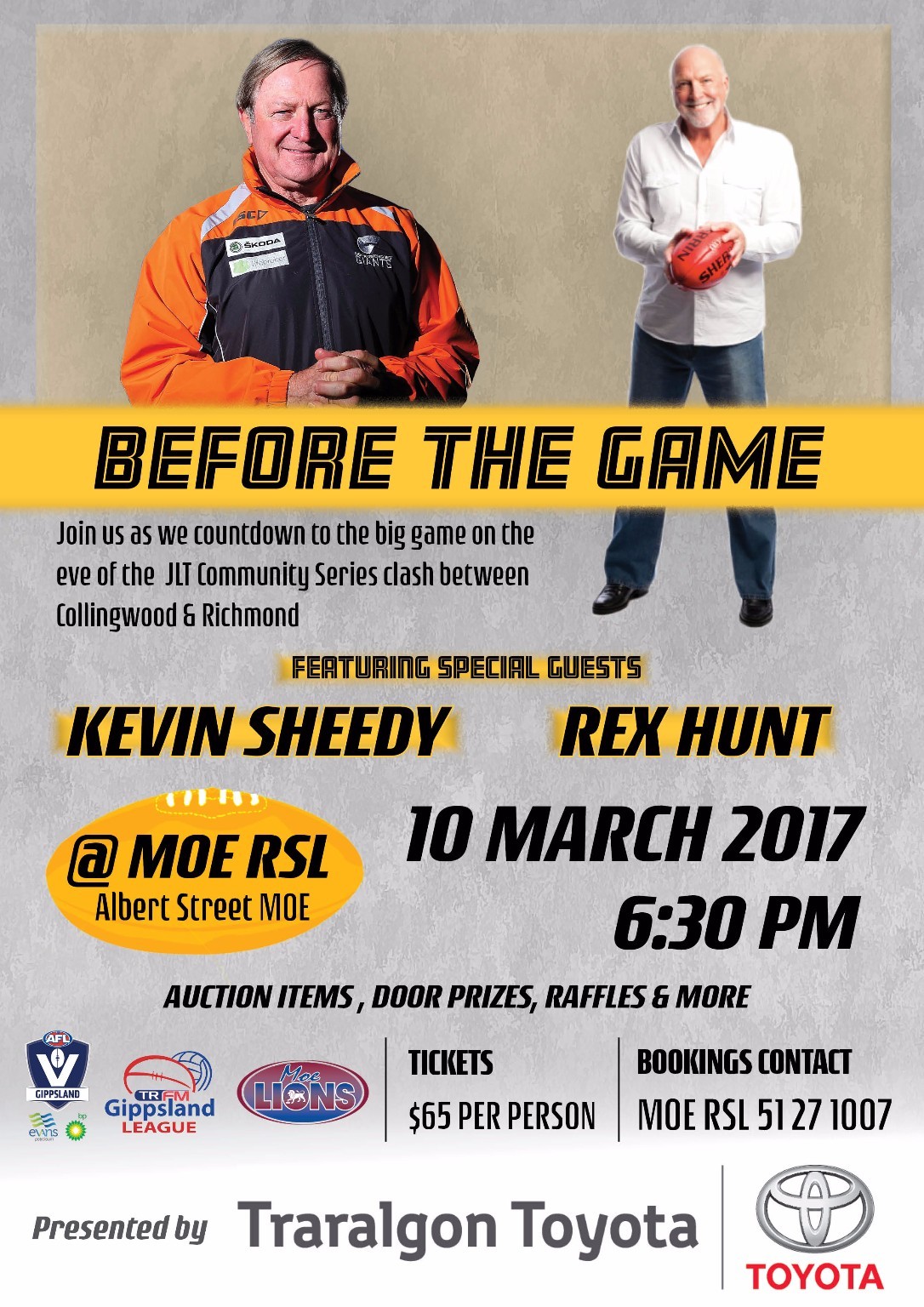 Fewer AFL personalities have enjoyed the longevity, success and variability in their AFL journeys than Kevin Sheedy.

Before he takes to the stage on Friday night with Rex Hunt at the Moe RSL, the seven time premiership player and coach, Moe FNC number one ticket holder, and AFL legend chatted to The Express on a range of issues, below are his hot takes.

"It gives the opportunity for a lot of players to get played in the preseason comp for fans to look at. I remember taking a team away one year and they said, 'you brought down your junior side'. I said, 'Well, you don't know how good some of these players are'. You need to bring these young players on games like this series so they can get a chance to get out and get minutes."

"At the moment they are leading the way. You've got probably four or five captions of AFL clubs. That's quite outstanding. Out of the whole of Australia you've got between a third and a quarter of the leaders of AFL clubs. You've had Goddard, then you've got Murphy, now there's Heppell, Roughead, how many more do you want?"

"It's respectful to bring the teams back. Some of the great players have come out of the Gippsland area, like the Tucks and the Abletts right through to Brownlow Medalists like Barry Round and Bernie Quinlan. These guys have outstanding records and should be taken back to their community.

"I see what's happened at Moe and what they have been able to achieve, it's been able to open the area up to great opportunities for the council and people in the area."
"I set my pathway and plan to do what I wanted to do when I was 16. I was always going to be a full-time player, I was always going to be a full-time coach, weather I had success or not, only history will say what I did.
"I got to know Australia more than I would, I met a lot of beautiful people and have fantastic memories, and of course getting to coach Australia in the international series in Ireland."
"Rex is the best fisherman and I'm the best back pocket player. I haven't worked a lot with Rex, so I'm really looking forward to it.
"I'll tell plenty of stories about Rex, don't worry about that. He's an ex-police man for a start and I like to talk about that. Everybody forgets that Rex was a policeman before he became legendary for a fishing TV show.

"There's a lot there to have a bit of fun with, and we will too!"

Sheedy will be appearing with his former Richmond teammate, Rex Hunt, at the Moe RSL for the Before the Game event this Friday from 6.30pm.

Tickets are $65 and selling fast, visit the AFL Gippsland webpage for bookings and more information.