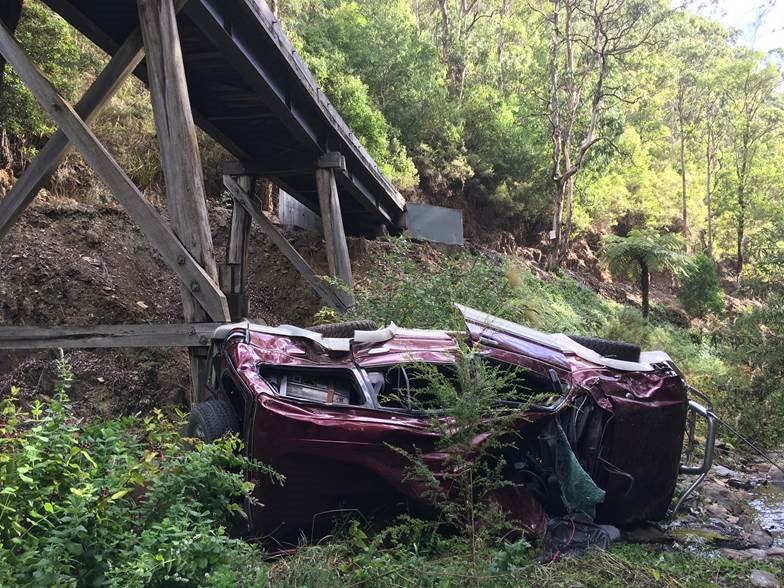 "Do we have to wait for a death until action is taken by VicRoads?"
That's the question Walhalla Goldfields Railway president Michael Leaney asked after a 21 year-old Berwick man's car was the latest to plummet down the cliff face on Walhalla Road just out of the historic township last Friday night.
Mr Leaney slammed VicRoads for its decision not to install a safety barrier on a notorious bend on Walhalla Road.
"Given that there has been a number of accidents at this same location where vehicles have left the road it is an obvious place for safety barriers to be installed," he said.
"Anything that goes over that cliff face drops 15 metres below the road.
"I find it ironic that we have kilometres of wire rope barriers and Armco railing installed on straight country roads with paddocks at the side where there has been no evidence of vehicles leaving the road, yet here we have a location with clear evidence and catastrophic results yet VicRoads does not see it worthy of installing railing."
Mr Leaney, a Baw Baw Shire councillor and Walhalla business owner, said VicRoads has consistently argued it is too difficult and too expensive to install a safety railing along this particular stretch of Walhalla Road.
"Yet I'm sure the minute someone is killed at this location a safety railing will be installed pronto," Mr Leaney said.
"So far it's been good luck rather than good management that someone hasn't been killed."
According to VicRoads, over a recent five-year period, there have been three crashes resulting in one person being seriously injured and three other people suffering minor injuries.
Two of these crashes involved motorcycles.
In its statement to The Express, VicRoads said it received many requests yearly for the installation of safety barriers and there were no current proposals to install safety barriers at the site in question.
"These (requests) are all assessed based on a number of factors including existing conditions and crash history," VicRoads manager planning eastern region Pas Monacella said.
"Safety is always our first priority and we ask all road users to take extra care and drive to the conditions."
According to VicRoads, since the introduction of safety improvements on Walhalla Road such as curve warning signs, guideposts, line marking and a reduced speed limit of 80 kilometres per hour, there has been an 85 per cent reduction in the severity of injuries and a 62 per cent reduction in the number of crashes.
Rawson police Leading Senior Constable Ian Naughton said he supported calls for a safety barrier to be installed in the location of Friday night's incident.
"I will certainly put my support behind any initiative that would make our roads safer for road users," Ldg Snr Const Naughton said.
"The facts and figures might not support calls for a safety barrier to be installed there but the road from Walhalla and Rawson needs to be treated with respect.
"A safety barrier in that location may have prevented the vehicle from going over the cliffface on Friday night."