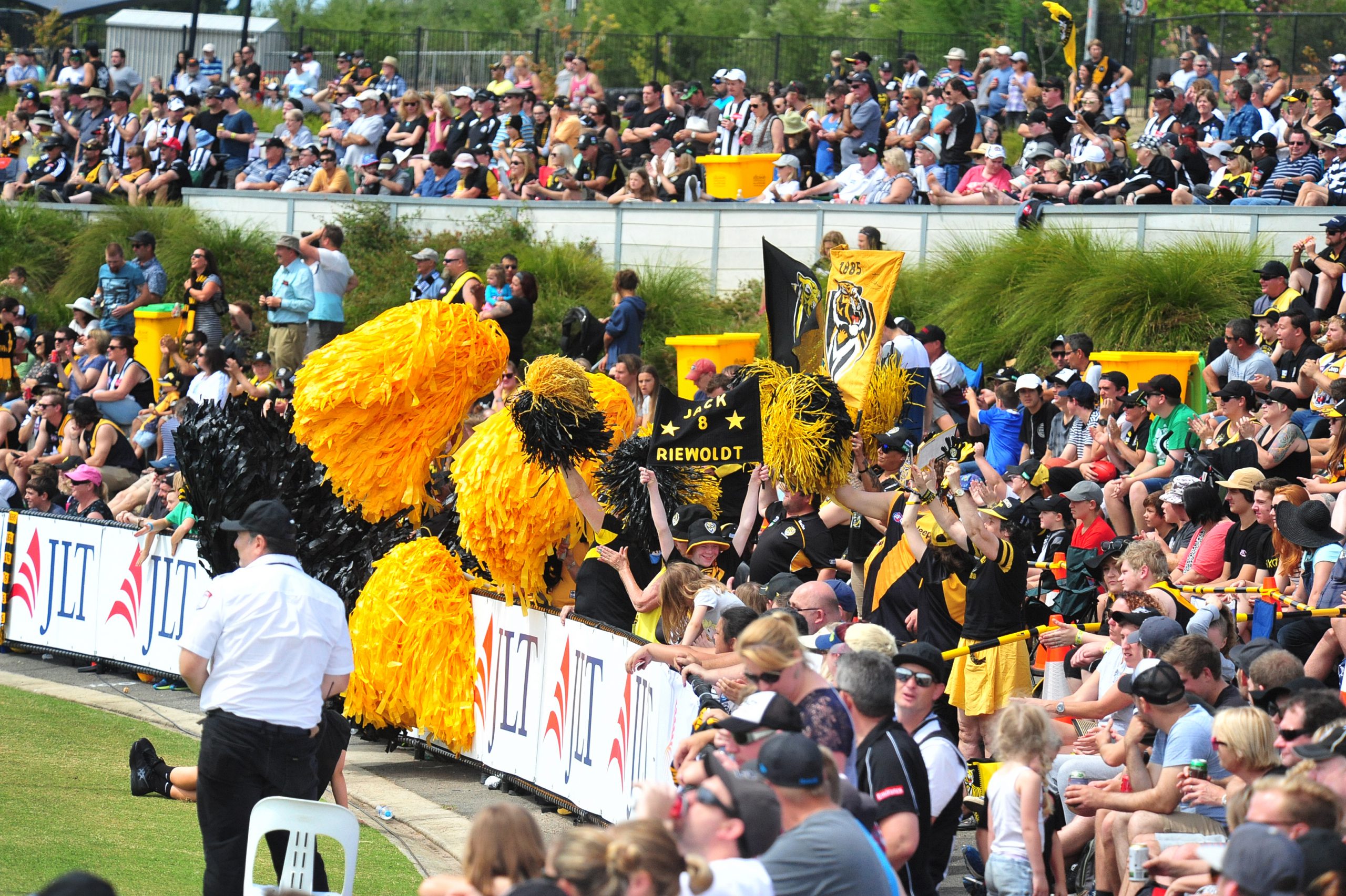 Ted Summerton Reserve was in perfect condition for Saturday's JLT Community Series clash between Collingwood and Richmond.

While the game was won by Collingwood, the real victor was Moe, which turned into a celebration of footy for the weekend.
"It's magnificent," spectator and resident Darren Weadley said.
"It's positive news for the town."
Supporters came from the Valley, Melbourne and even interstate.
Les and Faye Macnee drove down from Merimbula on the south coast of New South Wales.
The Macnees are on their yearly, six-week sports pilgrimage and the chance to see Les' chosen club, Collingwood, play in Moe was too good to pass up.
"The daughter lives here and this happened to be at the right time," Mr Macnee said.
"We come down this time of year to go to the grand prix and stuff."
Diehard Richmond fanatic Tiger Shaun didn't just drive down from Mill Park in Melbourne's north for the game, he came dressed from head-to-toe in black and yellow.
"Every week I make this effort for the Tigers, I love them," he said.
"My outfit's home made, it's a bit hot today, but not bad in the winter."
Richmond had played in Mount Gambier the weekend before and general manager Neil Balme said both community games were a great chance for supporters to see their club play locally.
He also said while the end result wasn't that important in the grand scheme of things, that didn't stop the players from going hard.
"The winning and losing ultimately doesn't matter but you certainly feel a lot better when you're ahead on the score board," Mr Balme said.
"Our blokes want to play well and it's our last chance to play a fair dinkum game before the season starts."
The AFL's official attendance was 5701, with other spectators and local residents gathering along South Street to watch from over the fence.
Police said three people were ejected from the ground, but not charged, for behaviour related issues but were quiet overall.
"The large crowd was very well behaved," Moe police Sergeant Andrew McCrorey said.
On field, Collingwood was able to hold off a late Tigers comeback to win, 1.15.15 (114) to 0.16.11 (107).
The Pies led at every change but all their good work almost came undone in a scoreless last quarter in which Richmond added five goals and five minors to make it close.
Dustin Martin, with three goals for the Tigers, and Collingwood's Adam Treloar, with one, were named among the best on ground.