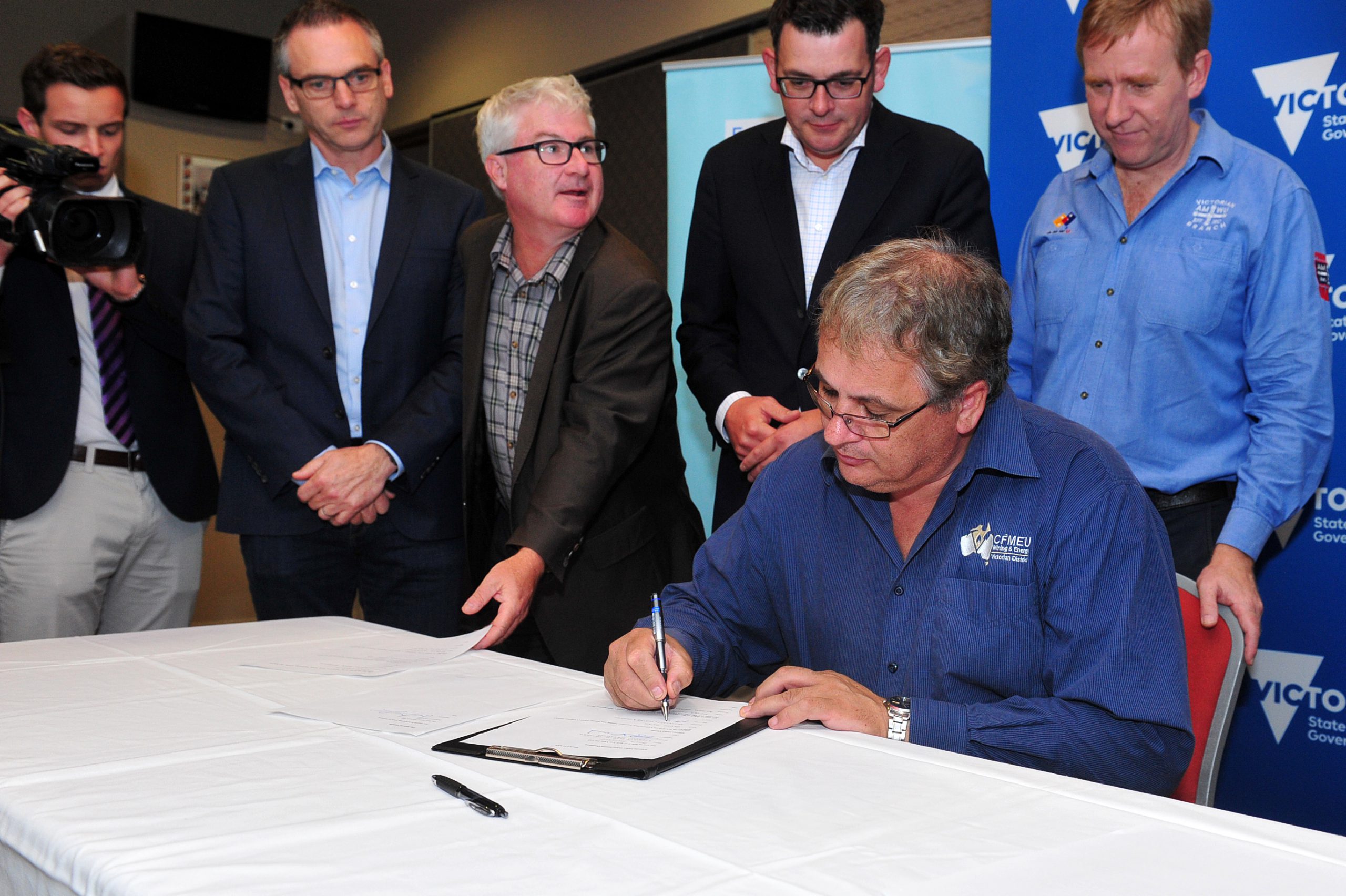 The CFMEU has welcomed the Federal Government's approval to fast-track the early retirement scheme.
This will allow workers affected by the closure of Hazelwood Power Station to transition to jobs at other Latrobe Valley power generators.
Construction, Forestry, Mining and Energy Union mining and energy division secretary Geoff Dyke said it was good there was bipartisan support for a scheme to help former Hazelwood workers.
"Hopefully a large number of positions will be available across the generators," Mr Dyke said.
"We think there is roughly 150 people (from Hazelwood) who probably want to retire or are at retirement age, so approximately we need to find 150 jobs for those who want to continue in the industry."
The landmark deal allows employees over the age of 50 at power stations operating in the region to take early retirement packages to create positions for younger workers from Hazelwood.
Mr Dyke said ENGIE had signed on to the agreement but had to get approval from Loy Yang A owner AGL.
"Each individual generator has to get their own approval," Mr Dyke said.
"EnergyAustralia is very close to signing the partnership agreement so we're hopeful to have them signed up in the next week or so … so we can get the scheme happening."
The mining and energy union have been conducting periodic reviews of the scheme's progress, and Mr Dyke said it was an "important step" for the power companies to gain an indication of how many of their employees wanted to take up an early retirement.
"It's uncertain how many places are available, so once the process kicks off that will give an indication as to how many positions open up for Hazelwood workers," he said.
"We've got concerns there might be not enough positions open up but we won't know that until we have sought expressions of interest from people interested in taking up retirement packages.
"Hopefully a large number of positions will be available across the generators."
The worker transfer scheme is not exclusively for retrenched Hazelwood workers, however there is a financial incentive for energy companies to employ workers from the recently closed power station.
When a former Hazelwood worker fills a position created by the State Government's $20 million scheme, the company will receive $75,000.
Mr Dyke said some permanently embedded contractors from Hazelwood Power Station would also take positions at other contracting companies through the scheme.
The scheme launched last week and will run until 31 May, 2019.