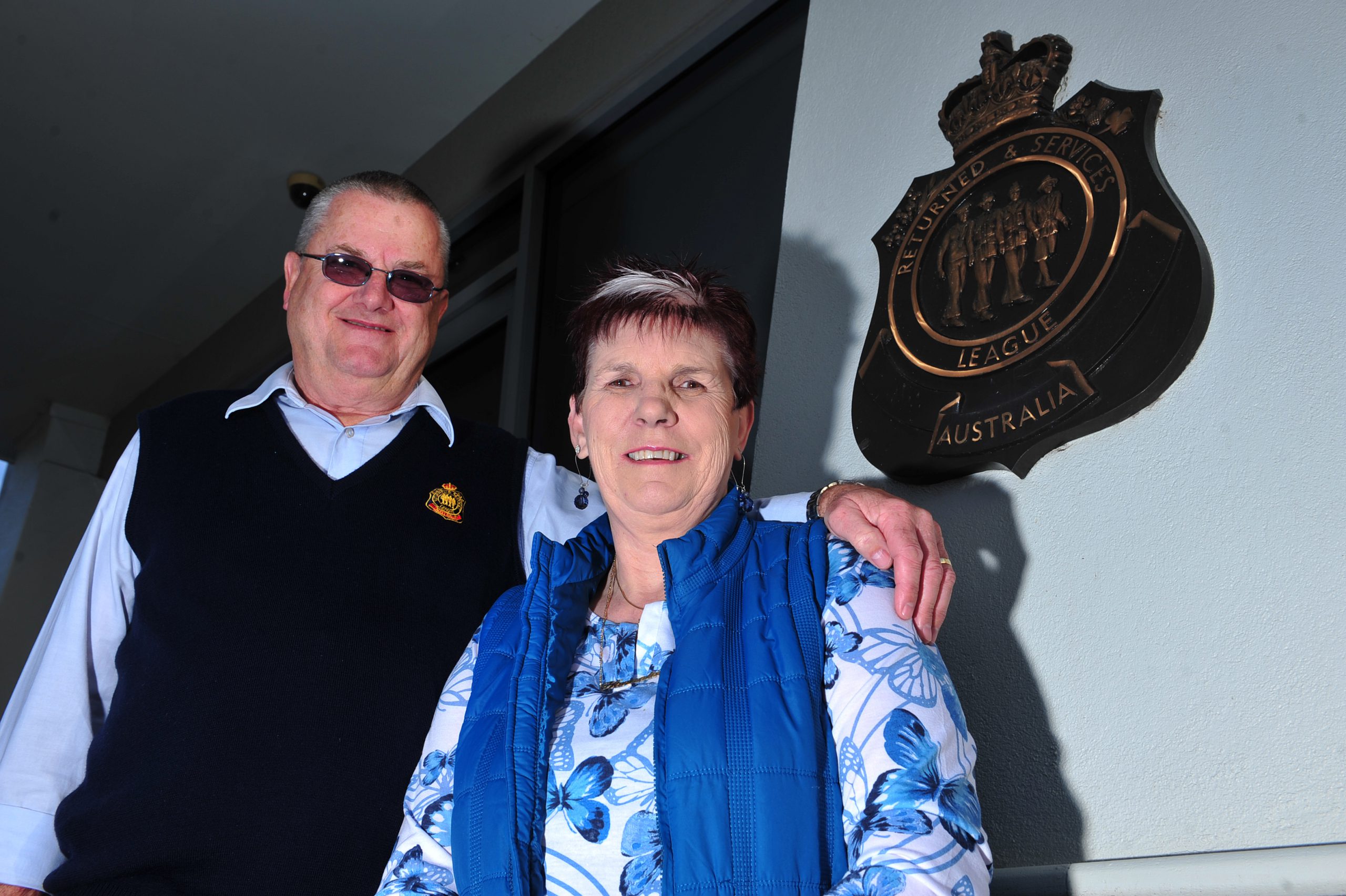 Bruce Jeffrey re-enters the board room at the Morwell RSL.
He left a short moment ago after becoming uneasy speaking about his experience as a rifleman in the Vietnam War.
He takes his seat, next to his wife, Hannelore, gently placing his hand on her knee.
Life after the war has never been the same for Mr Jeffrey, who's faced a mental health breakdown and battled post traumatic stress disorder since his return from service.
The diagnosis of PTSD followed his de-reregistration as a train driver of more than 30 years and a mixture of complex emotions he continues to struggle with today.
Born in Murchison in 1949, Mr Jeffrey and his older brother Rick were raised by their uncle and aunty, Eric and Thelma Malone of Traralgon, after their parents' separated when they were seven and nine years old.
But Mr Jeffrey's story is a tale of courage and determination, a journey that's been recognised today after decades of service to the region's veterans and their families.
He's now part of the Queen's Birthday Honours List following a post-war devotion to improving the quality of life for veterans, young and old, across the region.
"It's not just what I've done, it's what we as a community have done here at Morwell, we've helped the veteran community – it's not just my OAM, it's everyone's," Mr Jeffrey, a father of three, said.
"We don't advertise or promote our work (at the RSL), but the people of Morwell should be very proud of what we've done for our veteran community."
Mr Jeffrey, who is a life member and current president of the Morwell RSL, said the club provided "a real mateship" for veterans across the Latrobe Valley.
"Just having a chat, even though we may have been in different units, we still like to be able to talk and relate to each other," Mr Jeffrey said.
"We don't talk about military things, but we can understand one another, and that's important."
Having served on the Morwell RSL committee since 2004, and president since 2011, Mr Jeffrey reflected on some of his proudest moments during his association with the club.
One of those achievements included organising gravestones for several WWI and WWII veterans, at unmarked grave sites.
"We've done one in Carrajung, three in Gormandale, one out here at Hazelwood, one in Melbourne and one in Sydney," Mr Jeffrey said.
"The bloke in Sydney was a World War I solider that lived in Yallourn… we do it for them when they don't have a family, so they can be recognised at their final resting place."
Mr Jeffrey estimates he's attended between 250 and 300 veteran funerals, reading the RSL eulogy at many.
He's also known around the Latrobe Valley as an active fundraiser for the Anzac and Remembrance Day appeals and organised the successful Younger Veterans' Expo at Morwell in 2014.
His Order of Australia Medal also received the backing of Member for Morwell Russell Northe, the Department of Veteran Affairs, Anzac House and former Morwell RSL manager Dennis Cleary.
Mr Jeffrey's family has had long association with the military.
"My father served in Darwin and New Guinea and my grandfather and great-grandfather both served in Mesopotamia, which is modern day Iraq in the First World War in the 8th Light Horse Regiment," Mr Jeffrey said.
"My great, great grandfather served with the British Military in India, then when you include myself and my daughter (Wendy) who is a Major in the Army based at Victoria Barracks in Melbourne, that totals six generations of us."
Speaking proudly of her husband, Mrs Jeffrey said her partner of 45 years was well-respected throughout the community.
"If you talk to the members of this RSL, he is so highly thought of and they just love him because they can see he's genuine and they know he's here to help the veterans and their families," Mrs Jeffrey said.
Mr Jeffrey, a Tigers' supporter "through and through" said while he had plans to retire from his presidency in February 2019, he would continue to assist the RSL and veterans across Gippsland.
He said he was most looking forward to spending more time with his family – and four grandchildren – Maddison, Ethan, Caleb and Lachlan.