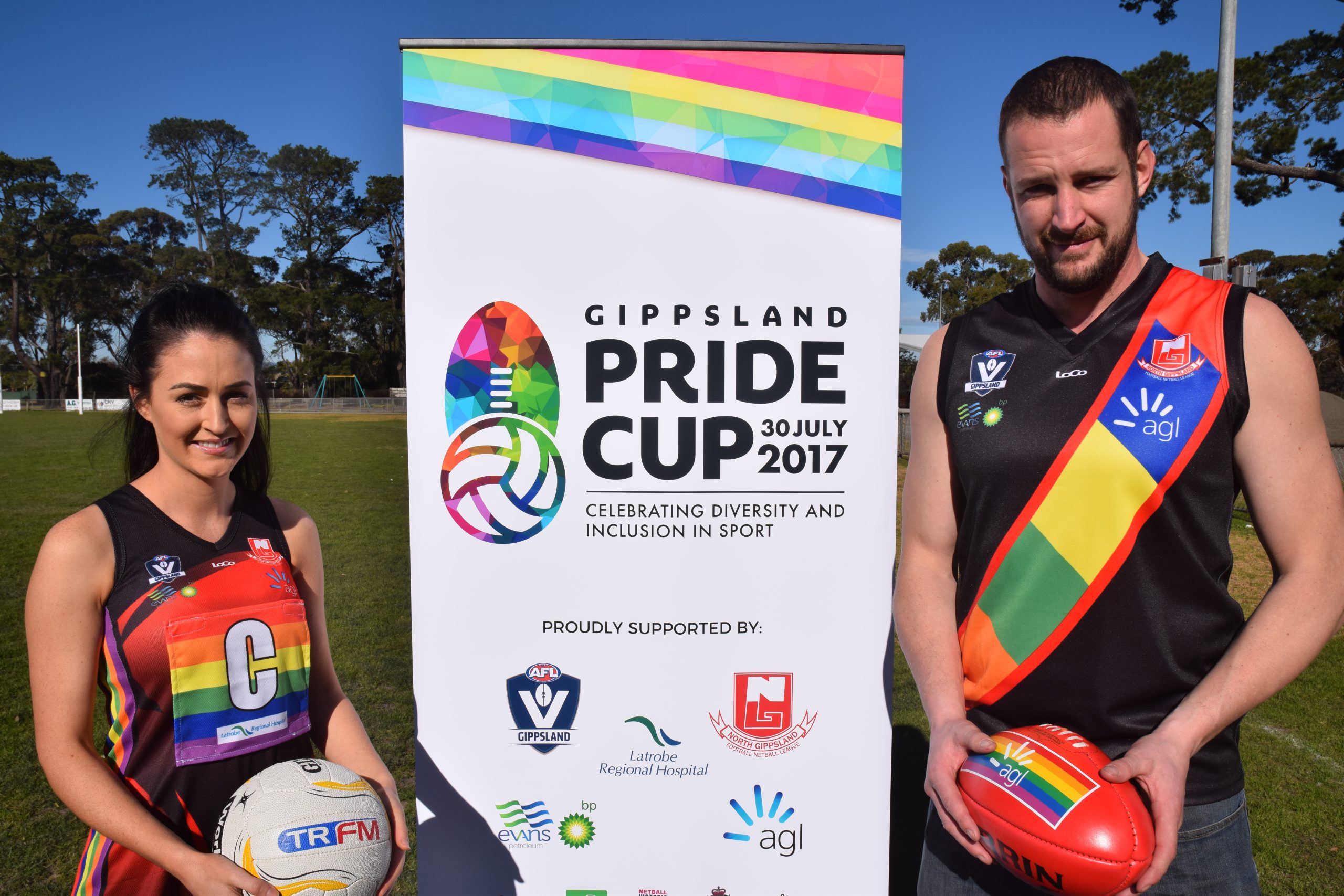 AFL Gippsland today launched its inaugural Pride Cup with the reveal of specially-designed football jumpers and netball dresses ahead of next weekend's clash between Glengarry and Traralgon Tyers United.
The AGL Loy Yang North Gippsland Football Netball League round 15 fixture on Sunday, 30 July, will be dedicated to the lesbian, gay, bisexual, transgender and intersex (LGBTI) community in a celebration of diversity and a bid to tackle homophobia in sport.
The senior football and A grade netball sides will wear specially-designed football jumpers and netball dresses, with lower grade teams sharing in the day with rainbow bibs, socks and armbands.
TTU netballer and club secretary Bec Rodgers said she hoped the Pride Cup would bring the issue of equality in sport into focus.
"It's such a public forum and in country football and netball we have the ability to capture so many people from different walks of life, so for a country football league to hold something like this is really a step in the right direction," Rodgers said.
Both competing clubs will also participate in education sessions in the lead up to the game, which has been moved to a Sunday to enable the league's other eight clubs to be involved.
Rodgers said the sessions had been well received so far by everyone involved at TTU.
"The information sessions have really bought to the forefront the importance of equality and embracing everyone, no matter their sexuality," she said.
"I think a lot of awareness has been raised and we've strengthened an all-inclusive environment," Rodgers said.
"Sexuality is not a taboo topic anymore."
Rob Mauger from the Anti-Violence Project of Victoria said initiatives like the Pride Cup were integral in the fight for equality.
The Anti-Violence Project is the peak LGBTI organisation leading discussion on violence of all sorts and its impacts within the community.
"We've come a long to say this is a great way for the community to learn and understand that everyone is the same and that we can all have fun and participate without exception," Mauger said.
"Things like the Pride Cup continue to make the LGBTI community feel a part and it's a fantastic thing to see."
The Pride Cup will be held on Sunday, July 30 at Glengarry Recreation Reserve.