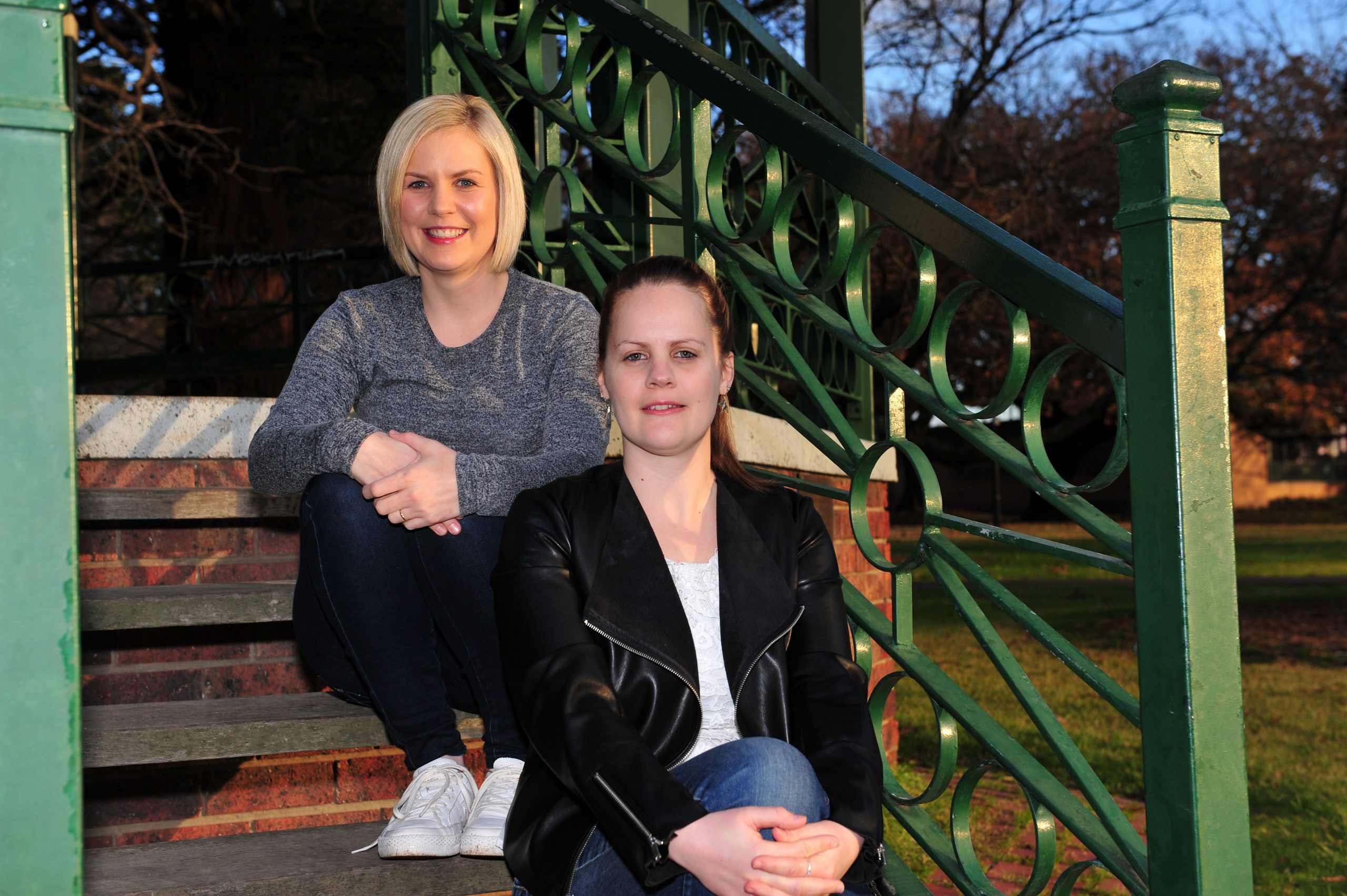 Two sisters made an alarming discovery when they delved into their family history a couple of years ago.
Thirty-two-year-old Traralgon mother-of-two Michelle May and her younger sister Julie Gaspero started a conversation after drawing connections between a high frequency of cancer in their close relatives.
"My grandma had breast cancer and she passed away. She was a young age when my dad was little," Ms May said.
"Both my aunties (had cancer). One is actually in remission now, and one actually passed away when we were young as well.
"And my dad had prostate cancer not long ago."
The two sisters turned to Peter MacCallum Cancer Centre, which prompted them to undergo genetic testing to discover whether the high rate of cancer was coincidental or for hereditary reasons.
In 2015, both the sisters' blood test results revealed inherited mutations in the BRCA1 gene, which meant an increased risk of breast and ovarian cancers.
It was an "overwhelming" learning process for the pair.
"When I first found out, it was a really big deal. It still is a big deal, but I know what I'm going to do in a couple years' time," Ms May said.
The Traralgon mother decided she would have a double mastectomy operation to beat down the likelihood of breast cancer.
"I've thought a bit about that one," she said.
"It's a huge, huge decision especially when you have kids."
Ms May said she made the decision after attending two conferences in Melbourne ran by the Pink Hope support organisation, which educated her, and over time enabled her to make an informed course of action.
She said she was glad she knew about the BRCA1 genetic mutation and the risks it carried, however she felt there was little awareness about it in the Latrobe Valley region, and getting onto it far earlier would've saved some of the shock and started a prevention plan early.
"In a couple years' time I could have gotten breast cancer not knowing (about the gene) and (not) knowing that I could prevent it by getting checked, MRIs, mammograms once yearly and by checking myself more regularly," she said.
Ms May and her sister found support in Pink Hope, and Julie is now an outreach ambassador for the organisation.
The sisters have also given one another strength, however the devastation caused by the genetic mutation has certainly taken its toll on the emotional state of the family.
"Dad's still not okay after having his prostate (cancer)," Ms May said.
"He blamed himself, passing on the genes to us girls.
"He was all apologetic, saying sorry and that, and I think sometimes he's not the same as he used to be."
Ms May hopes her story will convince others to get checked early.
"You've got options out there, you've got support out there," Ms May said.
"Just make sure you know. Not knowing is the worst thing."