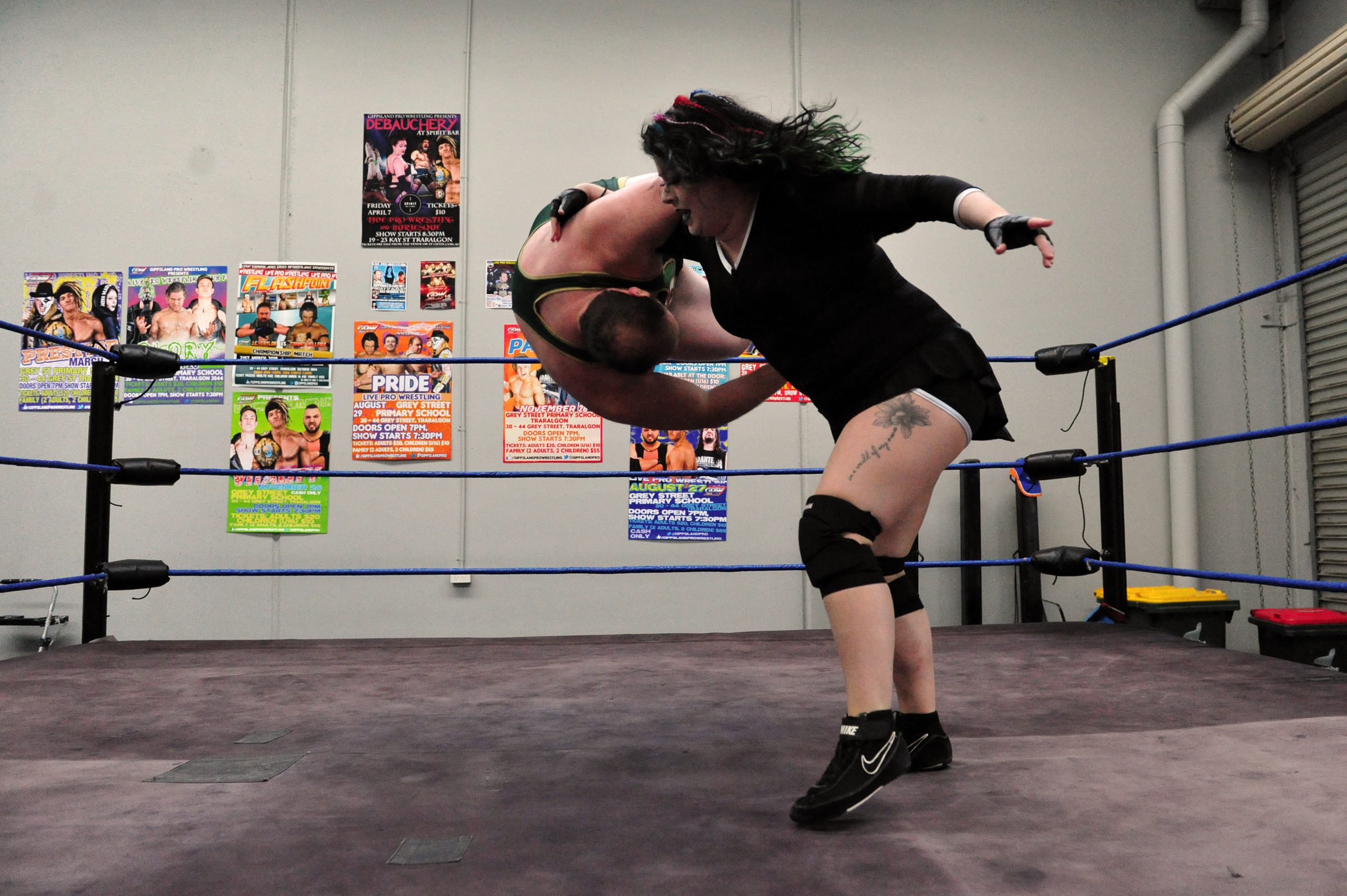 "I'm dirty in the ring."

That's how Miss Mafia, known outside of the ring as Aria Giannini, described her character ahead of Saturday's Gippsland Pro Wrestling show, Hotter Than Hell.
"I don't do anything by the rules… I'm just a real scrag," she told The Express.
"I'm part of a stable called West Side Elite with Jake Lindo and often use each other to our advantage to distract the referee to slap and choke (our opponents).
"Often I'll distract the ref so Jake can do something dirty in the corner."
But Miss Mafia said wrestling wasn't about violence, but more focused on entertainment as a form of art.
"It's tough being a female wrestler, I wrestle to entertain whereas a lot of people wrestle to do flips and moves… I just want to yell at people and that always gets a reaction," Miss Mafia said.
"I've created a character that a lot of people don't hate… it's a strange feeling when you walk out because if you get booed, it's the same feeling as getting cheered."
It comes as Miss Mafia will take on Erika Reid in one of six bouts to take place at Grey Street Primary School on Saturday night, as part of Gippsland Pro Wrestling's third show this year.
Gippsland wrestling champion JXT will take on Tommy Hellfire while former Traralgon resident – the Psycho Cowboy – Benny Factor will fight Jake Lindo.
Another person expected to take to the ring is Gippsland wrestling stalwart, Andy Rhodes, also known as Andrew Slimmon, who will pair up with Fox to take on Man United.
"It's just like a TV show, karate and a movie all wrapped up into one," Rhodes said.
"We're portraying characters and emotions… and that's what we really play on.
"And like Aria said, she's getting booed because she's bending the rules and that's what you want so when the baby face comes up, which is usually the good guy, the crowd start cheering and getting behind them. That's the emotion and real trick about pro wrestling."
But, admittedly, he's felt "a bit of pain once or twice".
"I broke my wrist once, I had a 150 pound guy on top of me and I was holding a chair and as it fell I went to grab it he landed on my wrist and hyper-extended it down towards my chest," Rhodes said.
"Then I had to drive about two-and-a-half hours home, but hey, I guess that's the price you pay for doing something you love."
Hotter Than Hell will be held at Grey Street Primary School on Saturday, 29 July from 7pm.
Tickets are available at the door.
For more information, visit Gippsland Pro Wrestling on Facebook.