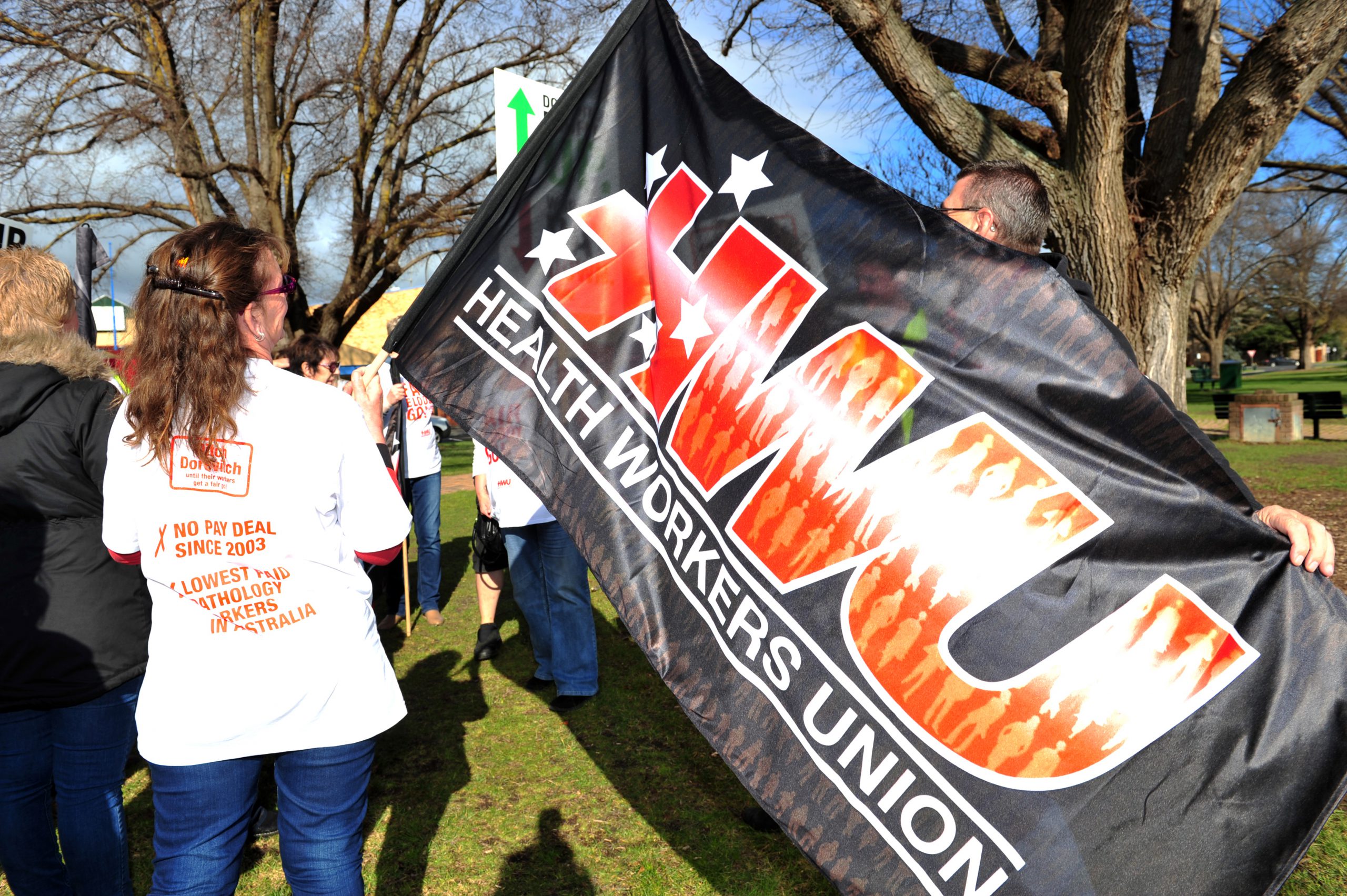 Gippsland Dorevitch Pathology workers took to the streets of Traralgon again yesterday to protest after 76 Dorevitch Pathology workers across the state were locked out of their workplaces for protesting a "zero per cent pay offer" on Monday.
Joining the Wednesday protest, Health Workers Union secretary Diana Asmar said Dorevitch Pathology workers had been trying to get a pay rise for more than 10 years and were the lowest paid pathology workers in Australia.
"We've got over 19 collection centres that have closed down in Gippsland since [Tuesday]," Ms Asmar said.
"So what happened [Tuesday], people across Victoria walked out. We have collection centres across the state closed down.
"What it tells you is that [Dorevitch Pathology] can definitely not function without these workers.
Ms Asmar said Dorevitch Pathology had begun to advertise on SEEK for casual works to fill the gaps left by striking and locked-out workers.
"If you touch one, you touch all," she said of those participating in the strike.
Ms Asmar said a strike fund had been set up to support workers' day-to-day expenses while they were locked from their place of work and not being paid.
"We're talking mainly middle-aged women and struggling single mums (that) have been disgracefully locked out by Dorevitch Pathology," Ms Asmar said.
"We know that Dorevitch has earned $1.2 billion in profit, so they can afford to pay [their workers]," she said.
Leongatha-based Dorevitch pathology worker Debbie Vanstone was one of the 76 locked out from her place of work as a result of participating in protests on Monday.
"I have been locked out from Dorevitch pathology indefinitely because I have chosen to stand up for my rights and fellow colleagues," Ms Vanstone said.
"I am a single mother, I have a mortgage, but I am happy to go without pay until Dorevitch Pathology come to the table and say 'you deserve more than you are getting, you deserve an EBA and we will give it to you eventually'."
Ms Vanstone said she would continue to fight for "as long as it takes".
"Short-term pain for long term gain," she said. Dorevitch Pathology declined to comment prior to print, but referred to a statement issued on Tuesday.
"Dorevitch remains committed to its GPs, patients and staff as we work through this matter. A number of contingencies have been implemented to limit the impact to patients and GPs," a Dorevitch spokesperson said.