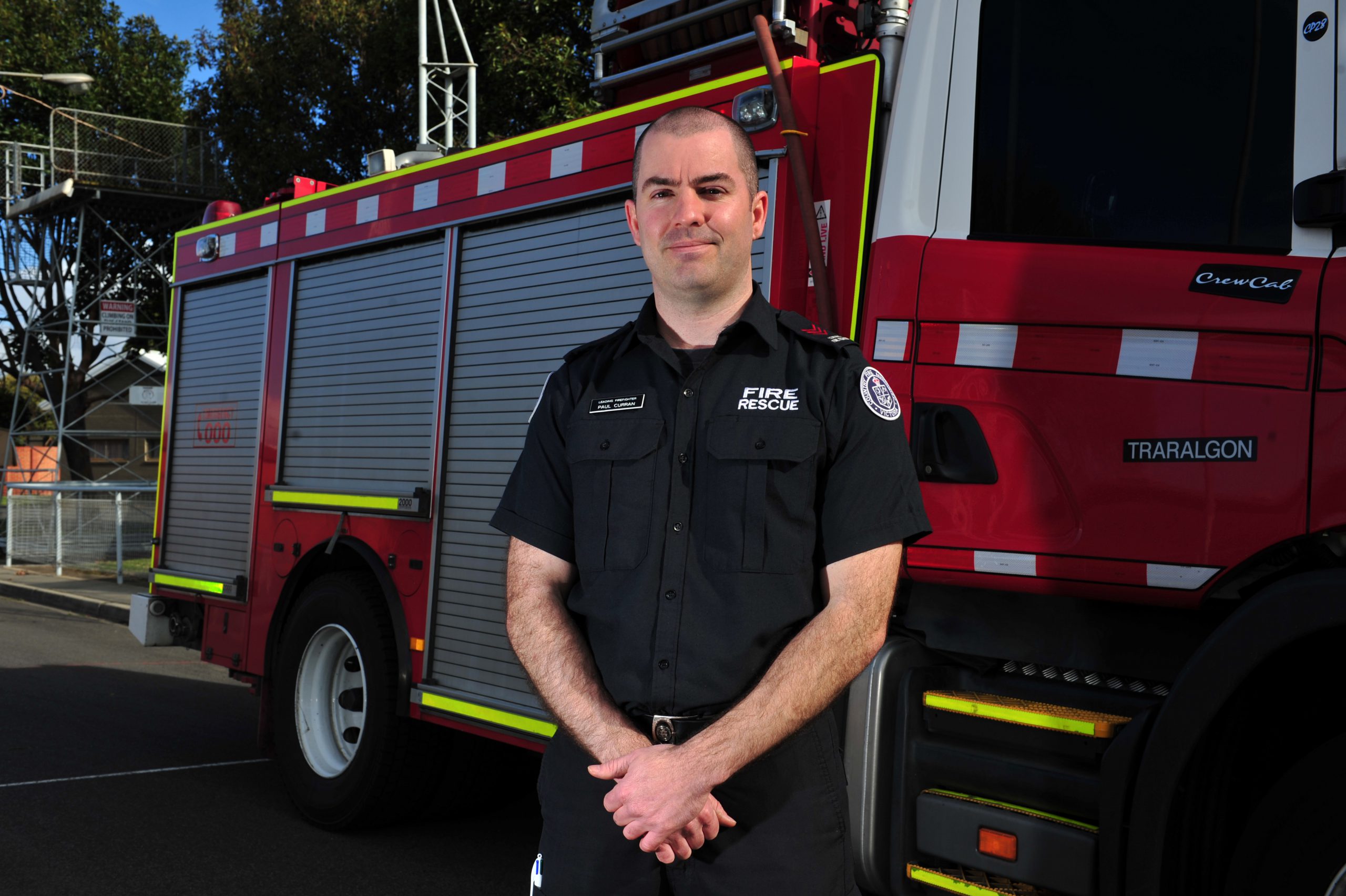 A Traralgon leading career firefighter has spoken out in support of the state government's fire services restructure proposal, saying it would improve safety and operations.

Paul Curran said the restructure would lead to an increase in response, particularly in areas that do not have integrated fire stations.
"For response to incidents we look to have, or we want to have, seven firefighters dispatched to the fire ground. That is standard operation procedure at MFB. At the moment we can't always, or don't do that, at CFA," Mr Curran said.
"When I started [in 2010] we had about 500 career firefighters in the CFA, we're not over 1,300, so in that seven year period the workforce has exploded to try and keep up with the kind of growth Melbourne has experienced. So at the moment you'll have CFA brigades that will be able to get that seven on the ground and others that can't."
The government wants to make the CFA a volunteer-only organisation and create a new entity 'Fire Rescue Victoria' to encompass paid firefighters across the state and replace the Metropolitan Fire Brigade.
After facing problems in the upper house, the Fire Services Bill was passed to a select committee, which tabled an interim report to parliament on Tuesday.
The report outlines the committee's consultation process which comprised more than 1500 submissions and transcripts from seven public hearings across from Victoria, one of them held in Traralgon on 19 July.
A final report will be presented this month.
"Here in the Latrobe Valley you wouldn't see much operational change between Morwell and Traralgon because we have an integrated station in both towns and we support each other to jobs. So we're lucky here that we can get that seven on the fire ground within eight to 10 minutes," Mr Curran said.
"But if you go outside those areas you don't get that guaranteed support. So if we go to Rosedale right now, we [Traralgon] don't get that support from Morwell."
Mr Curran said the fire services restructure would enable volunteer firefighters to be "more in charge of their own destiny" and would not impact the quality of service provided.
However, Mr Curran said if the legislation did not go through, firefighters would continue to do their best with what they had.
"As a customer of the fire service, you're still going to have a fire truck arrive at your door and the people on that fire truck are going to do the best they can to help you in your time of need," Mr Curran said.
State Member for Eastern Victoria Melina Bath said she had spoken to a number of volunteer firefighters across Gippsland and said there were a couple of key points they were concerned about.
"A big concern that many volunteers hold is that part of the restructuring would see operational staff that exist in the Fire Rescue Victoria being seconded to the CFA to basically run and control the CFA," Ms Bath said.
"In the short term, there are [paid staff] who have been solely in the CFA who will have a good understanding of how everything looks on the ground. But talking about the long term, people being seconded to the CFA may have no real understanding or passion."
Ms Bath said inherent inequalities in regards to presumptive pay for volunteer and career firefighters was also a problem with the proposed bill.
"I fully endorse presumptive pay, but this bill makes a distinction in criteria by which paid staff receive compensation and volunteers have a different set of criteria," she said.
"A firefighter is a firefigher…. it should be the same for both paid and volunteer firefighters and it isn't.
"We need to be supporting our CFA volunteers to stay and… have a volunteer base and surge capacity in extreme fire danger periods."
The proposed changes are outlined in the Firefighters' Presumptive Rights Compensation and Fire Services Legislation Amendment (Reform) Bill 2017 and will be heard in State Parliament this week.