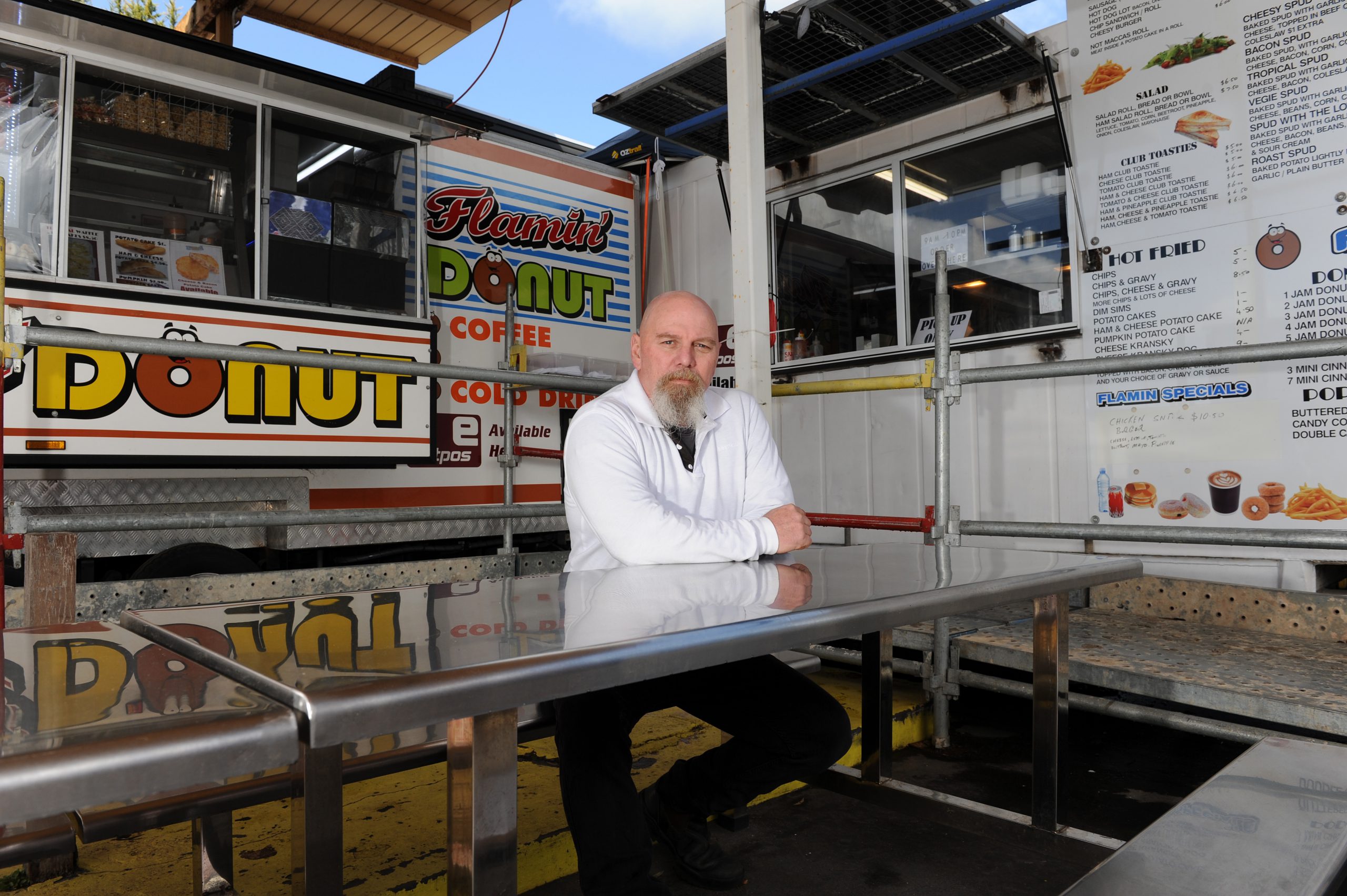 "We're going to have to sack four people soon."
Those were the words of business owners Willow Saxby and Bob Reid following the cost of what they deemed "out of control" demands from Latrobe City Council to keep the doors of their Moe-based food van open.
Located at a former service station, the small businesses selling doughnuts and burgers have been in operation for only 12 months.
"We went to council and said we have a food business and we want to set up…we had to get the van custom designed. We got through all of that, then they certified us and they said the van was good to operate," Ms Saxby said.
She said council told them in January they had to get a town planning permit.
"So I started looking into it, that's when I learned it was (a) residential zone here, even though we're paying commercial rates. And from that point everything I tried to do, council kept moving the line and saying 'you have to do this now, and this and that'," she said.
Ms Saxby said a number of demands were made, including the installation of a walk-in freezer, costing the small business about $30,000, a relocation of the kitchen, costing $10,000 and the relocation of hand-washing station twice, costing them "a couple of grand each time".
"(Council) later sent out documents saying we need to do a site assessment," she said.
Mr Reid explained there were a number of different types of site assessments and council had been unable to clarify which test needed to be done at the site.
"So to comply we've got to spend possibly only $6000 to do a vapour carbon test. But if council doesn't really want that, we will have to spend $15-20,000 drilling through the capping on the concrete into the dirt to test that," he said.
"A full environmental audit could possibly cost $100,000 dollars.
"The fellas who can do all these tests need it in writing exactly what type of test. And council keeps saying it is a 'site assessment'… and won't answer the question."
Ms Saxby said if the business was required to drill through the capping, they could then be accused of "exposing" contaminants underneath and not be able to stay.
"That's what we're petrified they will do. A full catch 22," she said.
Ms Saxby additionally said they had considered relocating, but "businesses can't afford to set up twice".
"Is that why our towns are going down, because there are no jobs anywhere because there are no businesses left?"
Latrobe City Council's general manager city development Phil Stone said an environment site assessment was required as the site had previously been used as a service station and there was "insufficient information available for council to determine whether the site had been contaminated".
Mr Stone said the assessment was a document prepared by a qualified environment professional to identify contamination levels on the site and make recommendations regarding the suitability of the proposed use of the land.
"The process may include a review of the site's history and may also include the sampling and analysis of soil, groundwater, surface water and air depending on what the environmental professional deems required to make recommendations on the suitability of the proposed use of the land," he said.
He said the estimated assessment cost was "unknown and will likely depend on the extent of analysis required for the environmental professional to make a recommendation on the suitability of the proposed use of the land".