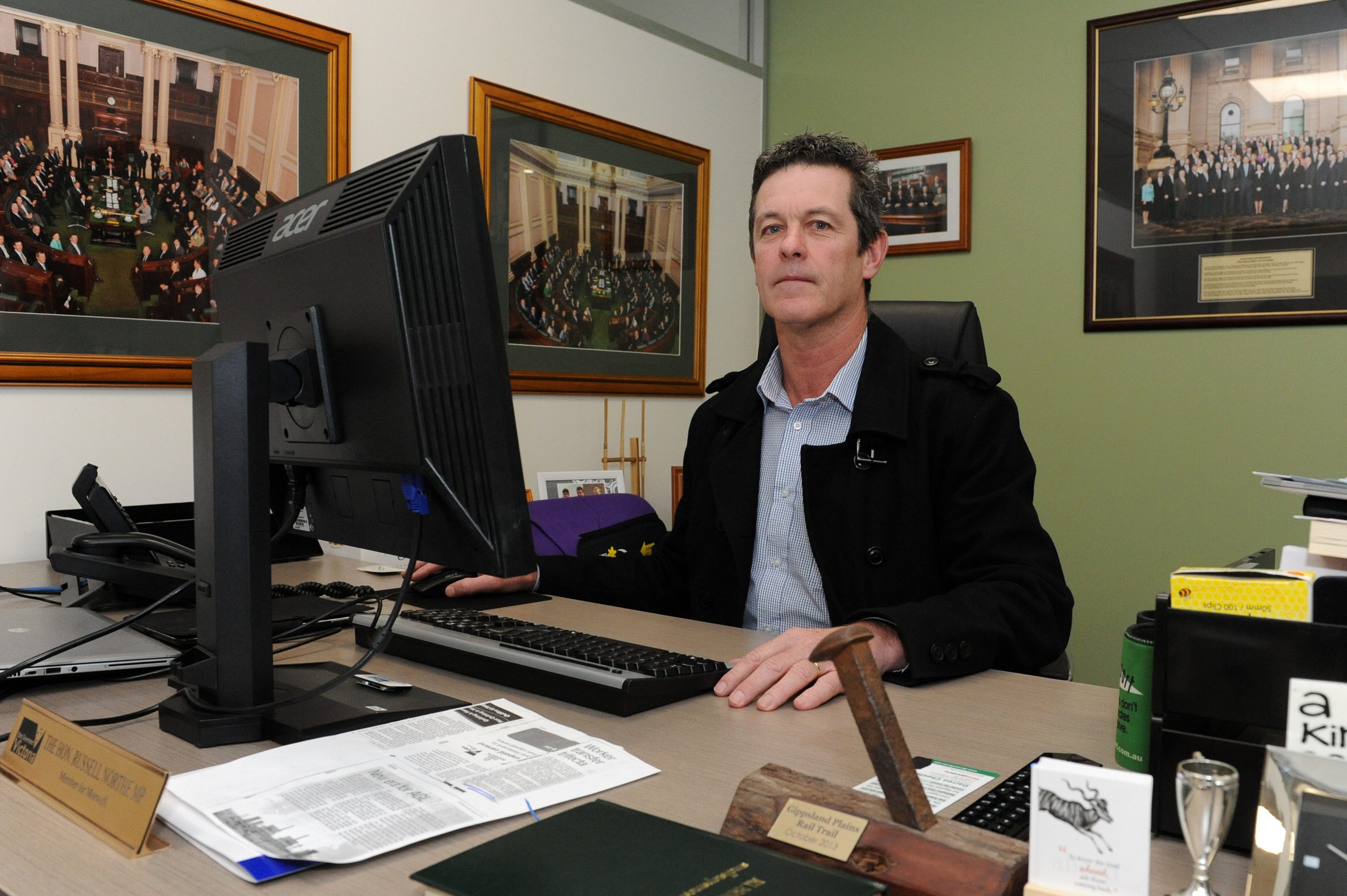 National Party paraphernalia can still be found on the office walls and desk of Morwell's now-independent MP.
The superficial transition of the long-serving politician's surrounds is yet to take place.
Still, there's a shift that couldn't be clearer.
This is not the same person of a decade ago.
In the kitchen of his George Street office, Russell Northe announces his intention to get a haircut.
It's the next step after shaving off the beard he grew while on leave.
He'd joked to mates about becoming a "hippy".
But when he was really frank with himself, the reason for his dishevelled appearance was much more serious.
"I didn't want to shave, because I couldn't stand looking in the mirror at myself," Mr Northe said.
"Because I didn't like the person I was."
He had stopped his favourite pastimes like going to the gym, riding a bike and listening to music.
"It got to the point where everything was so overwhelming, that I literally couldn't get out of bed," Mr Northe said.
"And once I sought professional help, it did make a difference."
Getting back to the things he loves doing, is an important part of recovery, Mr Northe says.
It's this idea that's behind his decision to return to work following a leave of absence since June to deal with mental health issues.
This week, Mr Northe announced he had reluctantly quit the National Party and would recommence work as the independent Member for Morwell.
He felt it was unfair to continue to serve within the party, as he was unsure whether he would contest the 2018 election.
"I can't give the party a decision to mid or late next year, that's not fair upon them. So it really just depends on how I go with my treatment and how my health is," Mr Northe said.
"I also need to find some time to continue to get better and to also work with my family and people may not be aware, but there are a lot of time commitments associated with being part of a political party and particularly only being 15 months out from an election."
When asked how he thought he'd cope with the return to work, Mr Northe said he believed it would be easier now he had sought help professionally and among those close to him.
"Whilst it's a difficult and challenging job at times, I love my job. I love the work," he said.
"I really wanted to get back to work and that was something that my counsellor had supported.
"Now that I have opened up to people around me, who are helping with external things in my life, it will make my job actually easier, I think.
"But I'll listen to people around me if I am going too hard."
Mr Northe said he did not envisage much change to his policy positions now he was an independent.
"But I'll certainly be working very closely with the community. If there are new ideas, new policies that come to bear that I'm supportive of, I'll certainly be putting them out there," he said.
"Nothing changes from a vote in the parliament perspective. The reality is I'm in opposition. That hasn't changed.
"I will go to the parliament and I will be out there advocating to the government to all the things I've been passionate about in this community."
Mr Northe's return to work has brought the nature of his professional and personal challenges into the open this week.
The Black Saturday bushfires, Morwell mine fire and Hazelwood Power Station and Carter Holt Harvey closures had taken an emotional toll, he said.
"When you have people coming to you, they're desperate, they're in tears, they're not quite sure what to do. That probably adds to the… burden."
He said in the past three to four years he hadn't dealt with matters in his personal life because he didn't talk to those around him.
"That included the loss of a close friend, indeed the best man of our wedding, in 2013," he said.
"There was certainly some issues with businesses/investments that didn't go to plan, we also had a family member who had some substantial drug issues."
Mr Northe said those issues alone had a financial and emotional cost.
"Whilst we've been to hell and back on those matters, I can report that hopefully we're progressing in the right direction," he said.
"Only people who have been in those positions can really fully understand what we have been through."
Mr Northe said the issues mounted.
"There's no doubt that on occasion in that period, I drank too much and I gambled too much," he said.
He said without the support and kind words of family, colleagues and the community he "wouldn't be here today".
Mr Northe has implored people experiencing mental health issues to seek help, saying he hoped others could learn from his "error of judgement" in waiting so long.
"I know people around me were trying to help me and I didn't recognise it myself. I was pig-headed, I was dogmatic, I was going to fix everything in the world myself. I didn't seek help earlier. I'm angry and frustrated at myself for that," he said.
"I think the first step is you've got to man up and say 'I've got an issue, I've got a problem', seek professional help if you can. Or at the very least, talk to your best friends."
Mr Northe said he had been buoyed by the number of positive messages he'd received since speaking about his struggles, but he was not seeking sympathy.
"Hopefully people can see, if you're a member of parliament you're a real person and unfortunately we do have real issues. You're not immune to anything.
"We had the tragic passing just last week of [Minister for Family Violence Prevention] Fiona Richardson [after a cancer battle].
"In some sense, Fiona's passing made me realise that I do need to get on with life. This person… a wonderful representative for her community, a mother, who wanted to live.
"In some sense it's made me realise I can't dwell on the past. I've got to move forward and try and live and live positively."
If this article causes you distress or if you require support, phone: