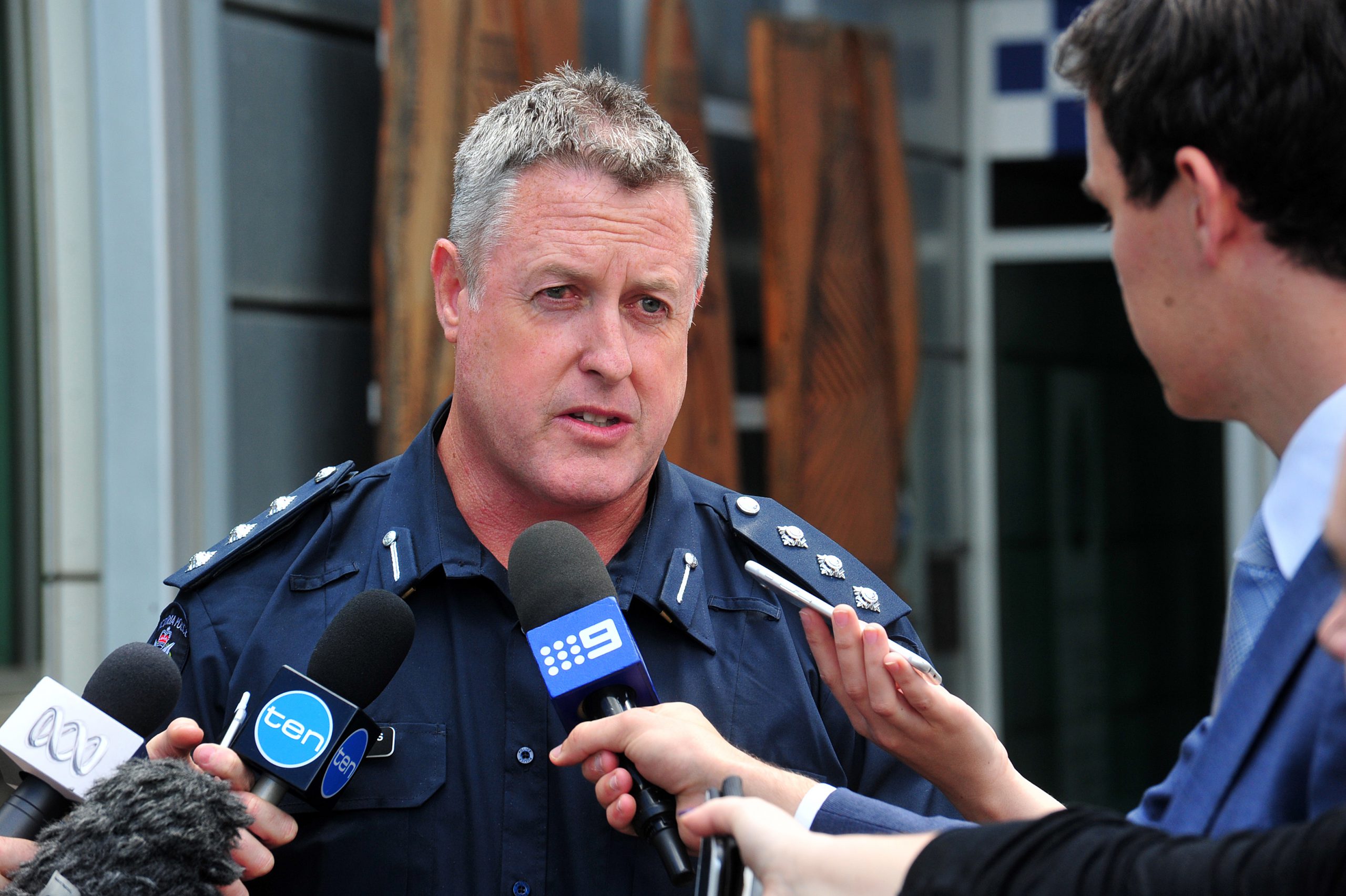 Inspector Dean Thomas has been a police officer for 30 years.

Today is the annual anniversary of Blue Ribbon Day and National Police Remembrance Day, respectively.

Insp Thomas spoke to The Express about his time in Taskforce Lorimer, investigating the murders of Sergeant Gary Silk and Senior Constable Rodney Miller, who were killed on duty at Moorabbin in 1998 and the subsequent event that led to Blue Ribbon Day.

Inspector Dean Thomas remembers the phone call like it was yesterday.

It was the morning of 16 August, 1998, about 5.30am when the phone rang.

On the other end was St Kilda Sergeant Cameron Duncan calling to inform the then Sergeant Thomas that two of their colleagues had been shot dead after pulling over a car earlier that morning.

Sergeant Gary Silk and Senior Constable Rodney Miller were dead.
At the time of the shooting, Victoria Police was investigating a number of armed burglaries on restaurants across suburbs south-east of Melbourne.

What followed suit would soon become one of Victoria Police's most significant and well-known investigations.
"When the phone rings that early, rarely is it something that's good news, it's generally bad news," Insp Thomas, who was based at St Kilda Police Station at the time, told The Express.
"[Sgt Duncan] was ringing everybody at the station to advise that Gary and Rod had been shot dead.
"I remember it as clear as day, like it was yesterday in fact, because although Gary and I weren't close friends we were work colleagues."
The officers had been staking out the Silky Emperor Restaurant on Warrigal Road, Moorabbin when they noticed a vehicle enter the underground car park, Insp Thomas recalled.
After spotting the unmarked police car where Sgt Silk and Snr Const Miller were sitting in, the vehicle exited.
The officers followed the vehicle for a short period before they pulled it over on Cochranes Road, Moorabbin.
It was there both officers were gunned down by the occupants of the vehicle just after midnight at close range.
Later that morning, police from St Kilda and Prahran police stations – where Snr Const Miller was stationed at the time – regrouped to support each other following the barbaric murders.

"When you join Victoria Police you know there is that element of risk attached to it," Insp Thomas said.
"But like any profession, you'd like to think you could go to work and do your bit for the community and get home at the end of it… sadly these men never did."
Following the murders, Taskforce Lorimer was established headed by then Detective Inspector Paul Sheridan.
At the time, a $500,000 reward was issued for information about the murders.
It was about that time Insp Thomas was called on to join the taskforce given his extensive background in the Homicide Squad and as a Sergeant at St Kilda Police Station.
"In total we had about 25 full-time members working on that investigation and at different times throughout it, the numbers sometimes increased to 30 plus," Insp Thomas said.
"We were inundated with information from the community… but eventually we got on to Bandali Debs and Jason Roberts and the investigation into those two people went on for quite sometime.
"The crew I headed was to look after the listening devices and telephone intercepts on those two and during the investigation, we got sufficient evidence to arrest them on 25 June, 2000."
Debs was charged that day while Roberts was released and re-arrested on 15 August 2000 and charged with both murders.

Bandali Debs and Jason Roberts pleaded not guilty over the murders of Sgt Silk and Snr Const Miller.
Their case was heard before a judge and jury in the Supreme Court of Victoria where the jury came back with guilty verdicts for both men on 31 January 2002.
Both men were subsequently sentenced to life imprisonment.
"On reflection looking back it was an absolute honour to work on the Lorimer Taskforce," Insp Thomas said.
"Importantly, we cannot forget the families of Rod and Gary on this occasion, their families sat through the four to five-month trail and suffered such tragic losses."
Public support for police following the murders of Sgt Silk and Snr Const Miller gave rise to Blue Ribbon Day the following year, coinciding with National Police Remembrance Day.
"We feel very humbled by the work Blue Ribbon and [Victoria] Police Legacy does, there is a lot of positive work that comes out of it," Insp Thomas.
"We realised our own mortality following that night. I will also remember that initial phone call."

"It's important that we never forget the past, Gary or Rod and especially their families for what they endured during those tragic circumstances."
Blue Ribbon Day is held on 29 September each year and coincides with National Police Remembrance Day.