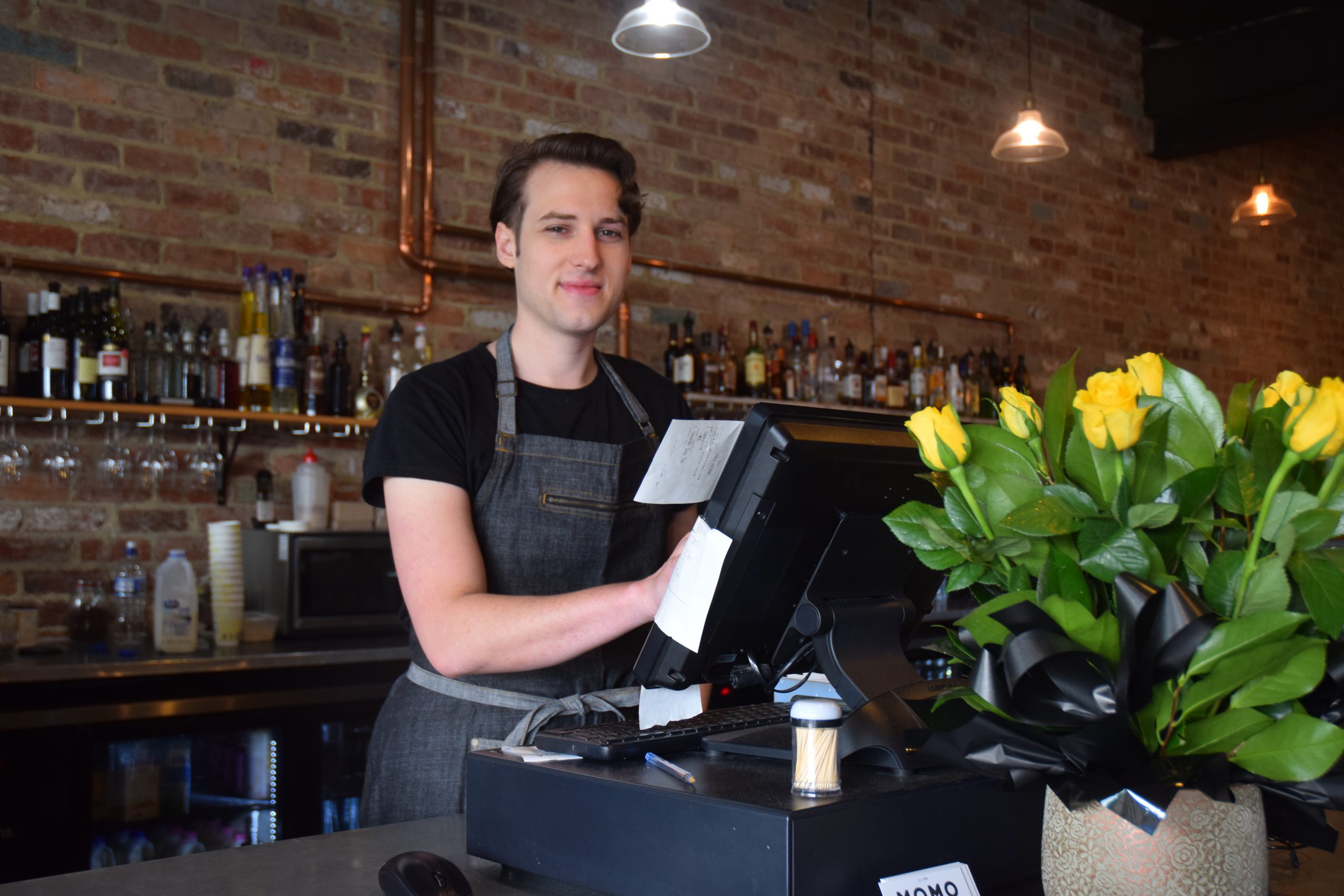 Twenty-one-year-old Dylan Gilbert completed a basic waiting skills course several years ago, however couldn't seem to find any hospitality employment until he relocated to the Latrobe Valley from Bairnsdale earlier this year.

Mr Gilbert is now greeting customers, serving drinks and working behind the till at Momo, Traralgon and said he was enjoying the atmosphere.
The part-time employee is a recent participant of the Traralgon Neighbourhood Learning House's 'Serving the Valley' program, which gave him work placements at Vault Kitchen and Bar, Morwell, then at Ritz On Hotham, Traralgon, when he took the course a second time.
Mr Gilbert said he liked how the course was hands-on and more in-depth.
"I was able to learn a lot more as opposed to being shown 'this is how you do it', and you get maybe a five-minute go, then boom, you've got given a certificate," Mr Gilbert said.
The four-day Serving the Valley program runs every month, and participants serve a community lunch at The VRI, Traralgon, work a day in a hospitality business and gain insight on health and wellbeing.
Serving the Valley project worker Jane Darling Sloyan said she tried to match jobseekers with a caf or restaurant which suited their personality.
"It has to be a good fit so that the business owner and participant have a positive experience," Ms Darling Sloyan said.
"I'm networking with all of the different hospitality businesses in the Latrobe Valley and further afield, for example, Damien Gannon from the Tinamba Hotel has been very supportive of our program."
One former Serving the Valley participant is now employed at Caf Stellina, Traralgon, and another has been offered an internship at Tania's Deli, Morwell.
Ms Darling Sloyan is now urging the community to support a fundraising program which aims to supply the jobseekers with special aprons.
She said the aprons would help improve confidence in the participants when they're serving the community lunch.
"When they look good, they feel good, and they feel more confident," Ms Darling Sloyan said.
She said she was building a "hospitality tribe" – an ongoing support network, which includes a yoga session every Thursday at The VRI at 9.30am.
"We have a guest speaker, a lady coming in to talk about health and wellbeing and the importance of looking after yourself mentally and physically when you work in hospitality. It takes a toll on your body because you're on the feet constantly," Ms Darling Sloyan said.
To pledge support to the Serving the Valley apron fundraising campaign and help reach the target of $460, visit reactivate.pozible.com.
Ms Darling Sloyan is also urging the community to pledge support to ReActivate's Get Cheffed summer cook-off event, which is in its final days.
To register for Serving the Valley visit www.facebook.com/servingthevalley