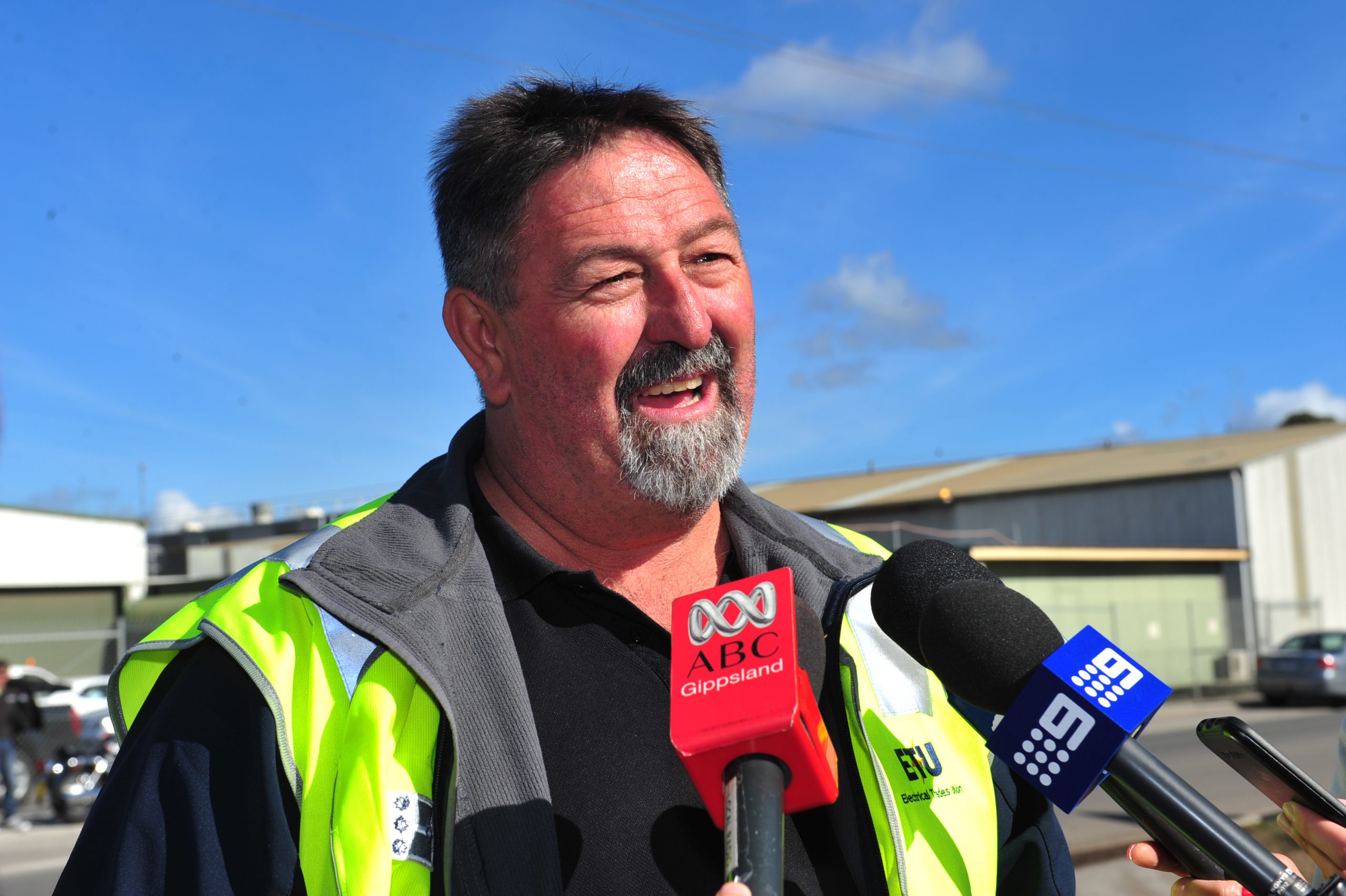 Remaining Carter Holt Harvey Morwell sawmill employees went home from work for the last time on Thursday after the company closed its doors permanently.
CHH announced the closure in late July due to a lack of plantation pine from its key supplier, Hancock Victoria Plantations.
HVP said it was unable to continue supplying Carter Holt Harvey with timber as a result of bushfires which had destroyed about 15 per cent of its stock since 2003, including the Black Saturday fires in 2009.
With no alternate supplier and the pine logs used at the mill taking at least 28 years to mature, the lack of timber supply heralded the closure of more than 35 years of production at the Morwell mill.
Electrical Trades Union Gippsland branch organiser Peter Mooney proposed a worker transfer scheme for retrenched CHH workers when the closure of the mill was announced, in which retrenched CHH workers could be re-employed by Australian Papers' Maryvale mill.
The worker transfer scheme would operate similarly to the scheme established for retrenched Hazelwood Power Station workers, where older workers at surrounding power stations are offered a retirement package to make room for younger ex-Hazelwood workers to be employed.
The Hazelwood scheme offers Latrobe Valley power generators that hire the retrenched workers receive funding of $75,000 per worker employed.
However, no agreements surrounding a worker transfer scheme for retrenched CHH workers have yet been reached due to drawn-out discussions between state government and Australian Paper.
Mr Mooney said it was "very disappointing" that an agreement had not yet been reached on a worker transfer scheme.
"Considering what we've seen across the power industry..#we've had 246 applicants to retire early," he said.
"That doesn't mean 246 are going to go, but that is a magnificent number.
"Not only are those opportunities for Hazelwood people, but others in the community."

Mr Mooney said since a worker transfer scheme had not been established for retrenched CHH workers, there was nothing for those workers moving forward.
"We would still be calling on Australian Paper to do their bit for the people in the Latrobe Valley and for an early retirement worker scheme to be [developed]," he said.
Australian Paper senior marketing manager sustainability Craig Dunn told The Express the company had followed up on the issue with state government and were waiting on a response.
"We are still open to a worker transfer scheme and are hopeful that the discussions with government may reach a positive result," he said.
"Australian Paper isn't sure when this issue may be resolved."

A spokesperson for Industry and Employment Minister Wade Noonan said the government was working with CHH to ensure every effort is made to give affected workers the support they need.
"We encourage Carter Holt Harvey workers and their families to visit the Latrobe Valley Authority and access the available worker transition services," they said.
The spokesperson did not comment on the progress of a worker transfer scheme for retrenched CHH workers.
State member for Morwell Russell Northe said the closure of CHH in such a short time was "extremely disappointing".
"Unfortunately for our community there are many unanswered questions that remain around the closure," he said.
"It appears all the state government can do is offer training to affected employees, but this is not a solution – the solution is real jobs and employment for these same people."

Mr Northe said the state government was prepared to buy the ASH sawmill in Heyfield when it was in strife, but was not prepared to do the same for CHH Morwell in any capacity.
"Many of the workers I have spoken to face an uncertain future and rubbing salt into the wound is the fact that unlike Hazelwood Power workers who at least could participate in a worker transfer scheme, this does not apply to CHH workers."