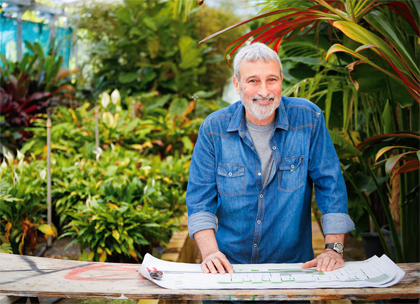 Don Burke has thrown his support behind a Morwell man's quest to form a statewide novice dog breeders' association.

It comes as The Express last week revealed Morwell criminologist Alan Guthrie had formed the Victorian Pet Dog and Novice Breeders Association following Latrobe City Council's abolition of mandatory desexing.
Mr Guthrie said depending on the membership, the organisation would become Victoria's peak representative group for dog owners on government advisory issues as well as the promotion of responsible pet ownership.
Now, Mr Burke, known for his iconic television series Burke's Backyard and passionate attitude towards animal welfare, has come out in support of Mr Guthrie's organisation after being named the VPDNBA's patron.
The organisation is currently under review for applicable organisation status by the Department of Agriculture Domestic Animal Unit and if granted, dog owners will be allowed to register their dog through the association.
Speaking to The Express, Mr Burke said the organisation would "bridge the gap" between pedigree and non-pedigree dogs and their owners who lack representation on major issues.
"We think that over half-a-million dogs in Victoria aren't registered and a lot of those are left unregistered deliberately by the owners because it's too expensive and they've got to cut the testicles or ovaries out of their dogs," Mr Burke said.
"There's a large number of dogs and their owners [who] don't have support because about 80 per cent of dogs in Victoria aren't a pedigree breed.
"This puts enormous pressures on councils and the RPSCA to take fairly draconian laws … it's a national issue and Alan [Guthrie] has put his finger on something that will change Australia."
Mr Burke said he did not want people going around "willy nilly" breeding dogs but said the organisation had the potential to put systems in place to educate people about breeding dogs.
"We're not trying to fill Vic up with dogs but what we're trying to do is improve the ones that aren't protected outside of the current system, because in reality the vast majority [of dogs] aren't covered," he said.
While it is legal to commercially breed dogs in Australia, Mr Burke said an organisation like the VPDNBA would provide education about appropriate breeding practices.
"It's legal, you can't stop it. What is needed is a group that the dog people belong to that the ensures greater attention to welfare issues amongst those groups of people," Mr Burke said.
"Otherwise you're left with a terrible system where humane groups like RSPCA are left to clean up the mess, but they can never be totally successful."
The organisation's founder Alan Guthrie welcomed Mr Burke's appointment as patron and said it would help bring some wisdom and stability to the organisation.
"Don certainly knows what he's talking about when it comes to dogs and the values of crossbreeding and boutique dogs, in other words dogs that aren't a pedigree," Mr Guthrie said.
"There needs to be an equal recognition, more than 80 per cent of dogs in the state are not pedigree and therefore not covered by an applicable organisation."
While Latrobe City has abolished mandatory desexing, Mr Guthrie said dog owners must still register their dogs with a relevant organisation.
In Victoria there are two registered applicable organisations for dogs, including Dogs Victoria and Greyhound Racing Victoria who represent pedigree dogs and greyhounds, respectively.
"If applicable organisation status is approved by the department, the VPDNBA will give dog owners an organisation that can represent them in any aspect particularly in a municipality that still has mandatory desexing standing orders in place," Mr Guthrie said.
"This is the only way to ensure compliance and from there we can ensure education of best animal welfare practices."