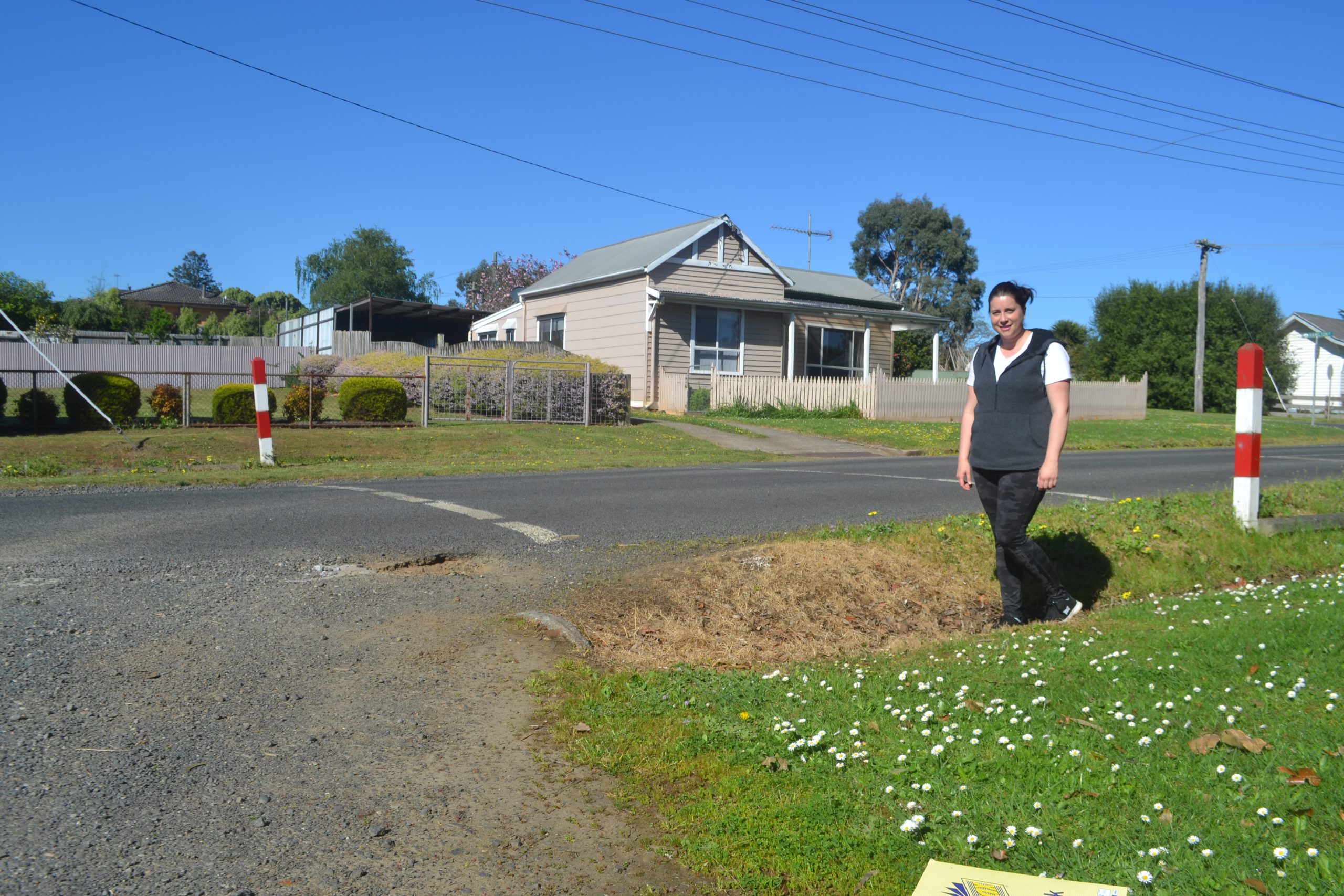 A Thorpdale mother has expressed frustration at Baw Baw Shire Council after being told a school crossing to increase student safety did not rate as high as she hoped in a needs-based capital works program.

Jenelle Donald has been working to have a concreted school crossing installed at Thorpdale Primary School, however was told by council the crossing was ranked 74th out of 142 on the priority list of potential projects.
"Thorpdale is so small, we've only got the pub that burnt down, we've got the CFA, the post office, the bakery, the kinder and the school," Ms Donald said.
"I thought surely being on the main road and close to the school, close to the kinder, they would be able to get it higher ranked in the system."
The current school crossing is marked with flags and a 40-kilometre speed restriction during pick-up and drop-off times.
However, Ms Donald said while locals may slow down, not everyone coming through the town knew of the school zones.
"There is always tractors going through and it's not manned," she said.
"The principal said at times he has walked out and had to pick the flags up because the trucks have hit them because it is the main road into town.
"I can't see the sense in why [the crossing] is still not prioritised when it is children's safety [that's at risk]."
Ms Donald said with summer approaching, the school would have to walk students down the road to the pool for swimming lessons.
Baw Baw Shire acting director community assets David Dunstan said council officers had reviewed footpath development priorities and concluded the 35 metre section of footpath between the pedestrian crossing on Morwell-Thorpdale Road and Hamilton Street in Thorpdale.
"[It] could be potentially delivered as part of the overall footpath program for this 2017/18 financial year," he said.
"The works delivery of council's footpath program across the shire is currently progressing incrementally and council is yet to finalise the delivery time lines for this particular section of footpath."
Mr Dunstan said the section of footpath required an engineering investigation and design to establish what works would be needed at the crossing point.
"This engineering investigation may reveal other works in addition to the footpath link are required such as road works and drainage upgrade," he said.
"This will increase cost and requires VicRoads' approval. Council expects this investigation and design will be complete by the end of the year, informing discussions with the school and VicRoads about works, costs and delivery time frames."
Mr Dunstan said traffic safety, particularly around schools, was an important consideration for council.
"Council's Footpath Priority System assists with prioritising new footpath works based on a number of factors including strategic importance, traffic and pedestrian safety, type of road and social value," he said.