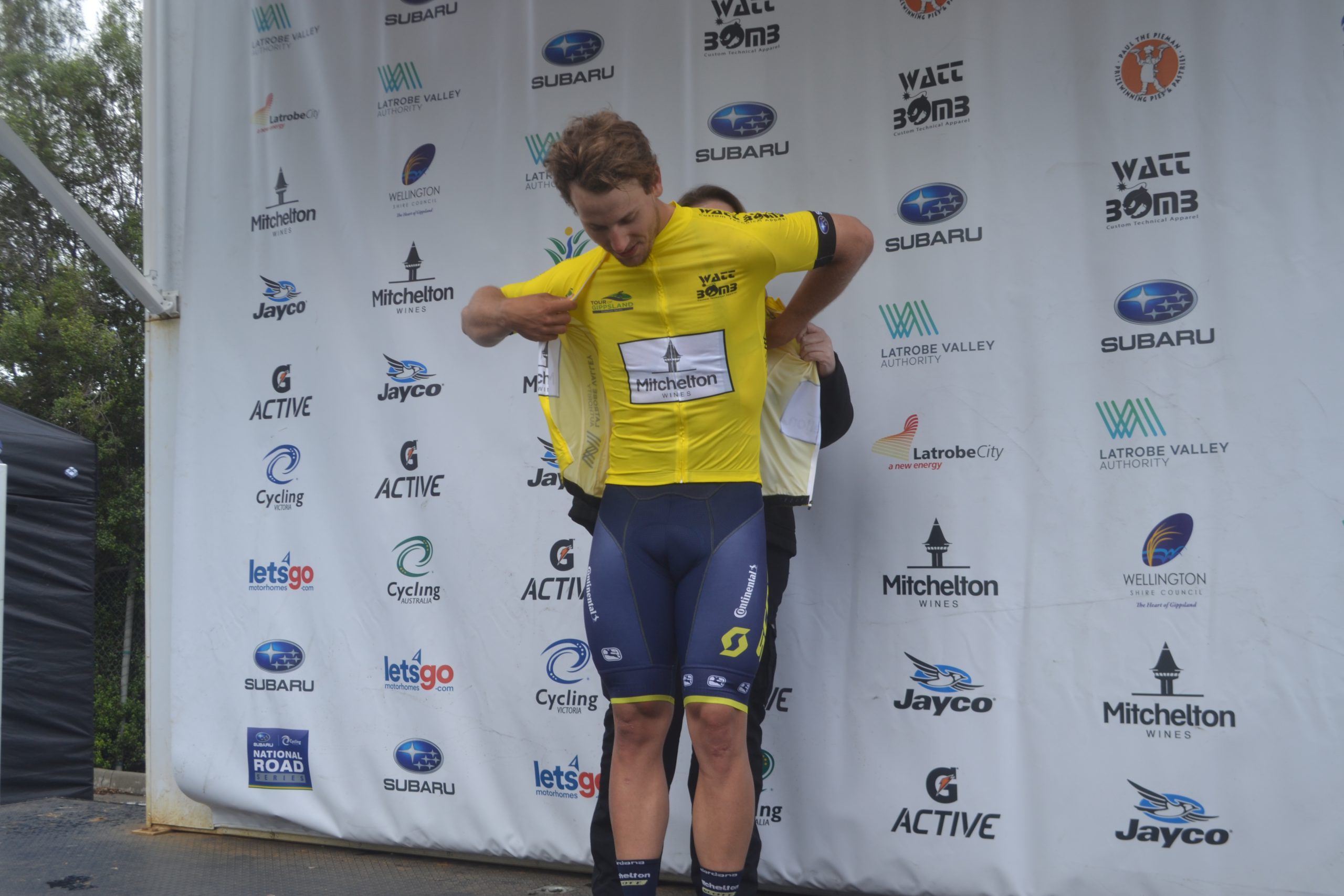 CYCLING
TOUR OF GIPPSLAND
The Tour of Gippsland criterium series wrapped in Traralgon on Sunday with 21-year-old West Australian Sam Welsford taking out the overall win to retain the coveted yellow jersey.
Welsford was the pick of the pack throughout the four-day race, taking the win in stages one and two and finishing third in stage three.
The win tops off a stellar run of form for Welsford after he finished second behind Nathan Elliot in the Melbourne to Warrnambool Race last weekend.
"It's been a really good tour and I've really enjoyed it," Welsford said.
"Today was a very hard stage and the guys made my day very hard but hats off to all the riders in this tour, it's been really aggressive riding throughout all four stages."
Welsford stuck with the peloton throughout stage four and managed to hold off a breakout ride from Germany's Raphael Freienstein late in the race.
He also took out the best young rider jersey for his series performance and will now turn focus to the 2018 Commonwealth Games on the Gold Coast.
"I'll head back to Adelaide for training now and hopefully get things ready for next year," Welsford said.
Triathlete turned cyclist Sascha Bondarenko-Edwards made a late charge to take out the stage four win in Traralgon to claim his first stage win in a National Road Series event.
Bondarenko-Edwards was joined on the stage four podium by Michael Freiberg and Harrison Bailey who finished in second and third, respectively.
"It feels really good to win, I've got a couple of podiums now and I've been wanting that win and I can't believe it's happened finally today," Bondarenko-Edwards said.
After swapping disciplines several years ago Bondarenko-Edwards said the stage win in Traralgon was proof he made the right decision.
"I did triathlon for seven years and went through VIS and then went to Europe and came home and decided to focus on cycling," he said.
"The boys rode really well, covering moves and bringing a few things back so I've got to thank them as well."
Kimberley Wells took out the first ever running of the women's event at the Tour of Gippsland, beating out High5 Dream Team's in-form rider Rebecca Wiasak.
"Both the men's and women's events have been really exciting," race director John Trevorrow said.
"Kimberley [Wells] proved to be the strongest and did really, really well."
For the first time ever the Tour of Gippsland was held as a criterium series, which Trevorrow said was a resounding success.
"It's been a great Tour of Gippsland, it was a bit different this year with the criterium series and we had some rain to start in Inverloch and some rain to finish in Traralgon but it's been wonderful," he said.
"All the riders have been raving [about the criterium series] and they're saying 'bring it back' so we'll see how that goes.
"This event has been great for the fans and we'll be back next year, it's been a great four days.
"These are world-class bike riders giving us a world-class performance so they deserve all our congratulations."