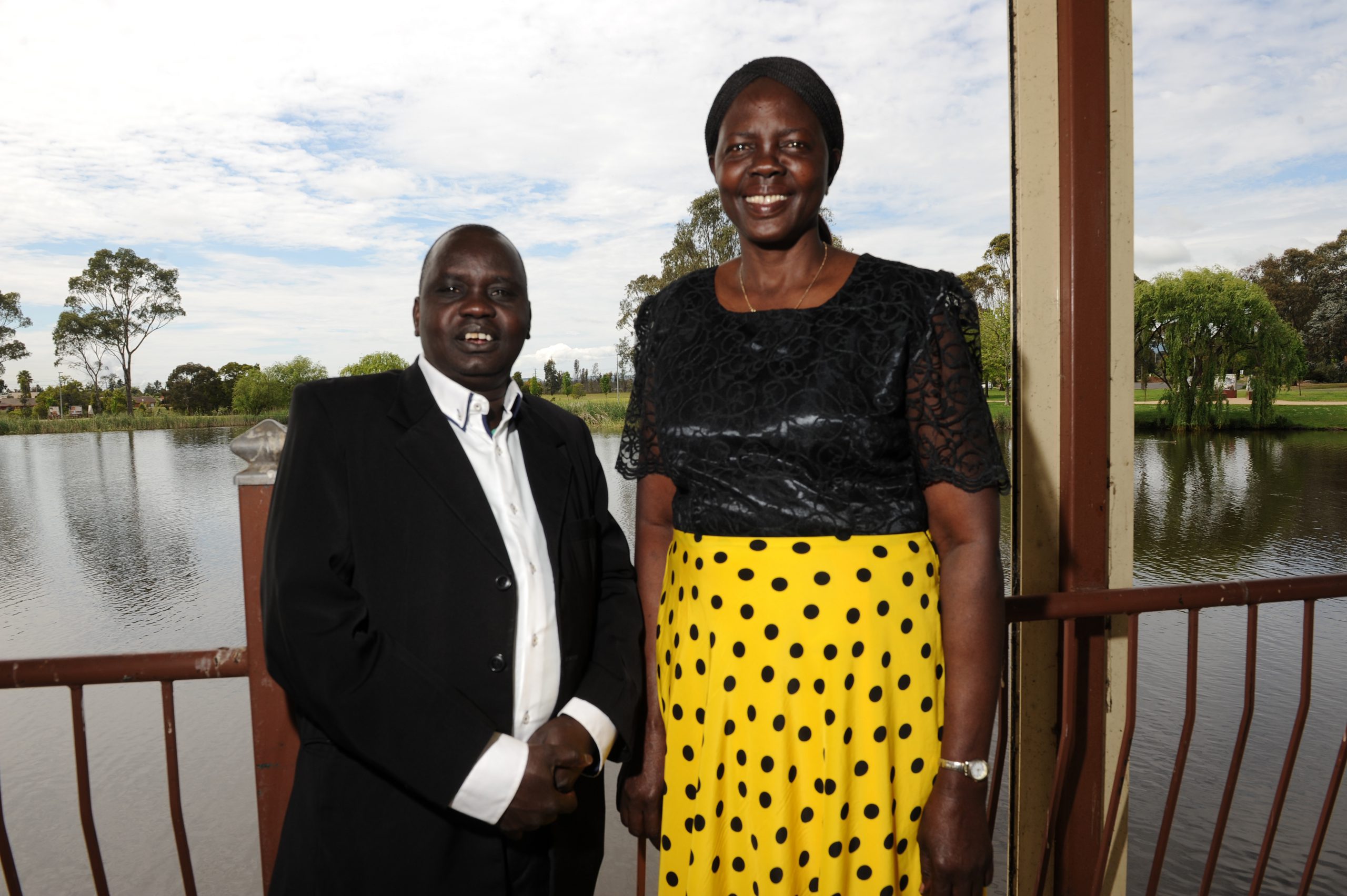 When Abraham Malual first arrived in Melbourne in 2006 as a refugee, his mind was focused on one thing removing his sisters from a Kenyan refugee camp and reunite his family that found itself severely broken by Sudan's horrific civil war.

Without wasting time Mr Malual, now an Australian citizen and a disability support worker, applied to sponsor his older sister Mary Akur Malual and her family who were living in a United Nations refugee camp in Kenya.
"I put an application [in] each year and they all failed," the 42-year-old Traralgon resident said.
"They used to say 'your sister has not met the criteria to come to Australia' [or] 'we know she's a refugee but there's limited places in [the country]'."
After five attempts and 11 years of continued stress over his sister's safety, Mary and her six children were finally allowed to enter Australia in January last year.
It was a sweet taste of freedom for Mary's family as they endured 28 years of living a difficult life at the Kenyan refugee camp with little food and constant fear for their security.
"The people survived on rationed food from the United Nations and the food we had was not enough, if you finish your ration before a fortnight you have to wait until you get the next supply," Mary, who does not speak English, said through her brother.
"The kids knew no other way of life than to wait for a fortnight to have something to eat."
It was in 1987 when the life of the Malual family was abruptly interrupted by Sudan's war as armed militia descended on their village trying to recruit young boys.
Considered as Sudan's most horrific period, Mr Malual belonged to what is known as the Lost Boys of Sudan, a group of more than 20,000 young boys fled on foot to the jungle, facing wild animals and survived on leaves and fruits and water to make it alive to a refugee camp in Ethiopia.
A year after it was Mary's turn to flee as the militia decided to destroy their whole village.
"I was collecting grains to prepare food for my family and ran by myself while my kids ran in a different direction," Mary, 52, recalled.
After two weeks Mary was reunited with her children at a refugee camp in South Sudan where displaced people were accommodated.
But a couple of months later Mary's family again found themselves running from armed men as the camp was attacked, forcing them to walk on foot for two months before reaching a refugee station in Ethiopia.
After five years brother and sister were reunited at a UN refugee camp in Kenya where Abraham first learned to read and write as a 17-year-old.
Mary gave birth to six other children at the Kenyan refugee camp.
Mr Malual said he holds no grudges against people who have a negative attitude towards refugees.
"I can't blame them because they've never experienced the life of being a refugee. They [think] people come here to destroy their society but they're not," he said.
"People come here for their safety and being a refugee is not someone's choice, it's something forced on you."
"We try to work hard to show the people we came here to live with you, we come here to change our lives, to be part of this beautiful society."
Mary is currently studying English and computer classes to prepare her for possible employment. She is happy that her children now go to school and today "we are free".
Mr Malual said he was working on sponsoring his youngest sister and her two children who are still left at the Kenyan refugee camp.
The application has been rejected twice by the immigration department.