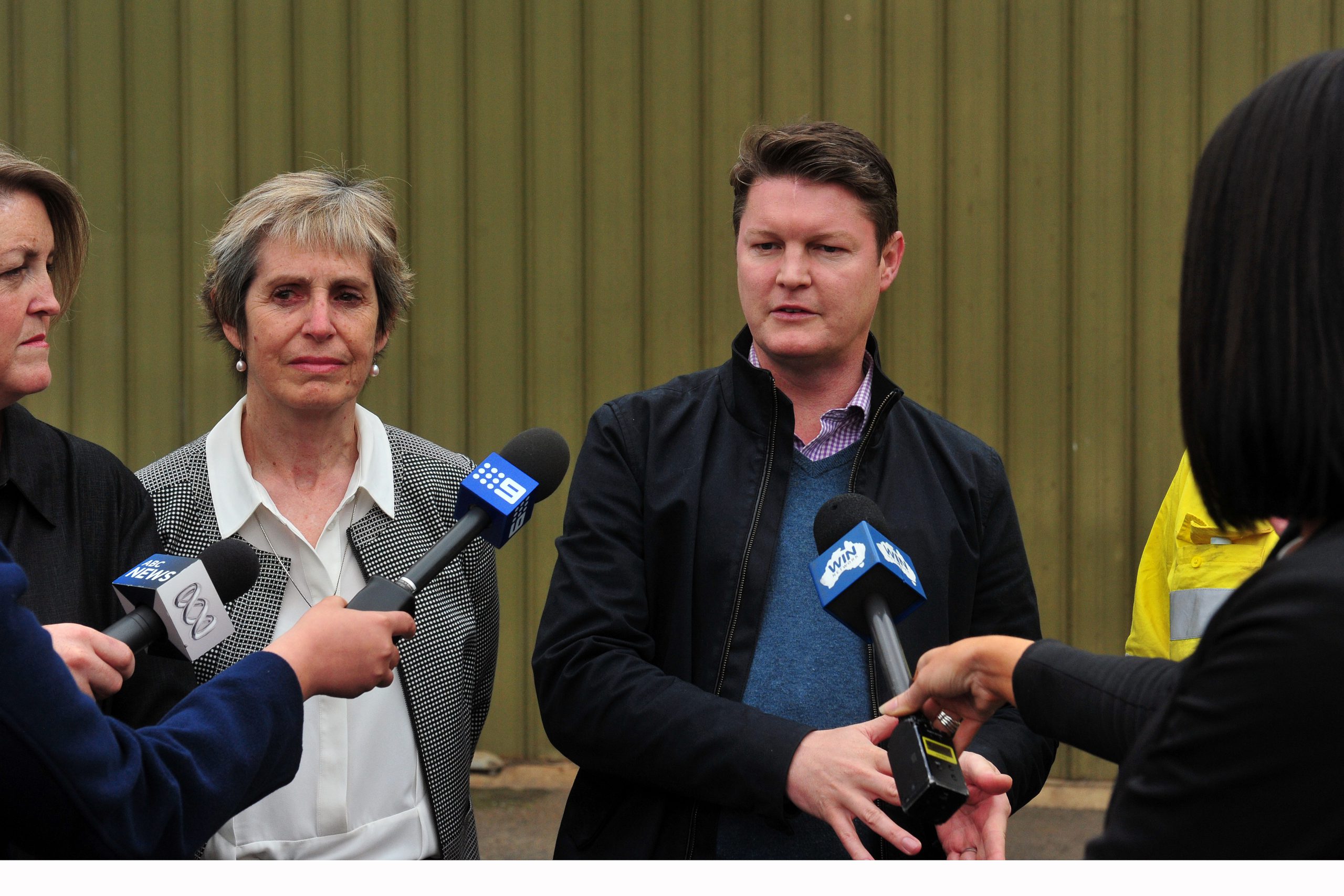 Thirty-four new jobs will be created across two family-owned Morwell businesses in the next five years after they were awarded grants as part of the state government's Latrobe Valley transition scheme.
Newly-minted Industry and Employment Minister Ben Carroll visited the Latrobe Valley on Thursday to announce the businesses would receive the grants to boost local jobs and expand business operation.
Onsite Machining and Pipeline Services and Dynamic Industries Gippsland will receive the grants incrementally over the next one-to-two years as part of the government's $10 million Latrobe Valley Economic Facilitation Fund.
The grants will support about $1.5 million in investment and is an addition to the state government's $266 million transition package for the region.
The businesses provide manufacturing components to the power, mining, oil and gas industries and powder coating services to 60 local businesses across the region, respectively.
Mr Carroll, who replaced former minister Wade Noonan following his shock resignation at the beginning of October, said he made the Latrobe Valley his first priority since assuming the portfolio.
"Out of all the regions in Victoria, in my first week I've wanted to come to down the Latrobe Valley and spend a whole day here talking to business, talking to council, talking to the Latrobe Valley Authority," Mr Carroll said.
"I'm going to back business, I'm going to work with the [Latrobe Valley] Authority, work with council and make sure we have our jobs first policy to support families.
"These two family businesses are employing mums and dads and putting food on the table and they're great contributors to the local economy."
Onsite is expected to employ an additional 20 full-time staff in the next three-to-five years.
"Latrobe Valley priorities are jobs, jobs and industry. They're going to be machinist jobs, engineering jobs," Mr Carroll said.
Onsite Machining and Pipeline Services director Damien Rieniets said the grant would provide an opportunity to expand the business' operations and employ more people as the company continues to expand its operation overseas.
"We work all throughout south east Asia and export our local fellas to manage and do technical support over there in the oil, gas and power industries," Mr Rieniets said.
"We've got a big opportunity collectively in the Latrobe Valley. We've got the best tradesmen in the world, I see it, I see it first hand, it's special."
Dynamic Industries Gippsland business owner Chris Maliko said his company would look to employ between 12 and 14 people over the next couple years.
"We've done two in the last couple of weeks and hopefully the next lot of people that we employ will be early next year pending some projects," Mr Maliko said.
"Revenue wise compared to a couple of years ago we were a two-man job. We've expanded our business and probably quadrupled our capacity.
"We plan to quadruple that again obviously with the expansion and new employees."
The company, formerly known as Dynamic Powder Coaters, recently expanded its services to steel manufacturing and fencing and will look to expand its factory following the announcement of the grant.