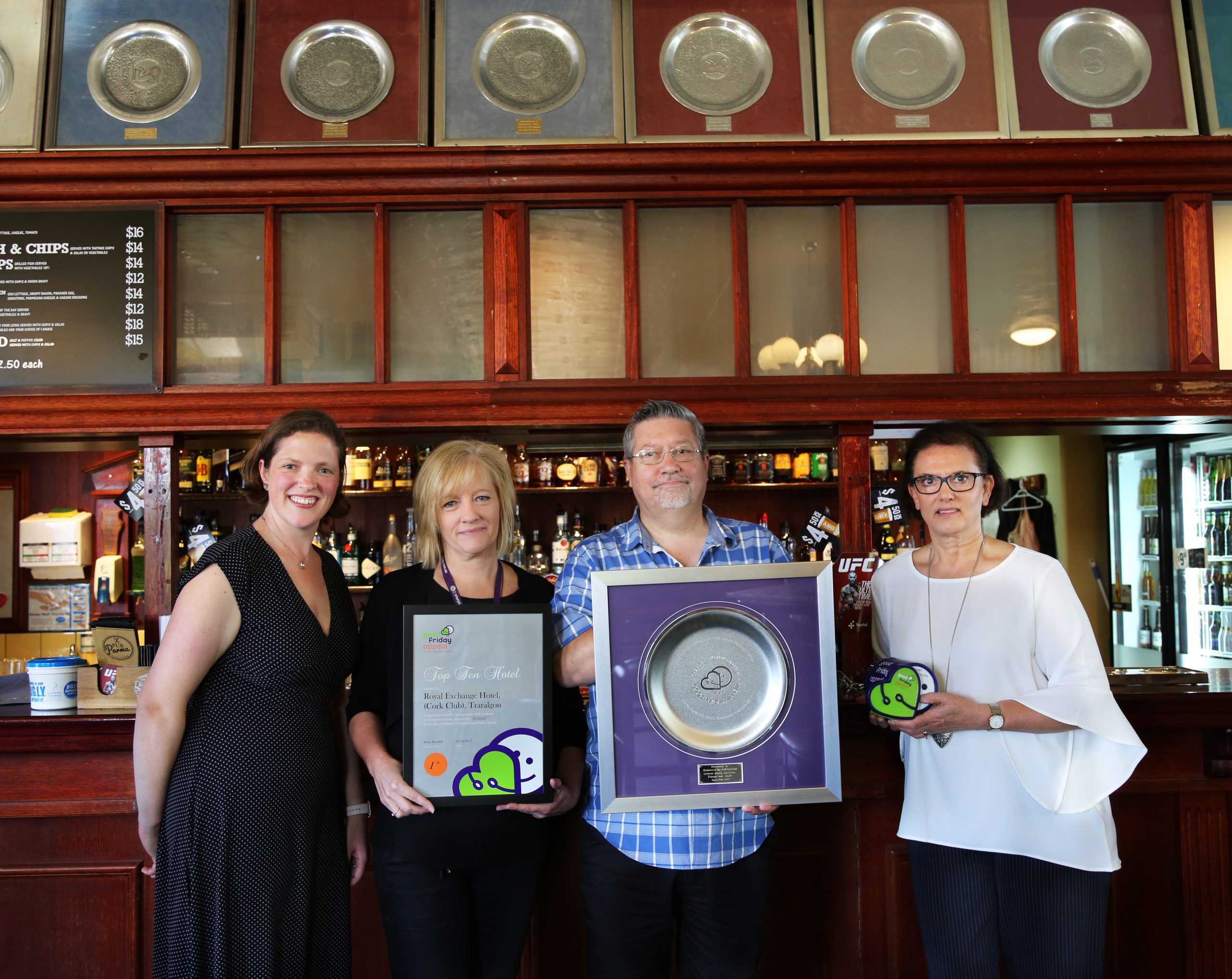 The community's generosity hit new milestones in 2017.

Royal Exchange Hotel Cork Club has been the highest fundraising hotel for the Good Friday Appeal for an incredible 11 consecutive years.
This year also marks Traralgon's fundraising efforts for The Royal Children's Hospital exceeding $2 million.
Good Friday Appeal deputy director Emoke Bakacs said the club's committee had dwindled in numbers, yet were still coming up with the results.
"I think it's because they have that wonderful knack of understanding and engaging so well with their community, and really the Traralgon and district community is so generous. It always has been," Ms Bakacs said.
"Seven of those [top 10] hotels are from regional areas, so that also tells us that people in regional areas are really connected with The Royal Children's Hospital … and we are so fortunate to have their support."
REH Cork Club fundraise through activities such as the craft market in Kay Street Gardens, traffic light collections at Easter time, the Good Friday Community Family Fun Day, Latrobe Street Machiners Car Club's car show and the Our Kinda Country gig.
Club fundraising committee president Roy Arnold said it became harder and harder each year because of the fundraising competition with other charities, yet the Latrobe Valley community continued to respond to the cause.
"So many people … went to the children's hospital as a kid or had a child who had been to the children's hospital," the committee president of six years said.
He encouraged people to get involved with the club by helping with fundraising activities and even administration.
"It's mostly older people who have been involved. Getting younger people and getting them involved is what will keep the club going for another 40-odd years," Mr Arnold said.
Mr Arnold, who has been involved with the appeal since 1993, thanked local businesses and the hotel staff for their ongoing generosity.
"Somebody will go up and take some water up to the guys up collecting, or a couple of the staff will help collect at the lights as well and … those sorts of things all add up," Mr Arnold said.
Ms Bakacs thanked the hotel staff and patrons and supporting businesses and said next year the Good Friday Appeal would be presenting the REC Cork Club with a plaque for fundraising $2m for the hospital.
REH Cork Club raised $59,634 for The Royal Children's Hospital in 2017.