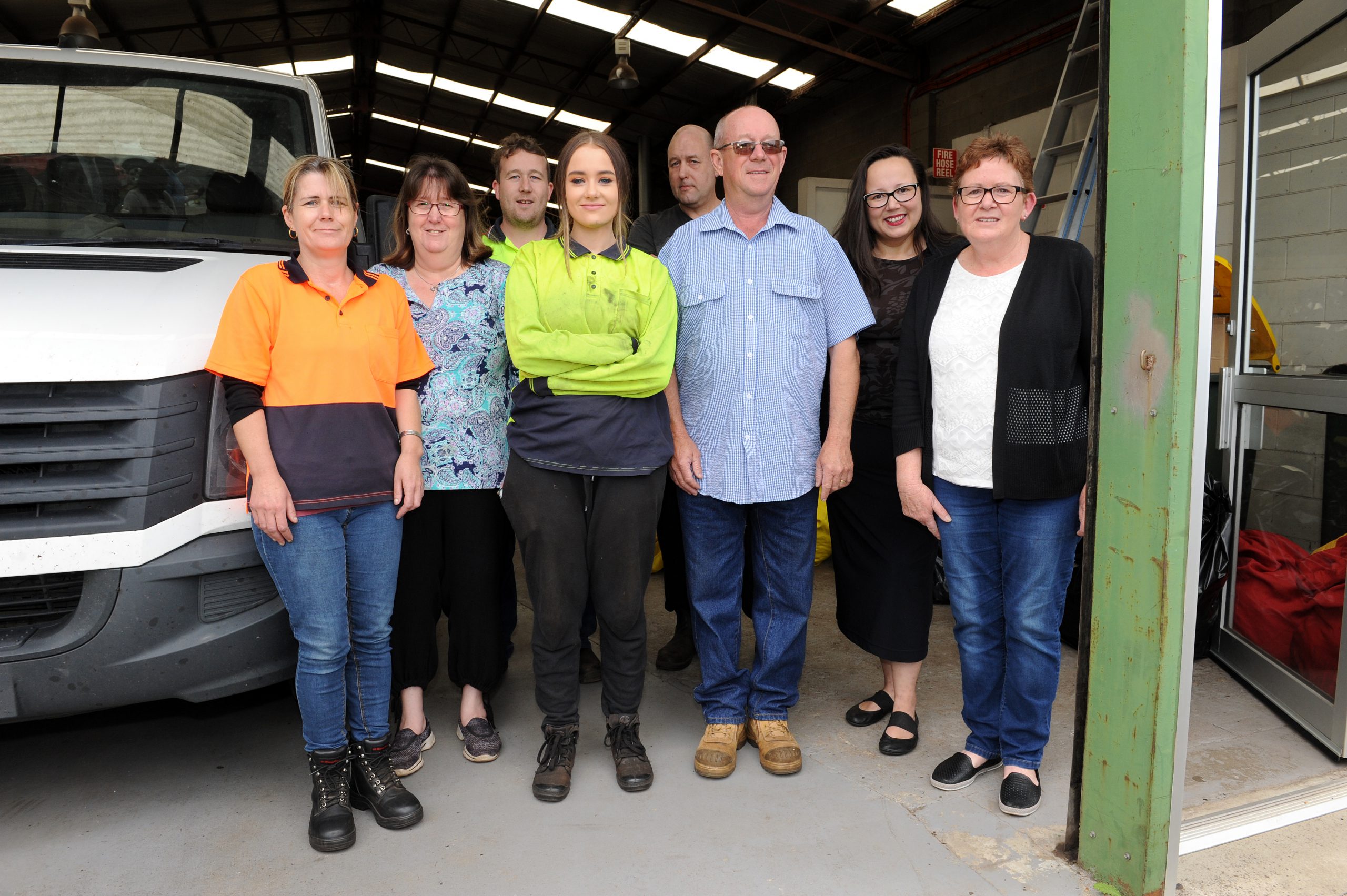 Family-run business Valley Court Laundrette at Morwell will be able to expand into new sectors of the laundry industry after receiving a grant from the Latrobe Valley Economic Facilitation Fund.

Regional Development Victoria oversees the fund which is designed to support job creation in the region and forms part of the state government's $40 million Latrobe Valley Economic Development Program.
Business owners Lindsay and Gail Mills began the laundry with the objective of servicing "the industrial side of the laundry".
"We were very lucky. Six months into the business we won some contracts … and from there we grew into a very big industrial laundry, we do all the power stations in the Latrobe Valley," Mr Mills said.
"Unfortunately with the announcement last year [closure of Hazelwood] we lost about 22 per cent of our work.
"Twenty-two per cent of your business is about $200,000 a year, it was huge. But we didn't give up. We dug in and we've lasted 12 months."
After 12 months of negotiating, the business received the grant which will allow it to purchase equipment needed to begin servicing other sectors outside the power industry, such as healthcare and hospitals.
"Thank goodness the Latrobe Valley Authority came along … and we've gotten a bit of a grant that allows us to go into a different field in the industry. Hopefully we can employ more people, but first of all we've got to maintain the workers we've got," he said.
"I'm quite confident it is going to work.
"We've got 10 staff. Hopefully this time next year hopefully we'll have 15, 20.
"My main objective is to keep the people here going. As the work comes through the door, then we'll assess it."
Member for Eastern Victoria Harriet Shing said the grant would put the family-run business in the "best possible position to thrive" and would allow it to "expand beyond what had typically been their market which was servicing power stations".
"Being able to purchase a new feeder and washer for sheets and for flatwork will mean they will be in a position to take on work in a number of other parts of the sectors and communities that are growing throughout the Latrobe Valley," Ms Shing said.
"So with a grant from [Latrobe Valley Economic Facilitation Fund] and a lot of assistance from the Latrobe Valley Authority, we're seeing Lindsay and Gail not just being able to look after their current staff of about 10, a business that has been in place since the mid '90s, but to be able to expand and take on new work.
"With this grant for example, what we will see is the business being able to diversify as well as them being able to put on new people and we're seeing figures and estimates of between 10 and 15 extra jobs if all goes to plan in the next couple of years."
Latrobe Valley Authority chief executive Karen Cain said the LVA and Regional Development had worked closely together to facilitate this particular grant.
"It's part of a whole suite of support that has been provided for a business just like this," she said.