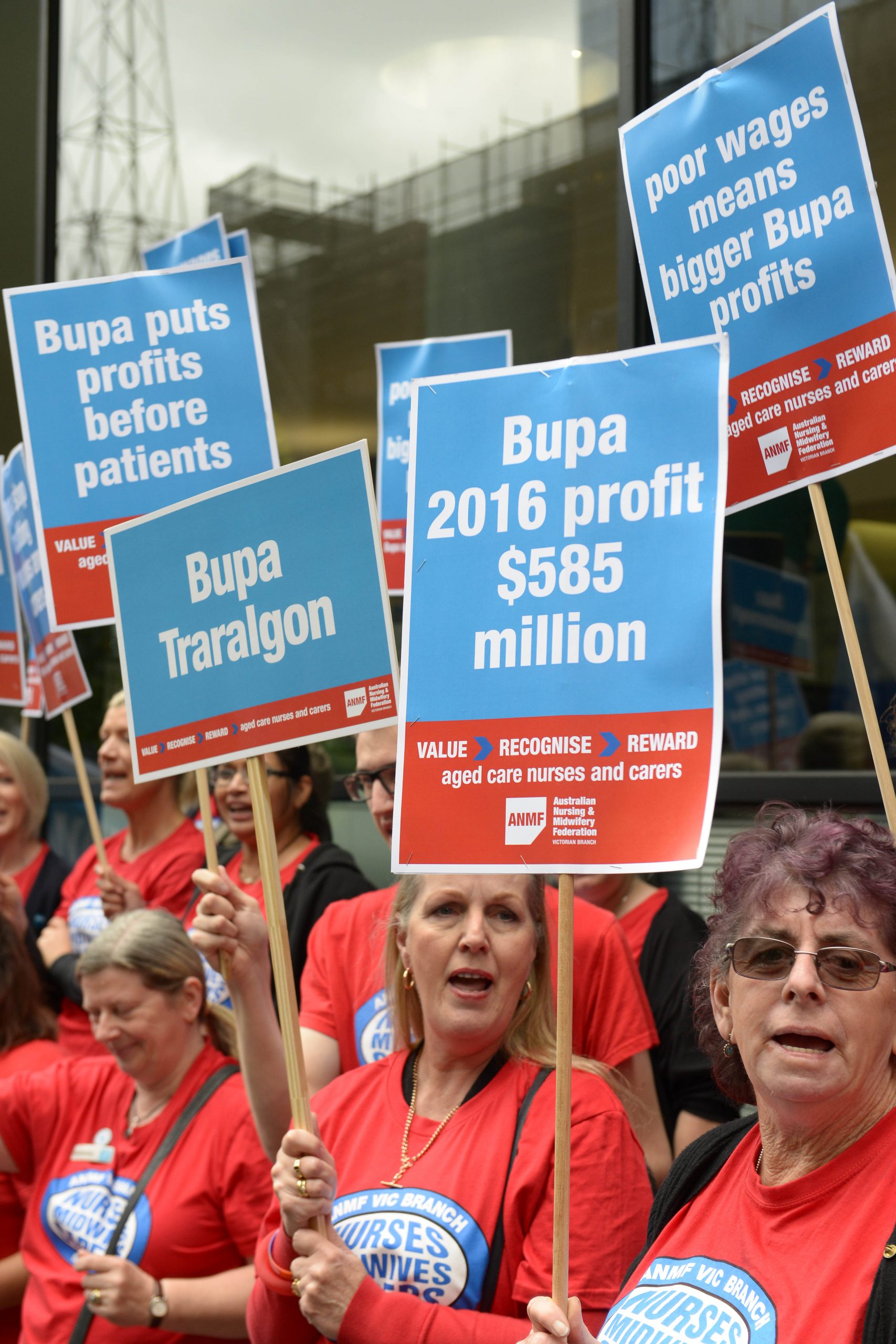 Staff at Bupa aged care in Traralgon will begin stage two protected industrial action on Thursday to demand higher staff-to-patient ratios and a pay increase.

It comes after almost 400 Bupa nurses and carers gathered outside Bupa's corporate Melbourne office last week.
A stop-work meeting and community barbeque will occur in Traralgon this Thursday with the onset of the stage two industrial action.
Stage two protected industrial action involves a ban on the completion of any paperwork or electronic forms related to the Aged Care Funding Instrument [ACFI], with no retrospective completion of such paperwork, finishing and commencing duty at the rostered time unless overtime is approved in writing and in advance and two-hour stop-work meetings, or consecutive two-hour strop work meetings.
Australian Nursing and Midwifery Federation Vic tor ian branch secretary Lisa Fitzpatrick said the union had been trying to negotiate a new enterprise agreement with Bupa that reflects what nurses and carers are being paid in other private aged care nursing homes in Victoria.
"This is the first time Bupa nurses and carers [who are part of the ANMF] have voted to take industrial action," she said.
"We need the Federal Aged Care Act, which the Howard Government changed 20 years ago, amended to include mandated minimum ratios instead of the current unenforceable and undefined requirement for nursing homes to have an 'adequate' number of skilled staff," she said.
Ms Fitzpatrick said staffing ratios at Bupa at night were one staff member to 24 patients, compared to the public sector ratio of one staff member to 15 patients. Bupa aged care Australia chief nurse Maureen Berry said Bupa would continue to negotiate in good faith with the unions.
"Our latest offer includes an 11.25 per cent wage increase over three years and protection of penalty rates including weekend loadings," she said.
"This offer is higher than the CPI and average Australian wage increases.
"The ANMF has not accepted this offer, nor have they supported us passing on an immediate pay rise to our people while we continue to negotiate."
Ms Berry said Bupa respected the right of employees to take protected industrial action.
The stop work meeting and community barbecue will be held outside Bupa Traralgon, 96 Park Lane, Traralgon from 12-2pm on Thursday, 2 November.