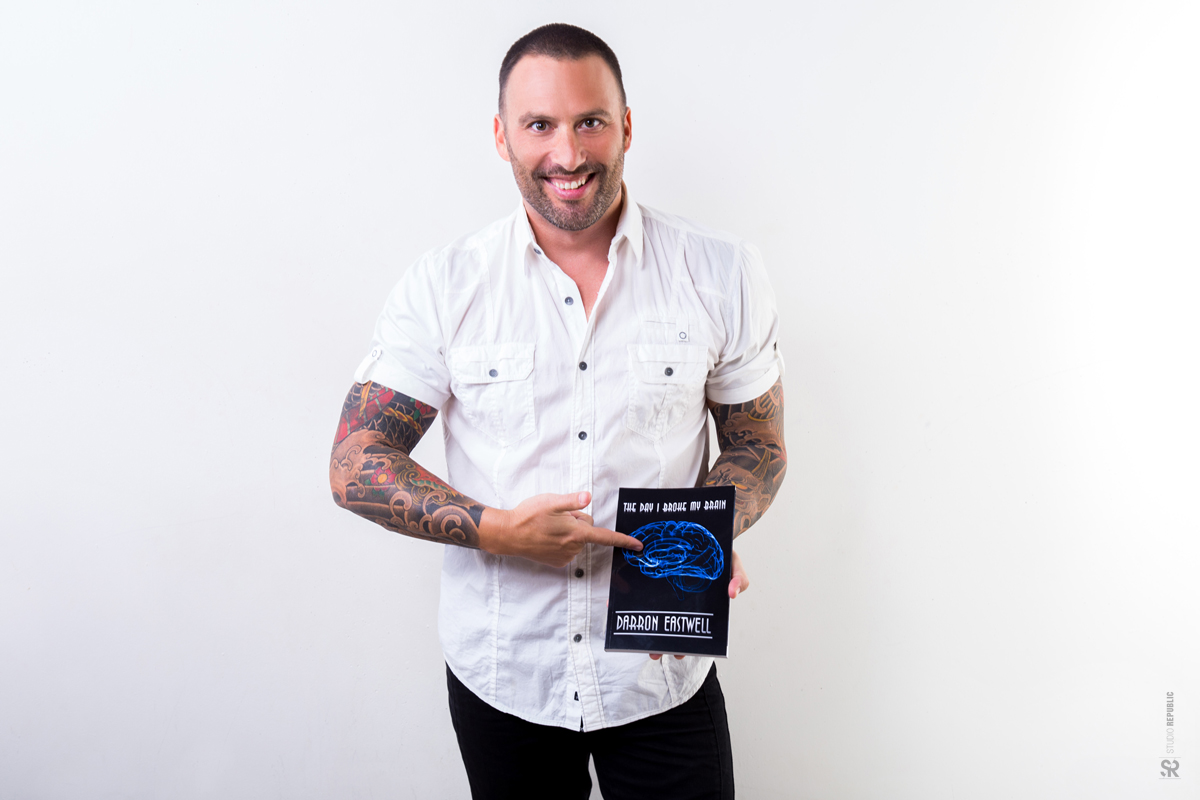 A police car outside Bianca Eastwell's Sunshine Coast home validated an uneasy feeling in her stomach on the morning of Saturday, 23 May 2015.
The officer told her Darron, her husband, was in the emergency department and she would now go with them to the hospital.
Later the neurologist's words over the phone bared worse news.
"The Darron you once knew will no longer be."
Before the severe accident which fractured his skull, neck and vertebrae, Mr Eastwell, a Moe-raised successful banker, was managing a $150 million lending and deposit portfolio.
He was an exercise enthusiast and determined family man.
Continuous job opportunities moved Mr Eastwell away from the Latrobe Valley, until they eventually settled in Buderim, Queensland.
"I had so much to live for. I had a good life before the accident – I have a good life now, and the determination to get better," Mr Eastwell said.
"When I was in the intensive care unit my wife and family were all told 'there was a high chance Darron won't wake up from the coma, and when he does there's an 80 per cent chance he'll be in a vegetative state and require 24/7 care'.
"And I proved them wrong."
His recovery from a diffuse axonal injury – described as shearing of the brain tissue – has so far exceeded doctors' expectations, yet he still has issues with his vision, sense of taste and smell.
"I'm still unable to drive and most of it is my fatigue. I get really tired. From three o'clock onwards I'm pretty much done for the day," he said.
"It's like living with a permanent concussion feel. I always have a headache and real fogginess in my head."
Mr Eastwell said he was blessed his personality didn't become more aggressive since the injury, which was common in men.
"With me I've actually calmed down a bit," Mr Eastwell said.
He believes his existing personality trait of determination has helped in his recovery.
"I always felt like I always wanted to be provider for my family so I guess I always pushed myself to get better," Mr Eastwell said.
"They were just my driving force."
He doesn't remember the day of the accident, however his family has been able to fill in some gaps of his time at the hospital, which includes some of his bizarre recounts meeting elders in Somalia.
"Prior to the accident I was never Christian, not a spiritual person, but that has opened my eyes to that sort of thing," Mr Eastwell said.
Other recounts were equally as confusing.
"Sometimes I got up in the night [at hospital] saying to nurses I wanted to go to the gym or for a run," Mr Eastwell said.
"I guess that was my way of getting to the old Darron."
Mr Eastwell's found coping strategies for the memory loss.
"Obviously with the accident I didn't remember anything. I didn't remember where I lived," Mr Eastwell said.
He said he would walk around the streets near his house, the next day travel a bit further, and now he's OK with directions even if he can't recall street names.
"I put notes in my phone where I was going – where I was supposed to be going. When I got totally lost I had to call someone."
Playing guitar, which he said "lights up your entire brain", 20 minutes of exercise a day, naturopath tablets and essential oils have all been key components he attributes to his incredible recovery.
The journal he wrote in his rehabilitation process he's now compiled into a novel, The Day I Broke My Brain, with the help of an American publisher David Grant.
"I went from not remembering where I put the journal … slowly over 12 months I remembered certain things," Mr Eastwell said.
It took two to three months to type up his notes because he couldn't remember where each letter on the keyboard was, and now his completed novel has reached seven different countries.
He said the purpose of the book was to help people who were brain injury survivors.
"Pretty much a week doesn't go by where I'm contacted by someone overseas who's read my book," Mr Eastwell said.
For more information, and helpful links for TBI survivors, visit Mr Eastwell's website at www.darroneastwell.com.au