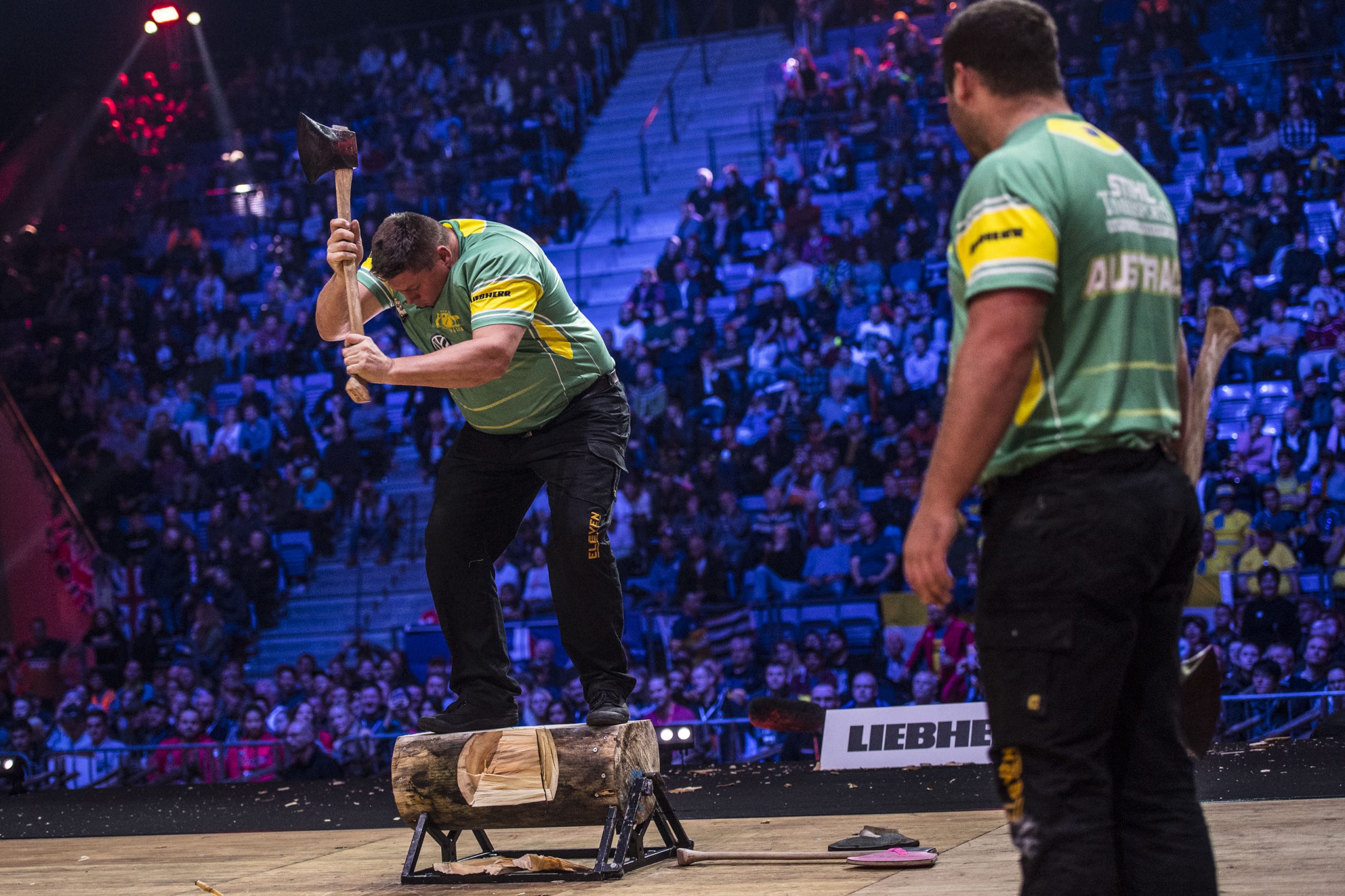 He describes himself as "just a bloke from Toongabbie", but Glen Gillam's most recent achievement places him among the best woodchoppers in the world.
Gillam recently returned from Norway with a bronze medal in hand after cutting his way through the competition at the Timbersports World Championships.
As part of the national representative team, Gillam and the Chopperoos carved their way to semi-final showdown with Poland in Lillehammer before a heartbreaking penalty stopped them in their tracks on the way to a fourth consecutive world championship.
The Chopperoos finished well ahead in the semi-final but an early start in the change between two disciplines – the underhand chop and singlebuck – saw the referee call for a video review.
"We were whacked with a 15 second penalty because there was a bit of miscommunication," Gillam said.
"I finished my underhand and [my teammates] thought I was off … and they moved the saw before I completely severed the log … but that's just what happens in sport."
Despite being "gutted" about the loss, Gillam still had a lot to smile about.
"That's the way the cookie crumbles sometimes in sport," he said.
"I was just happy to be there and do what I do and show the world, and we still got a podium finish.
"I got memories and nobody can take that away from me … it will be with me for the rest of my life."
The Chopperoos produced the fastest time on their way to the bronze medal finish with a stunning 47.06 seconds in the minor final against Canada.
Gillam's individual times were even more astonishing.
He clocked in on the underhand at a time of 11.2 seconds while the rest of the competition sat between 17-18 seconds.
In his first showing on the world stage, the father of one left competitors and commentators gobsmacked.
"I just shone … they said they'd never seen anyone so fierce or so fast, I was just like a bull in a china shop," Gillam said.
"They said to me 'how do you cut?' and I said 'I can't explain it other than it just comes from my heart, it's just passion'.
"They asked me if I could teach them but I said 'I've got nothing to tell you, it can't be taught'.
"They couldn't believe someone so big could be so quick but I just told them that athletes come in all shapes and sizes."
With wife Jacqui and son Jack watching live from home in Toongabbie, Gillam said the camaraderie and support of his Chopperoo teammates made the whole experience worthwhile.
"We had composure and comfort and as a team we were able to bond and that brought us together in unity to strive to do what we do," he said.
"I knew when I was there that I had one job to do, and that was to annihilate the log between my feet.
"We may not have won but it's put a fire in our bellies and hopefully we can come back next year and prove we're the best."
In the midst of nursing a serious bout of jetlag, Gillam was pleased to be back on home soil and in the company of his local community.