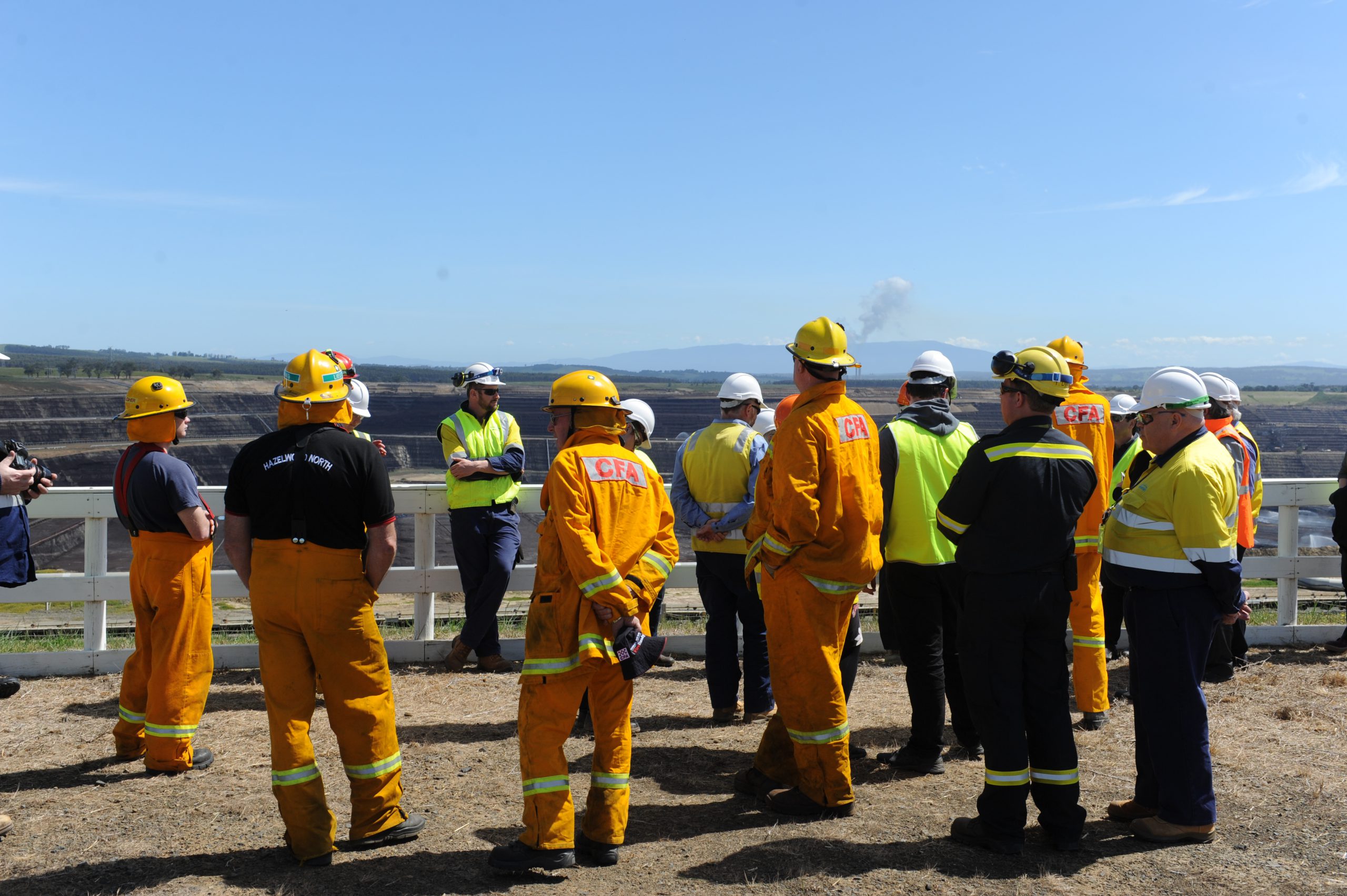 The risk of an out-of-control fire in Hazelwood's open cut mine is lower than ever, according to the mine's operator, ENGIE.

The declaration follows a full-scale mock emergency fire preparedness briefing on Thursday morning which highlighted what the mine's operators will do on days of and prior to extreme weather.
CFA firefighters from Hazelwood North and Churchill and staff from CFA District 27's Morwell headquarters took part in the briefing and mine tour along with a number of community figures, including Latrobe City mayor Darrell White and Latrobe Valley mine rehabilitation commissioner Rae Mackay.
It follows steps taken since the closure of the mine in March to eliminate the risk of a mine fire during its rehabilitation.
The company also said its services were "highly equipped" to respond to and extinguish a potential smoulder following an upgrade in technology after the 2014 mine fire.
Hazelwood Mine services superintendent David Shanahan said the risk of exposed coal heating up would be significantly lower this summer compared to last year.
"ENGIE has done the best that we believe is practical in getting ourselves ready," Mr Shanahan said.
"We've done everything we believe to put ourselves in a position where we believe we won't have a major fire this season."
Sprinklers in the base of the coal mine are being used to dampen the ground and to assist with dust suppression.
A majority of the operational machinery, including dredgers and travelling stackers, have been removed from the mine itself.
Machinery used for rehabilitation and fire prevention remains on site.
"We get a lot of wind-born dust, we're pre-wetting a lot of the exposed areas in the mine so in the event of a wind change, we've already limited the dust which is effectively how fire will run through the dust and spread," Mr Shanahan said.
The decommissioning of internal conveyor belts throughout the mine has also decreased the chances of coal igniting, he said.
"Each of those conveyors has a series of rollers which the belt rolls on. Each of those rollers has a bearing at each end of the roller so typically a conveyor will have a dozen or more bearings and any of those could've failed without warning," Mr Shanahan said.
"That could potentially start a source of heat which could cause a fire directly under the belt which is on coal so now we've got one conveyor running and it's operating purely on clay.
"We've got a quarter of the number of conveyors we've had previously running in the mine and they're running on clay which is non-combustible-type material."
Four 30,000-litre water carts will also help first responders in the event of a fire. Each cart carries eight to 10 times more water than a standard CFA pumper.
Latrobe Valley mine rehabilitation commissioner professor Rae Mackay said ENGIE had "clearly learned a lot of lessons from the 2014 mine fire" and was pleased to see the company making progress to ensure the community will not be exposed to similar risks.
"Part of the fire preparedness issue is around rehabilitation and they've clearly done a lot over the last couple of years to make that work," he said.
"I think people should be relatively comfortable that the mine is in a good position. I don't think we can ever expect to see the same amount of problems that occurred, what, nearly three years ago now.