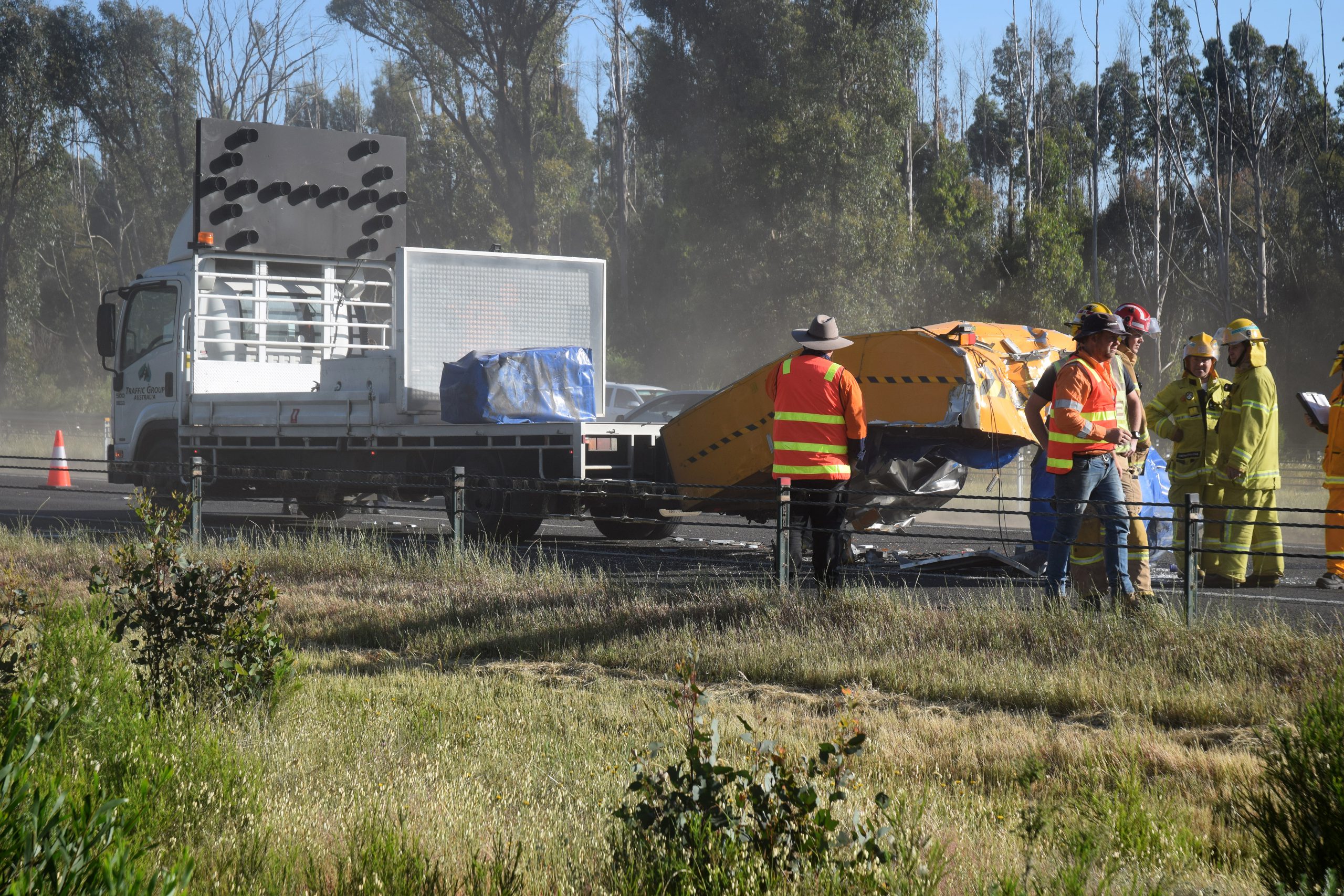 The Princes Freeway was shut down for almost an hour during morning peak on Wednesday following three separate collisions within the space of 300 metres over a three-hour period.
Traffic was diverted onto the Strzelecki Highway at Morwell after 9am following a five-car collision, while earlier in the day vehicles were brought to a standstill near Hernes Oak after a ute collided with a road-safety truck.
Police said the first incident took place just before 7.20am when a 33-year-old Traralgon man's ute collided with a stationary truck westbound displaying a 60 kilometre per hour speed sign.
The driver of the Holden ute, who is expected to be charged with careless driving and other road-related offences, allegedly told police he was "rolling a cigarette" just prior to the collision.
A 45-year-old Langwarrin man who was driving the road-safety truck at the time was taken to Latrobe Regional Hospital in a non-serious condition for observation.
As the first incident was being cleared, another ute collided with a car travelling in the left-hand westbound lane of the freeway about 200 metres from the first crash at Hernes Oak.
The driver of the second ute, a 46-year-old Churchill man, sustained serious chest injuries while his son, who was a passenger in the ute, sustained injuries to his neck.
Police said the driver would receive a penalty notice for careless driving while the driver of the second car involved in the collision, a 27-year-old man from Morwell, was treated at the scene for shock.
Then about an hour-and-a-half later, a collision involving five vehicles occurred in what police said was a result of careless driving.
Five people sustained minor-to-moderate injuries while two people were taken to West Gippsland Regional Hospital at Warragul for observation.
Latrobe Highway Patrol Leading Senior Constable Peter Olorenshaw urged people to look "well ahead" in an attempt to avoid similar incidents.
"The premise is drivers aren't looking through their windscreens at what's in front of them,"he said.
"Drivers need to leave [for their destination] early, leave plenty of room in front of them and look two to three kilometres ahead.
"We need these drivers to be vigilant because from what we've seen today, that wasn't the case."
Police have reminded drivers to take a break every two hours, to share driving if possible and to leave plenty of space in front of the next vehicle.