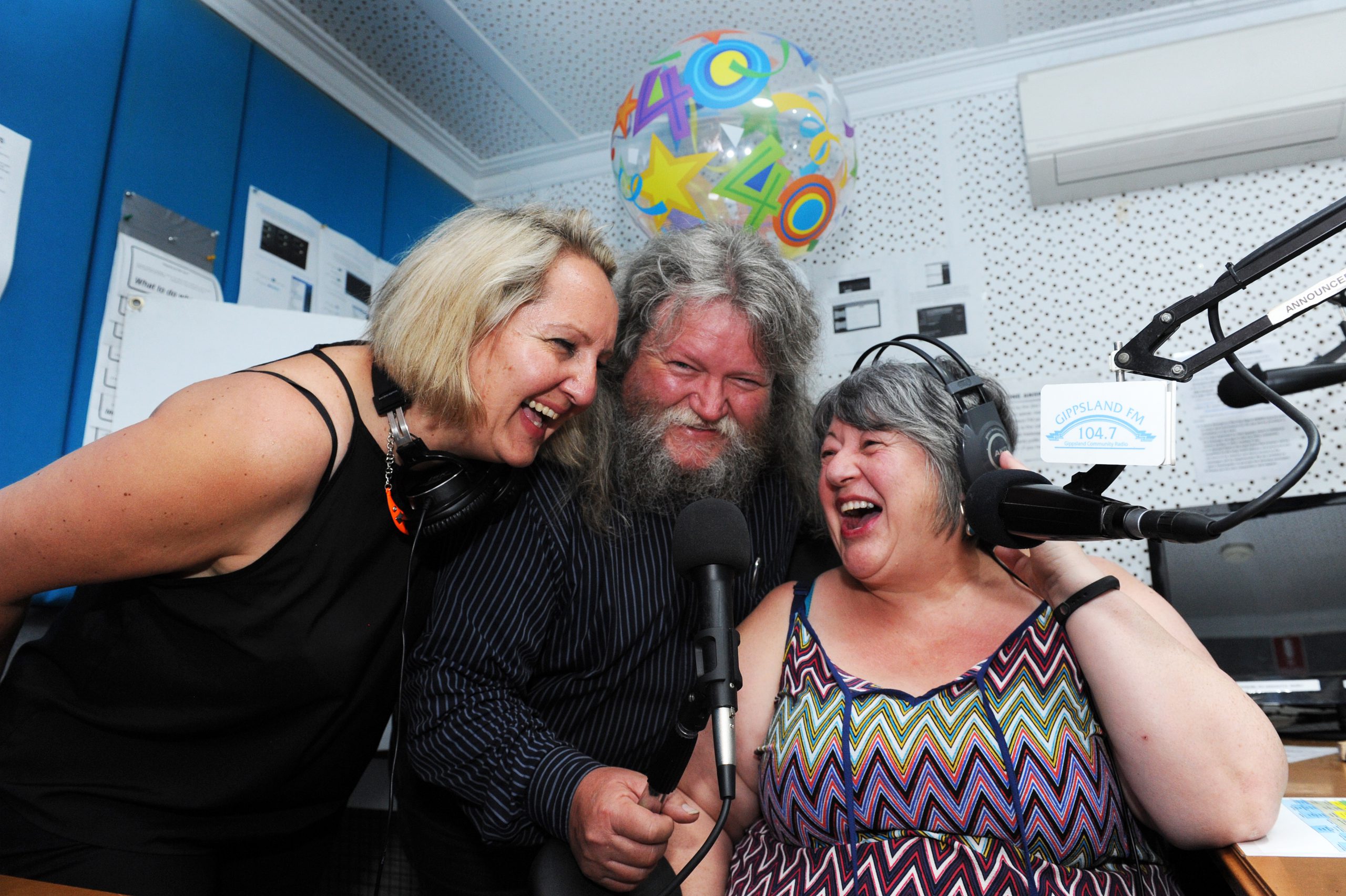 Gippsland FM will this weekend celebrate its 40th birthday as the station's volunteers reflect on its history across Gippsland and the Latrobe Valley.

For four decades, the community radio station now based at Morwell has given local voices an opportunity to express their views on a range of community issues.
Last year the station was announced as one of Victoria's first community emergency broadcasters, enabling it to provide real-time information in the event of a natural disaster or major incident.
Gippsland FM chairperson Amanda Harding, who was elected to the role three months ago, said it was an exciting time to spruik the opportunities the station provides the community on a daily basis.
"Keeping current and making sure we're relevant is so important. We're trying to do that through not just young people, but we're trying to recruit right across the community for anybody who is interested," Ms Harding said.
"Our phrase here is 'connecting our community' and one of our major goals is to reflect the views of our community and give them a voice on issues that concern them the most."
Ms Harding said the station was undergoing significant change with a new transmission tower to be switched on in the new year expected to improve coverage for listeners across the region.
She said changes at a governance level along with a successful youth training program were just some of the areas the station was looking to build on.
Formed in 1977, Gippsland FM started broadcasting from the Gippsland Institute of Advanced Education at Churchill.
The station's technical director, Neil Little, said Gippsland FM had witnessed a "bloody incredible transformation" since its inception.
"There's lots of funny stories about cows falling asleep against the door [at Churchill] and people being stuck there in the studio in the middle of the night," Mr Little recalled.
The station then moved to office space above the Churchill Shopping Centre before relocating above the former Morwell Co-op Supermarket on the corner of Hazelwood Road and George Street.
"Council wanted to use that [building] for a different purpose so they gave us money to relocate to our current site on Buckley Street," Mr Little said.
It was the first time the station's volunteers had used professional audio equipment to fit out the studios, improving on air quality and overall experience for its now 75 presenters.
"It was all done through the volunteers. We bought equipment like soundproofing for the walls to reduce the transmission of noise from studio-to-studio which was a big thing for us back then.
"Previously we had used egg cartons and carpet."
Mr Little said the station relied on the support of sponsors and members, along with government grants, to keep the doors open and provide a local voice for real issues.
"We've developed from the situation where we were raising money with raffles and lamington drives to now where we're very dependent on government grants and sponsorships," Mr Little said.
"You just can't sell enough lamingtons to keep the station on air these days."
The station provides a range of diverse ethnic programming including Indonesian, Japanese, Italian and Maltese programs as well as a vast variety of genres sure to please any music fan.
"We've got heavy rock and religious and country and spoken word programs as well, so we cater for a lot of tastes right across the spectrum," Ms Harding said.
Gippsland FM director and treasurer Ken Thompson, who is a founding member of the station, said it had provided an avenue for people to go onto "international fame in broadcasting and media-related activities".
Station records showed that more than 3500 presenters had been on air for a regular period since the station commenced broadcasting in 1977.
"It's a wonderful sense of achievement in being able to not only be sustainable but to add value to the local community," Mr Thompson said.
"Not only by meeting the needs of local audiences, but also providing opportunities for local people to develop personally."
To become a sponsor or member of Gippsland FM 104.7, phone 5134 8444 or visit gippslandfm.org.au