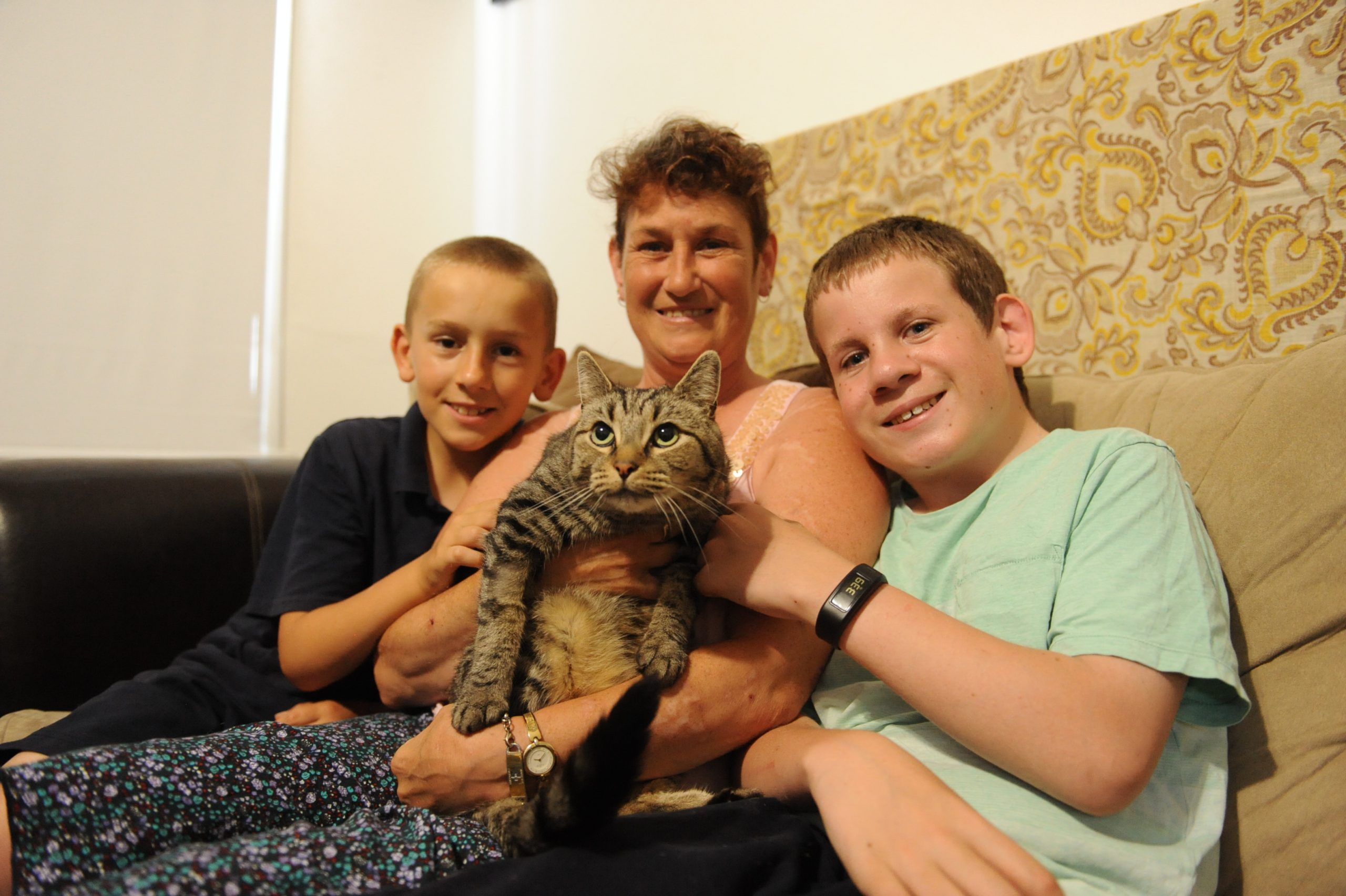 A pet medical crisis fund created to help pensioners and low income earners who own animals that require emergency surgery has saved the life of a Morwell cat.
Three-year-old Casper is "fighting fit" after undergoing surgery last month to repair a bowel obstruction which almost killed the short-haired tabby.
Casper's owner Naomi Brittain, who lives with six chronic medical conditions, said she started to notice something was not quite right with the cuddly feline the night before he underwent surgery.
"Both kids were going to bed and Casper was on Brendan's bed as per normal," Ms Brittain said.
"When he went in and tried to get into bed with him he said 'Mum, Casper's being weird … he's not purring'. It was kind of like when you look at your own sick child, they're pale and they don't look well.
"I thought we would just play it by ear and see how he would go overnight but during the night he came into me and normally he would be a rock beside me on the bed, but he just tossed and turned."
The following morning the family of three took Casper to the Latrobe Veterinary Group in Traralgon where it was discovered Casper was suffering from a life-threatening bowel obstruction.
"He had a blockage in the end of his penis, which then caused a blockage in his bladder," Ms Brittain said.
"The worst part was that it was actually leaking back into his kidneys."
Ms Brittain was told Casper would require emergency surgery at an estimated cost of $1500.
"I told them that we couldn't afford that and then I was told they might have to euthanise him," she said.
"It brought me to tears because he's only just turned three, you can't do that to a pet just because you can't afford to help them."
But thankfully that was not the case, due to a not-for-profit organisation called the Pet Medical Crisis Fund – accessible only at the request of a veterinarian – which contributed $1000 towards the surgery.
Pet Medical Crisis Fund founder Jennifer Hunt, who established the organisation five years ago with her 11-year-old son, said the organisation relied on donations from the public to help fund the emergency surgery for pet owners.
"We often get inquiries from single parents like Naomi but when I found out a little bit of information and that she had a number of medical conditions, it ticked the boxes for our criteria to be able to assist and help Casper.
"We were delighted that the surgery was able to happen on the spot and that Casper has made a full recovery, which has had a really positive impact on the family.
Ms Brittain's son, Brendan, said "it means so much to have him home … we love him to bits and it's made us all so happy".
For more information or make a donation, visit pedmedicalcrisisfund.com.au