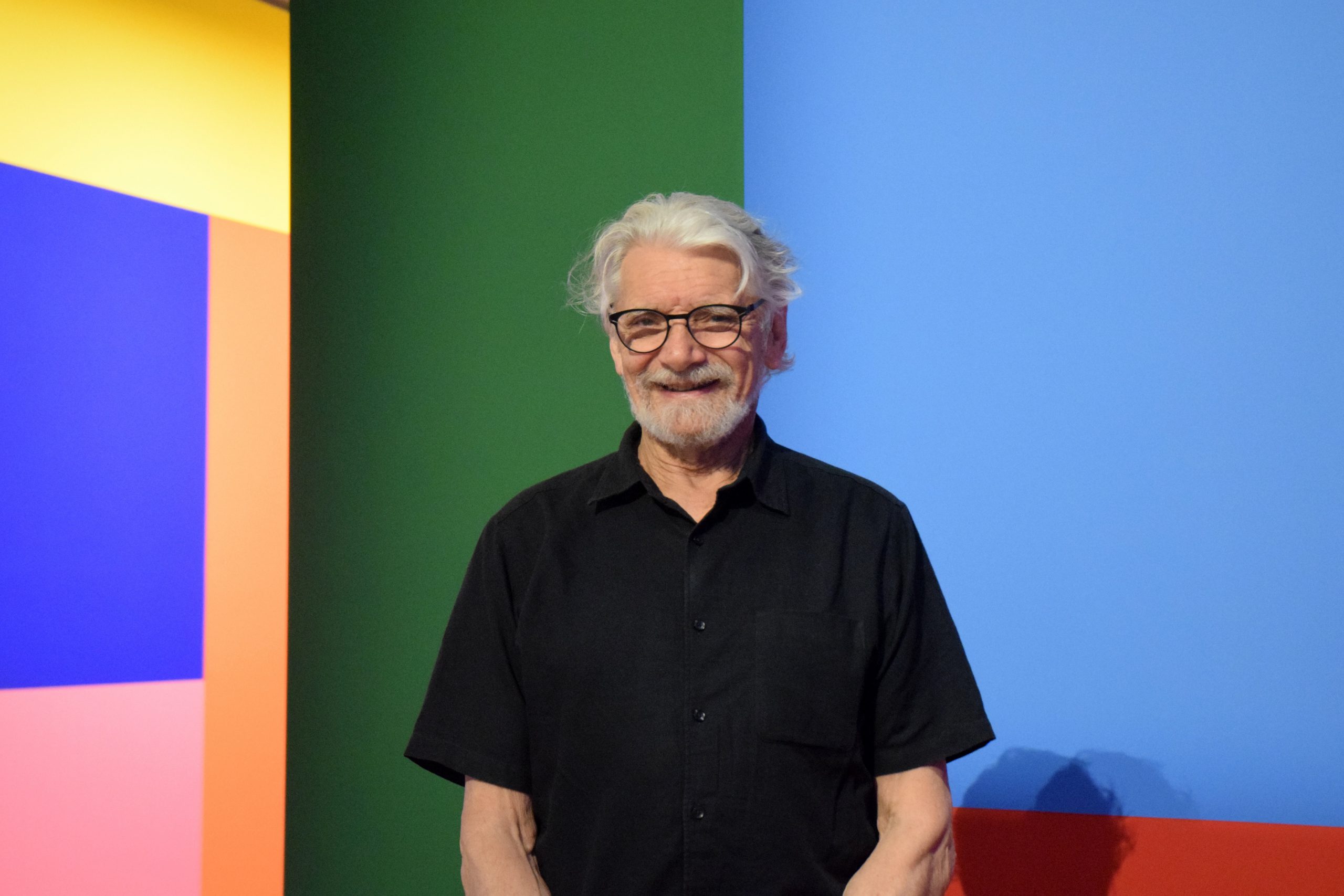 Melbourne artist Robert Owen said he witnessed an "extraordinary" eclipse of the sun over the Peloponnese in Greece in the 1960s which started a long-term investigation into colour and its relation to emotion.

He described the effect of the eclipse like "geometry" as there were colour changes and shifts in light around him.
"The shadows underneath the trees came into focus as if it was like a magnifying glass," Mr Owen said.
Next he travelled through Italy, and visited Giotto's Scrovegni frescoed chapel in Padua, painted in "original blue" – lapis lazuli.
Several decades later Mr Owen used true lapis for an artwork which he had forgotten until he recently went to Latrobe Regional Gallery's permanent collection.
"It was nice to see this again," he said.
The work, The speechless full moon comes out now (for Akio), was created between 1987 and 2000 and became a starting point for his current site-specific exhibition in LRG's Gallery 4.

It was created during a time "wonderful sculptor and friend" Akio Makigawa was dying of cancer and Mr Owen was absorbed in Tibetan philosophy following a trek to the Ladakh region.
After he discovered Tibetan culture uses different coloured rooms for meditation and healing he tested the concept of colour's effect on behaviour on first-year art students.
"We built four rooms, small little rooms, with a chair in it and each room was painted a solid colour," he said.
"Some couldn't stay the 20 minutes. Some would get out in no time; some wouldn't get out."
His Afterglow exhibition combines architecture, sculpture and painting, as the walls are seemingly made from vivid building blocks of matte colour.
He commented on how the purest intense colours were being lost to glossy, easy-to-clean paints.
"I always paint in matte colours because there's a direct relationship between you and the colour. There's no surface gloss," Mr Owen said.
"That means the true vibration of the colour, you actually get the feel. The idea is what changes is perception – how you're feeling in the coloured space or the mixture of colours."
He said when the viewer walked away from the intense colour to a white room, there was an afterglow of the complementary colour as the eye adjusted.

"You have the glows, but the afterglow is always a shadow," Mr Owen said.
Afterglow is currently at Latrobe Regional Gallery, Morwell, until January 28.