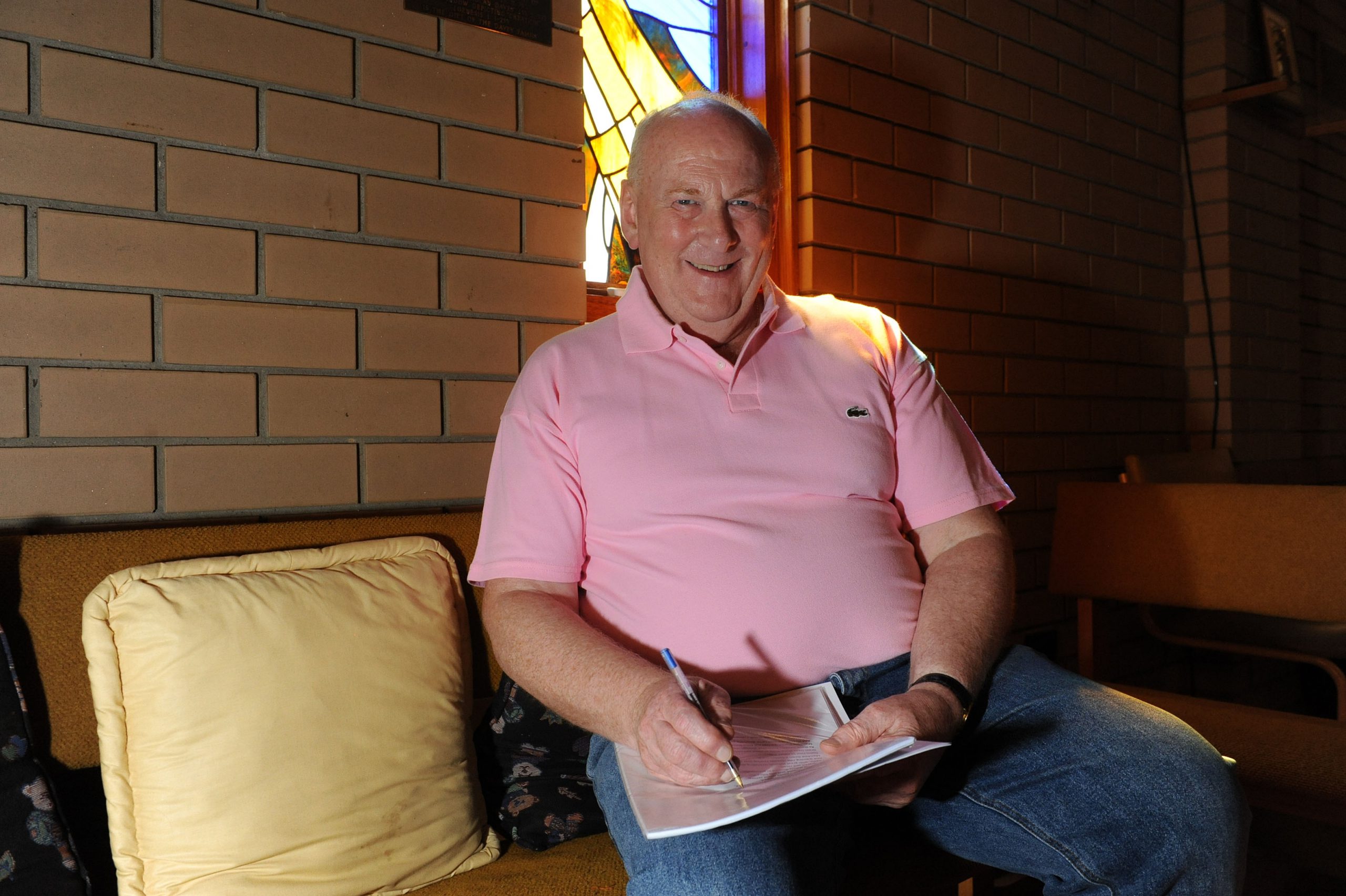 Morwell Reverend and poet David Head's Australia Day hymn sung to the tune of Waltzing Matilda has become a staple at his Australia Day weekend services over the years.
"It is about what we did to the Aboriginal people and [it's about] making Australia Day far more meaningful," he said.
"It is quite in your face about how we brutalised the Aboriginal people.
"I specifically chose Waltzing Matilda because it was a song about injustice … taking away the rights of the ordinary. It was a perfect tune to use for what I wanted."
Reverend Head said he wrote the hymn because he wasn't happy with the Australia Day hymns that were available at the time.
"They were all either too mushy or too patronising or too white, or patriarchal," he said.
"My poetry has to inform what I am seeing before me. Like an artist will see a scene and say 'I have to paint that', if something moves me, I have to write something about it."
Rev Head said the hymn had been sung at three different parishes and had been well received.
"Probably when we've sung it, [the congregation] has not been surprised, because they know what I'm like. I call a spade a spade," he said.
"I'm a priest that stands up for Aboriginal rights, for gay rights, for marriage equality, euthanasia, those sorts of issues," he said.
"So I will speak on those. I will never, ever tell people how to vote but I will speak from where I come from."
For Reverend Head, faith and poetry are inextricably intertwined.
"Poetry has been an on-and-off ministry to me," he said.
"I write poetry when I feel I want to talk about something that has moved me or I'm trying to work though [something], but I want to express it in language that is not in the form of a news report, in more symbolic, illustrative language that describes things.
"When I became involved in church, poetry helped me explore what was going on inside spiritually … it was an outlet.
"If your faith doesn't interconnect with your daily life then it is of no earthly use, really, and my poetry has to inform what I am seeing before me."
Waltzing Matilda – Revised
Chorus:

Come sing of freedom, come sing of freedom,
Come sing of freedom of love and of faith.
As we raise our Australia for God to bless and guide us,
Come sing of freedom of love of faith.
Verse one:
Once upon a dreamtime our land began its history,
Thousands of years before the coming of the White.
The Kulin nations occupied and cared for its beauty,
Received of its bounty and honoured its might.
(chorus)
Verse two:
Down came the White man and preyed upon their otherness.
Up came the convicts, the troopers and the free.
They settled and they squatted and they murdered in their arrogance
Wronging every right of Aboriginality.
(Chorus)
Verse three:
Now their descendants calling from lost billabongs,
Ask us for justice, for honesty and grace.
They're calling us to join them in sorrow for their misery,
Stolen lands and stolen souls and decades of disgrace.
(chorus)
Verse four:
Now we face a new world of warfare, terror, decadence,
Calling us to welcome from afar the refugee.
Our history of welcome has been blighted by our bigotry,
Help us Lord to open up this land inclusively.
(chorus).

Words written by the Reverend David Head