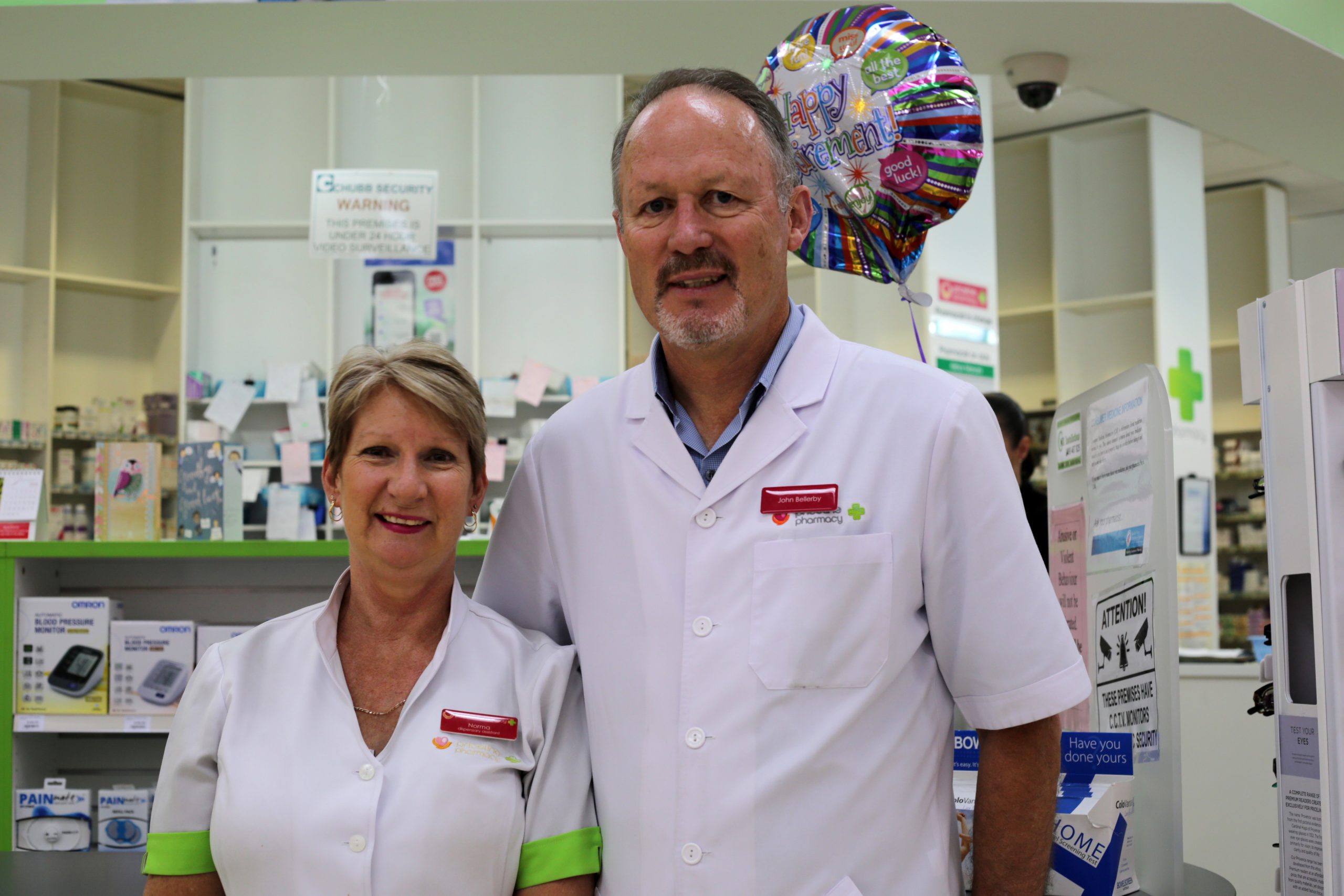 The Morwell community has farewelled some familiar faces as John and Norma Bellerby of Priceline and Davies and Moller Pharmacy have entered retirement.
Pharmacist John Bellerby leaves after 42 years in the job where he met Norma, a dispensary assistant, when they worked together at the Church Street pharmacy in 1980.
After they had their three children, Kristy, Sarah and Tim, Norma returned as a business partner for the last 12 years.
Mr Bellerby said he was feeling "anxious" about moving on, however, was looking forward to doing some gardening and travel and having some rest.
"Like any small business person will tell you, you put in long hours. But we've got great staff," the Churchill resident of 30 years said.
"I'm sorry to lose the daily contact with them … but we're still staying in the area."
The new owners of the Princes Drive store will keep the Davies and Moller name.
Chas Davies' name has been in Morwell since 1948 when he started the business before Ian Moller joined in 1955.
When Chas Davies retired, Mr Bellerby stepped into the role after moving from Melbourne's southeast.
Over time, partners came and went until he was the "last man standing".
Mr Bellerby had three pharmacies during the '90s, in a "busier" time.
"But with privatisation and the population dropping, we consolidated from three down to two," he said.
"The privatisation of the SEC, that really gutted the Valley itself and the impact's still being felt in Morwell today.
"It would be nice to see some more, some sort of industrial activity here, some other new ventures taking place.
"You hear a lot of talk but it would be good to see something get off the ground to help stabilise employment in the area."
When he first started in the industry, Commercial Road was a "very busy" place.
"It used to be peak hour when the SEC shift changed at four o'clock," Mr Bellerby said.
"Another highlight was when they were building Loy Yang Power Station. There was a lot of construction and a huge demand for accommodation."
The 2014 mine fire and Church Street explosion of 1991 were events which stand out at retirement, and meeting "fantastic" customers and being able to help people has given him a "buzz".
"It's been great watching kids when I started and they've now got their own children," he said.
Mr Bellerby will continue his role with a community advisory group working on beautification plans for part of the Morwell central business district.