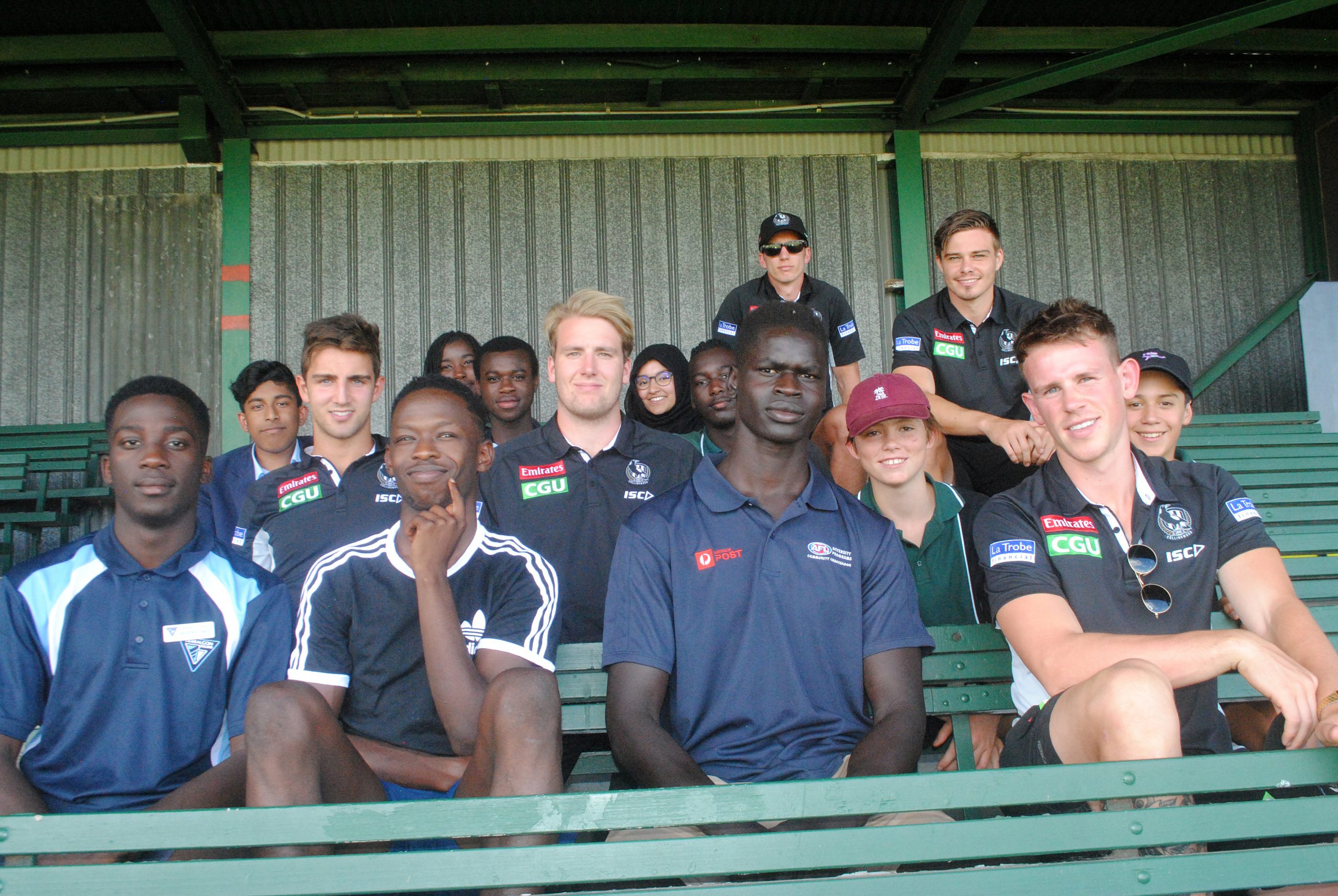 Five senior players from the Collingwood Football Club were in Latrobe Valley on Monday to encourage young people from multicultural backgrounds to participate in the Unity Cup in Melbourne in April.

Ben Crocker, Max Lynch, Josh Smith, Josh Thomas, and Josh Daicos talked about their experiences playing footy and the value of inclusiveness among teams in the AFL.
Smith wished the young people present for the Unity Cup's launch at the Morwell Recreation Reserve "the best of luck" and encouraged them to do their best during the tournament.
"Enjoy learning it and have fun along the way," he said.
In its 11th year, the Unity Cup is organised by the AFL to bring together teams from refugee and migrant backgrounds from all around Victoria in a friendly game of Australian football.
The AFL has partnered with the Centre for Multicultural Youth to organise a young men's and women's team comprising of players aged between 12 and 22 in the Valley.
Unity Cup ambassador Takudzwa Gwara, an 18-year-old student at Traralgon College, said the event was a great opportunity to celebrate the region's rich cultural diversity and connect with people from all sorts of backgrounds.
"It's a great way of building connections. That way you get to meet other people that you could [go back to] down the line with something you need," he said.
Known as TK among his peers, the Zimbabwe-born 18-year-old moved to Australia last year after living in South Africa.
TK said he plays soccer but was excited to try his luck playing Australian football for Unity Cup.
Fourteen-year-old Alan Valenzuela, who comes from an Ecuadorian background, was happy to join the Latrobe Valley team although he did not play footy.
"I've never played this sport before but all my friends brag about it so it's a good way to get into it and see how it is and bring my friends along and just have fun," said the Trafalgar High School student who played tennis since he was four years old.
Alan reckons there were not too many Latinos in the Valley and participating in the Unity Cup would connect him with young people from his background in other parts of the state.
The Latrobe Valley young men's and women's teams will start training this month. Those who wish to join the teams can contact CMY's David Curwen on gippsland@cmy.net.au or on 0437 870 211.