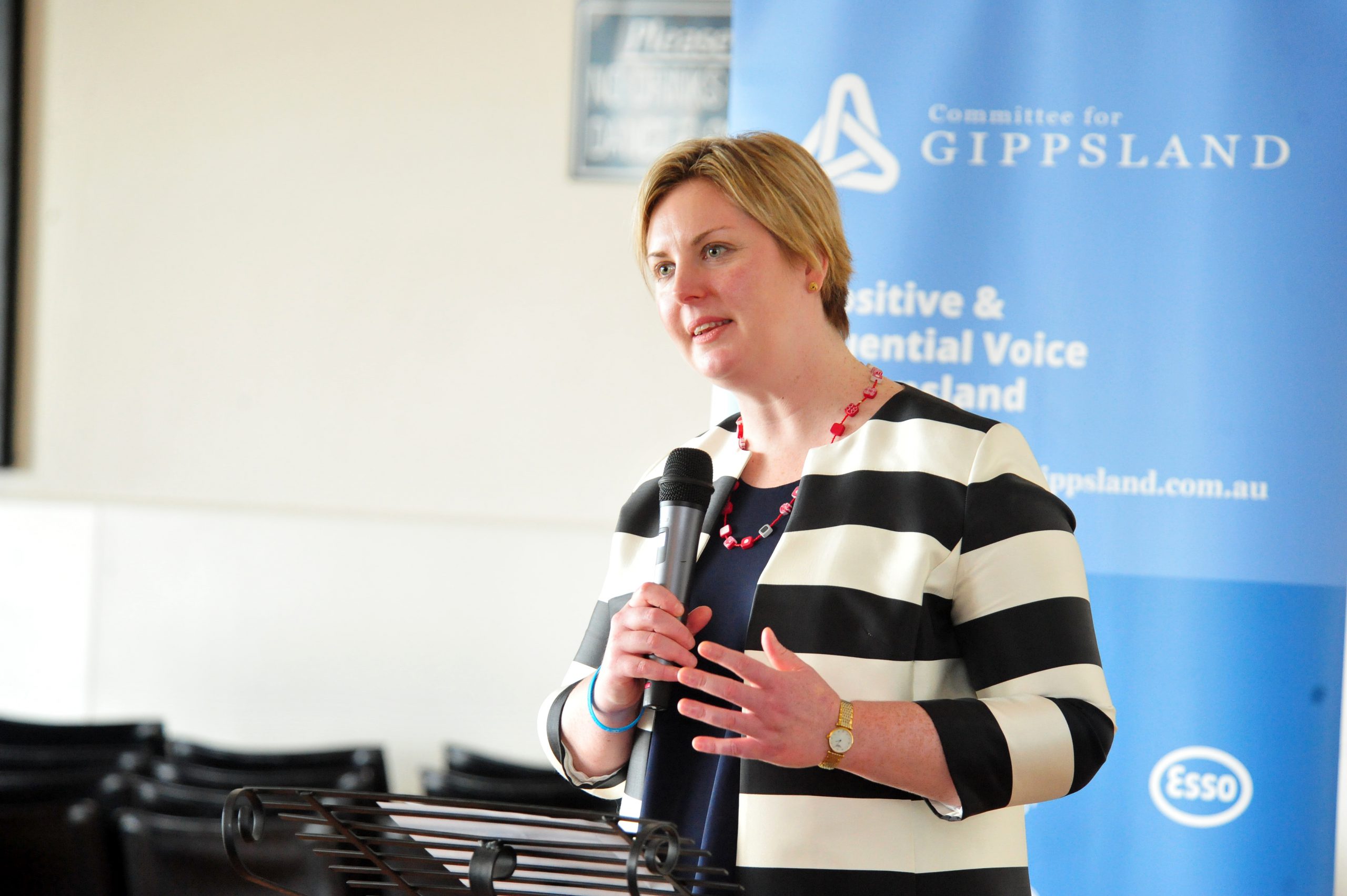 Outgoing Committee for Gippsland chief executive Mary Aldred summed up the feelings of many Latrobe Valley residents at last week's coal forum at Federation University.
"I don't want to see, as we move to state and federal elections, a referendum on Gippsland held in Melbourne seats," Ms Aldred said.
"We need to be able to determine the future for our region here, and not in Melbourne."
The EPA in its discussion paper on power station emissions sought feedback from the Gippsland community, "but more than half the feedback comes from outside Gippsland," she said.
Ms Aldred was speaking in a panel discussion on barriers to developing the region's brown coal resources.
The debate was the final session of the 'Carbon to Products' seminar held at Federation University in Churchill last week, organised by FedUni and Brown Coal Innovation Australia.
Ms Aldred said "social license" was crucial in realising the economic opportunities from the region's resources – coal, water, agriculture and forestry.
"We need community understanding, getting the community behind projects, explaining the benefits, jobs and economic opportunities," she said.
Latrobe City mayor Darrell White said council, in its transition document, encouraged the alternative uses of brown coal, while still encouraging the idea of HELE (high-intensity, low-emissions) power stations, or even zero emissions.
Cr White said the focus should be on turning carbon dioxide into an asset, not a liability.
For example in Germany, there was a process (through the company Covestro) of converting CO2 into a key component for foams used in mattresses and upholstered furniture.
"That seems to be an example of what is possible, we should take more that approach," he said.
Cr White said coal had a future in power generation, in combination with battery, wind and solar, and this message should be emphasised to the wider community.
He said urban communities needed to know that "their work is a consequence of what Latrobe Valley energy produces".
Swinburne University of Technology professor Bronwyn Fox said Geelong provided a model of what the Latrobe Valley could achieve.
Geelong had been a city dominated by the automotive industry, but within years, had transitioned to create an industry based on carbon fibre and research with 200 direct jobs, she said.
They had Deakin University with close connections to the community.
"You have that with Federation University, community and business leaders on side, a clarity of vision, self-belief – you have all the ingredients of success," she said.
Professor Fox said Geelong had commissioned an independent economic impact study for the commercial carbon fibre plan. All the predictions "had come true, and more", she said.
The Latrobe Valley could do something similar to prove to the community the economic benefits that a local coal industry could achieve, she said.
Gippsland Solar managing director Andrew McCarthy said solar and brown coal were connected through providing power.
"The focus on storage also creates opportunities for renewables and new technologies. My key focus is what the Latrobe Valley is known for – an energy power house – and will continue to be that if it gets the policy directions right, " he said.
"The infrastructure is in place. There is an amazing opportunity for us as we continue with the transition. We keep the traditional energy in place – I do not believe we will see another brown coal station built – but the existing [ones] will not close as quickly as speculated in the media."
Mr McCarthy said the Latrobe Valley had the opportunity to get the best of both worlds, build a new skills base and skills that were transferrable.
Former Hazelwood power station workers were already employed at the solar farm.
However large parts of the community were not engaged – "it does not impact them", he said.
The way to communicate was to make the message short, sharp and clear, so people could grasp the situation, form a view and understand the more complex arguments around statistics.
Australian Paper, general manager of corporate development David Jettner agreed that as great suggestions became reality, we needed to "put our arms around those projects and celebrate those successes".
"That in turn will create other opportunities," he said.
Mr Jettner said new projects should consider the "circular economy" approach. This involved moving from the traditional 'cradle to grave' idea to a detailed assessment of how products were designed, their end point, and how materials could be reclaimed and re-used.​