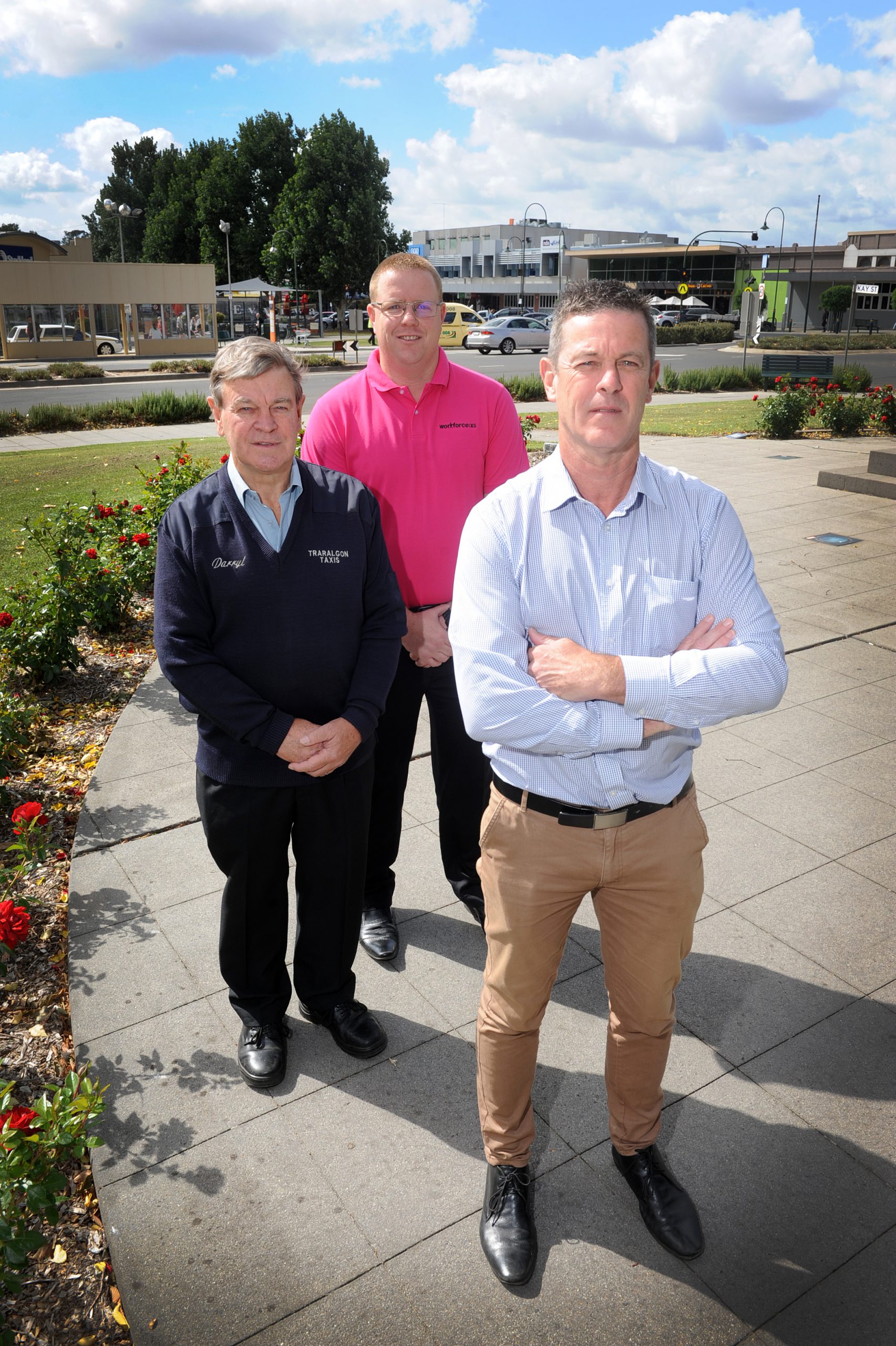 Public transport operators are fearful of their safety, according to Morwell MP Russell Northe, who on Friday proposed a two-year pilot program to introduce additional protective service and transport authorised officers into the Latrobe Valley.
While the program would be dependent on state government funding, Mr Northe said the extra officers would improve community safety at trouble hot spots and boost the use of public transport.
Mr Northe is calling for eight additional PSOs and six AOs to be introduced to railway stations and bus and taxi terminals across the region in an effort to crack down on crime, anti-social behaviour and fare evasion.
The proposal has been welcomed by public transport operators who said bus and taxi drivers were becoming increasingly concerned for their safety.
Morwell Taxis owner Carmen Giddens said taxi drivers were having to deal with "alcohol-fuelled" passengers who often put them in uncomfortable and dangerous situations.
"People drink more now than what we've ever seen before. Everybody drinks – I mean you're getting young kids drinking and they have to get home at some stage," Ms Giddens said.
"The taxi driver is on their own often with someone who is alcohol-fuelled and the worst part is at the taxi ranks so if we can have someone that regularly patrols [them] and keeps an eye on things people are less likely to be offensive."
It is estimated the two-year pilot program would cost about $2.8 million but Mr Northe said the cost would be offset with an increase in commuter usage and a decrease in fare evasion on public transport across the Valley.
"One of the plans is ideally what we would want to see is the eight PSOs and the six AOs to be recruited locally," Mr Northe, who is yet to announce whether he will contest November's state election, said.
The proposal has been formed through feedback from passengers, businesses and public transport operators and would result in PSOs at Morwell and Moe railway stations.
Latrobe City mayor Darrell White said council was supportive of any initiative that would improve community safety within our community.
"At the moment we have PSOs stationed at Traralgon Railway Station but we know that's not the only train station or bus terminal or taxi rank where there's issues," Mr Northe said.
"So we need some flexibility from our PSOs and I can see there would have to be some legislative changes for that to occur but hopefully we can put that on the government's agenda."
Mr Northe said he had addressed the issue previously with the state government but the response he received was "quite poor" and called on the public transport and police ministers to support the initiative.
"What I would call upon and obviously Morwell is going to be a hotly contested seat no doubt, I encourage all candidates to have a look at the policy I'm announcing today and support it … if we can have every single political party adopt what I'm proposing today I don't care who's in government because it's a good outcome for the community."
Traralgon Chamber of Commerce president Luke Henderson said the two-year plan was a proposal the organisation backed and would improve the image of the community.
"This is an opportunity to fight back and make sure the image of our communities, our town, is really improved and we want our town and Latrobe City to be a destination for people to come and visit and feel safe," Mr Henderson said.
The program would be measured in six-month intervals with analysis of public transport usage, safety and incident reports, costings of the program and public consultation.
Police Minister Lisa Neville did not confirm if the state government would fund the plan but said crime in Latrobe City and Traralgon had decreased respectively over the past two years.
"We already have PSOs stationed at regional train stations including Traralgon, Bendigo, Ballarat, and Geelong," Ms Neville said in a statement.
"Their presence has had a huge impact on perceptions of public safety and helps deter the likelihood of criminal incidents and anti-social behaviour on train stations."