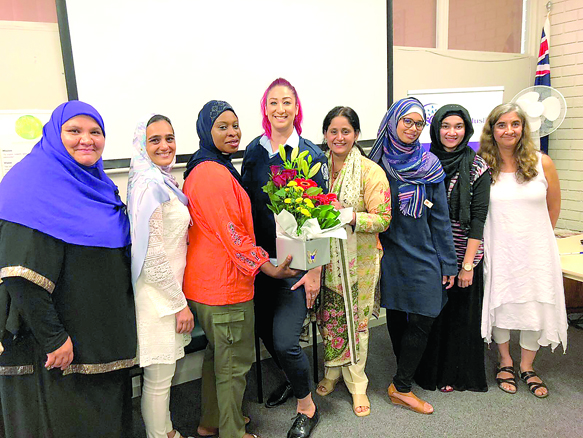 A new face has emerged at the Country Fire Authority and she's making her presence felt in the Latrobe Valley.

As the CFA's first local multicultural officer, Nada El-Masri's role is to improve the authority's engagement with culturally and linguistically diverse communities, an area that was acknowledged to be lacking in their role.
"It made it easier for the CFA … to speak to them on a regular basis and get them to trust who we are," the 34-year-old mother of one said.
Born in Australia, Ms El-Masri's parents were Lebanese migrants who now live in Keysborough.
She was appointed as the CFA's multicultural officer in 2016 covering three areas including the Latrobe Valley to act as a conduit between the authority and CALD communities.
Ms El-Masri was in the Valley a couple of times to speak to the multicultural community that included a recent speaking engagement at the annual general meeting of the United Muslim Sisters of Latrobe Valley.
At the moment she is working on a project that involves exposing 1500 students of refugee backgrounds to the work of the CFA.
"We're teaching them what the CFA actually is, [that] it's men and women firefighters of all ages, [that] we're not just fighting fires, we're also a community organisation," she said.
She said her representations had benefited the authority as the CALD community became aware that there were people of multicultural backgrounds working in the brigade.

But Ms El-Masri was quick to admit that hers was not easy job and being an empowered woman, she boldly told the CFA what they were lacking in terms of their community engagement.
"I went to the CFA in 2016 and told them 'you have no idea about the community'," she said.
"They don't talk to the community, especially the multicultural community, we're surrounded by 10 different cultures and languages in the area so it's really important for people to even see they have cultural people in the CFA."
Ms El-Masri said she had received positive feedback from the CALD community with many inquiring how they could arrange training and collaborative projects.
But setting aside her hectic work schedule, Ms El-Masri admitted that being in a male-dominated environment was not a walk in the park.
Ms El-Masri said there was still so much to be done to raise awareness of women's participation in employment.
"A lot of men probably may view you differently because you're not in uniform or not of a high rank but you're a woman doing all these [things]. Those are the barriers I'm getting but to be honest it makes me a bit stronger and makes me push a little bit more."
As a Muslim woman has she ever felt uncomfortable working in a job dominated by men?
"I'm not that kind of person, if I work somewhere [and] it's uncomfortable I make sure I try to change that environment and make it comfortable with me," she said.