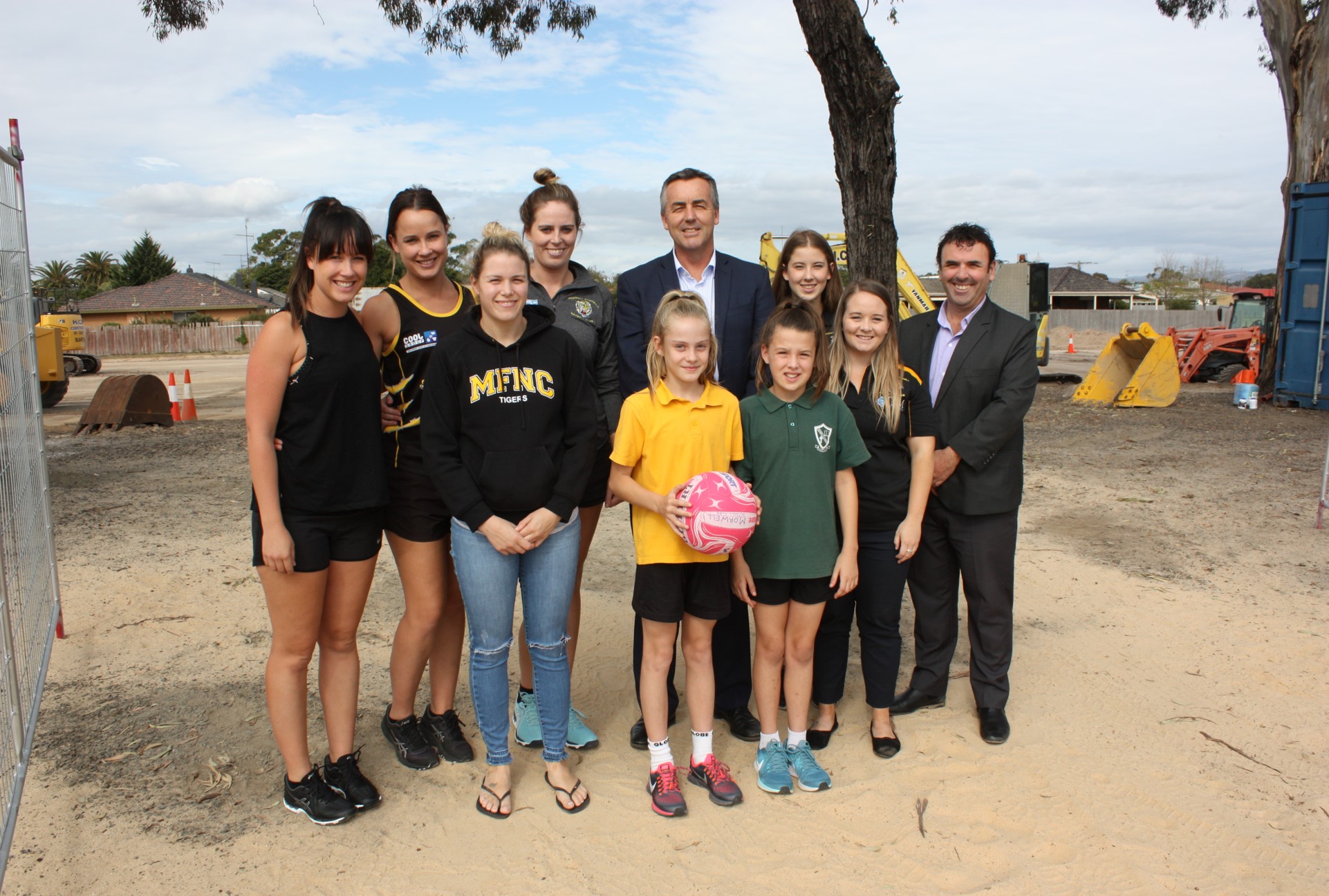 NETBALL

The Morwell Football Netball Club is on track to have its new netball courts ready for the first home game of the upcoming season.
The upgrades at Morwell Recreation Reserve are worth a total $9 million and also include improvements to the Keegan Street Reserve cricket field and the construction of a multi-use synthetic playing surface.
The refurbishments include two new courts plus lighting, player boxes and a grandstand for spectators.
Morwell netball coordinator Claire Allison said the club had endured a tough time waiting for the much-needed facelift.
"I've been at the club for 11 years and there's been talk about new courts for that whole time, so it's been a long time coming," Allison said.
The old court, which "had cracks all through it", was in such bad shape the club had to tend to weeds coming through its surface on a weekly basis.
"Our facilities were just two shipping containers," Allison said.
"We would use the bigger shipping container to get changed in before home games and the poor away team would use the smaller one.
"They leaked in winter and we had to set up buckets to catch the water … things were pretty bleak, we had no running water or toilets."
Works on the two new courts are still underway and will be ready for Morwell's first home game of the 2018 season on April 28 against Sale.
Allison said the anticipation was building around Morwell and the club was buoyed by the prospect of a fresh start.
"Everyone is really excited. There are a lot of us who have been here for a long time and it's just great to finally have it all nearly finished," she said.
The courts will mean the club brings its netball sides together, which has not been possible in the past.
"We can train altogether on the same night and we used to have to split it, but now we can have one warming up while one plays," Allison said.
"We haven't had a run on them yet and we've been training at Morwell Park and the courts are good, but it makes it hard for the club to have weekly dinners together and stuff so we're excited to get ourselves back together."
The federal government contributed $5 million to the upgrades at Morwell Recreation Reserve and said the club would soon have "one of the best netball facilities of all the football leagues".
"The additional lighting and player boxes will improve facilities for training and hopefully help the club to retain its current group of netballers and attract more players to the game in future," member for Gippsland Darren Chester said.
While the netball courts are expected to be ready by April 28, the new pavilion and player amenities are a larger project and are not expected to be finished until the end of the 2018 season.