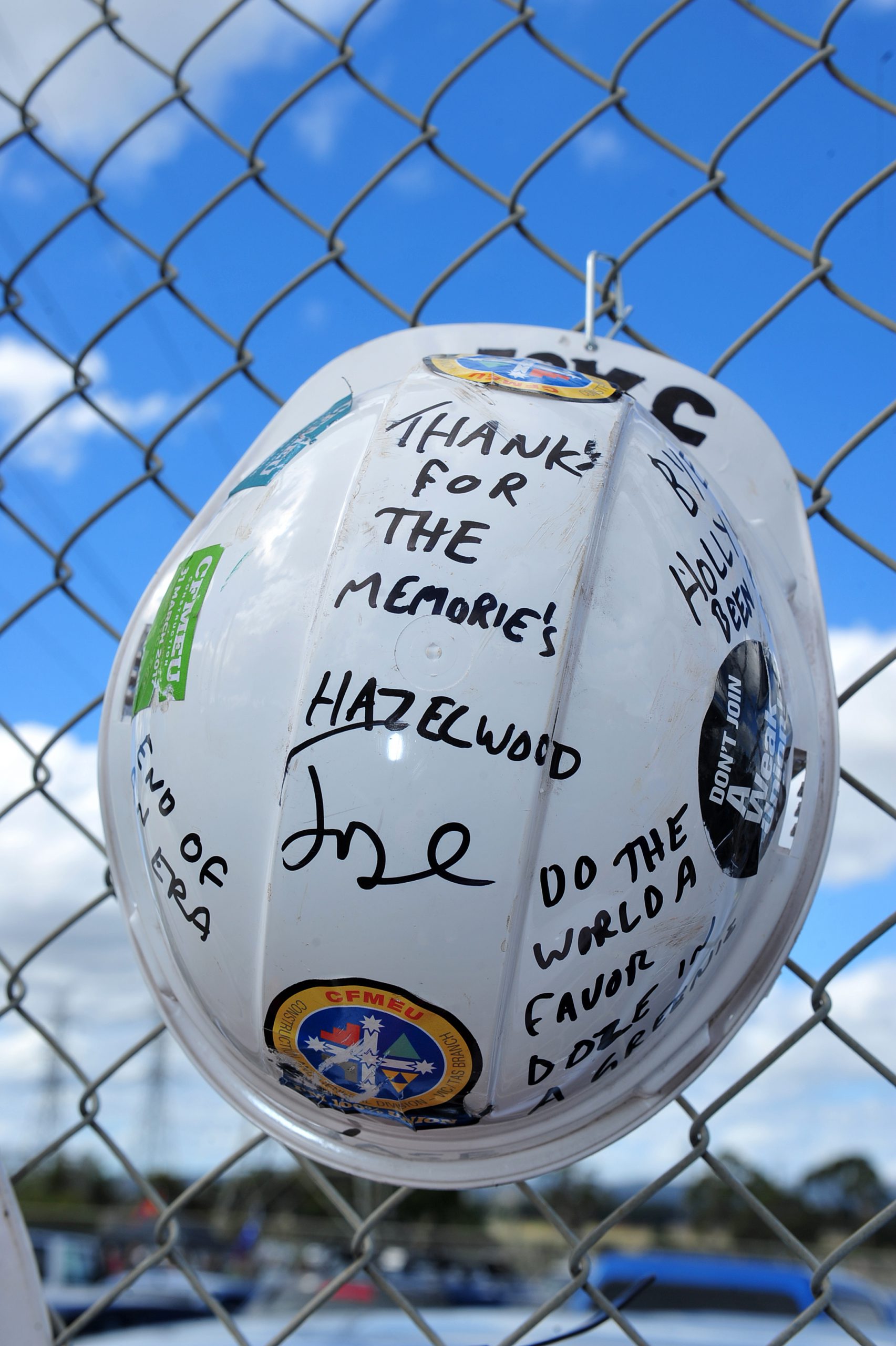 One year on from the closure of Hazelwood, the horror scenario envisaged following the loss of 750 power industry jobs has so far failed to come to pass with new figures showing an improvement in the region's unemployment rate.
Hazelwood's closure at the end of March last year prompted fears of a surge in unemployment in the Latrobe Valley and potential summer energy shortfalls.
The one-year anniversary of the plant's closure has prompted a variety of responses from across the community, with some surprised at how well the region has fared post-Hazelwood while others remain concerned about the long-term jobs outlook.
The most recent Small Area Labour Markets figures produced by the federal government reveal a drop in Latrobe City's unemployment rate since the closure of Hazelwood.
In December last year, the municipality's jobless rate fell to 8.8 per cent after reaching 11.4 per cent in December 2016.
The establishment of the state government's $266 million Latrobe Valley transition scheme has resulted in a range of announcements during the past 12 months, ranging from funds to help existing businesses create jobs through to attracting new businesses to the region.
The scheme, overseen by the Latrobe Valley Authority, has also resulted in upgrades to the region's sporting facilities and the attraction of many of the state's top sporting teams to play in practice matches.
In the past year the state and federal governments have also agreed on a $530 million upgrade to the Gippsland rail line, which includes duplicated tracks in the Latrobe Valley, the removal of 20 level crossings and a second platform in Morwell.
When completed, the project will allow trains to run every 40 minutes.
State member for Eastern Victoria Harriet Shing said improvements in the region's economy were a testament to the community's hard work and stamina.
"We're starting to see with every construction site and every announcement about a new business, a growing business or a success story in the Valley, a corresponding return of pride in who we are and what we can achieve," Ms Shing said.
"That's not to say that it has been all smooth sailing. Transitions take decades to come into effect and people have rightly needed to see results to give them confidence about the level of support and resources being allocated to this area."
She said the region was grappling with population growth as it became a popular destination on the back of its relative housing affordability compared to Melbourne.
"Our school enrolments are going up, our commuter and passenger numbers are increasing and new homes are being built at a rapid rate of knots," Ms Shing said.
Latrobe City mayor Darrell White said in a written statement another positive for the region was a boost in the number of new businesses in the region.
"We track business entries and exits through the Australian Business Register. There were 1333 new business registrations in 2017," Cr White said.
"The highest numbers of new businesses were in construction (275), followed by professional scientific and technical services (146) and administrative and support services (136).
"By comparison, there were 1269 business registrations in 2016 and 1,157 registrations in 2015."
But it was not all good news in the region, with council's town-by-town breakdown of unemployment revealing a tale of two cities.
"Morwell continues to have the highest unemployment rate in Latrobe City at 15.6 per cent, however, this has decreased from 21 per cent in December 2016, a decrease of 5.4 per cent over the 12 months," Cr White said.
Moe and Newborough combined was also high with an unemployment rate of 12.1 per cent, council's figures revealed.
The situation is brighter in Traralgon and Churchill, which recorded figures of 6 per cent and 6.6 per cent, respectively.
Youth unemployment also remains high at 18.9 per cent for 15-19 year olds, which is an increase in 2017's rate of 14.5 per cent.
Council predicts the rate for 15-19 year olds will climb to about 21 per cent this year, while it expects the 20-24 year olds' rate to drop slightly to about 14 per cent.