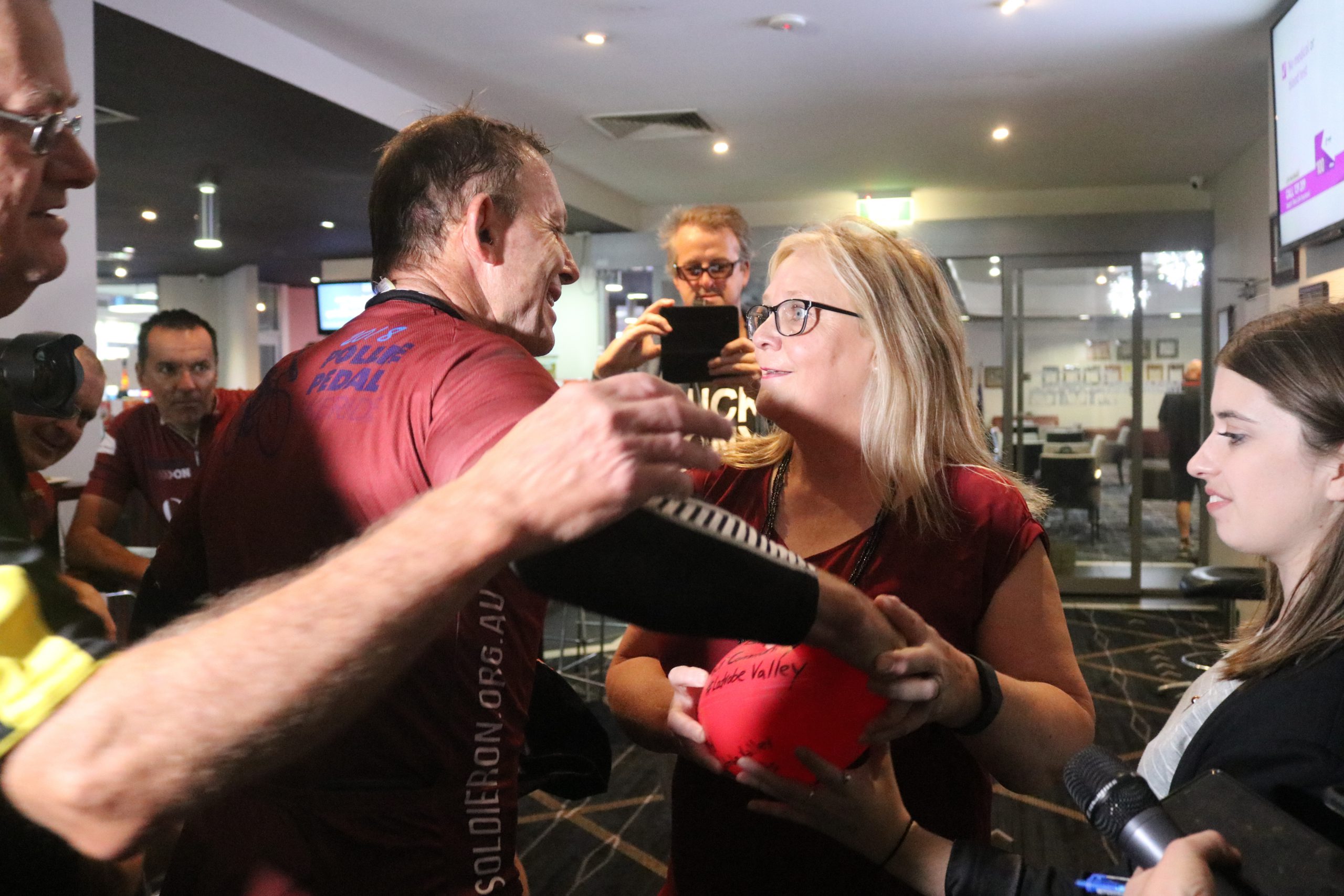 Former Prime Minister and now Coalition backbencher Tony Abbott dodged the media today, when he made a brief stop at the Morwell RSL as part of the Pollie Pedal bicycle ride.
The MP secretly slipped into the venue via the front door, while the waiting media, and around a dozen protesters who were pushing for renewable energy, were waiting around the back.
Mr Abbott was expected to face the press today in Morwell to spruik the merits of his plans for a new coal-fired power station in Morwell, dubbed Hazelwood 2.0.
His appearance also coincided with 30 consecutive Newspoll losses for PM Malcolm Turnbull.
"I've done my doorstop for the day, I'm happy to talk next time I do a doorstop," Mr Abbott said as he left the RSL, shunning media questions about polling and the Liddell power station.
"As you can see, I now have to attempt to get around and keep a few commitments and get to places as promised, that's what I'll be doing now."
Mr Abbott is riding with around 40 cyclists, including Coalition colleague Kevin Andrews, through Gippsland for the next three days to raise money for ex-service personnel Soldier On.
The Member for Warringah met with Morwell RSL Ladies Auxiliary members who were playing bingo, and witnessed the presentation of a $500 cheque to the charity.
Voices of the Valley president Wendy Farmer entered the RSL to hand the PM a football with the words "stop playing political football with our community" written on it, before she was ejected.
"We are extremely disappointed he didn't front the community. He snubbed the community and used the other door so no one could talk to him," Ms Farmer said.
The Voices of the Valley president was out the front with Greens and Latrobe Valley Sustainability Group representatives, who were dismayed about last week's backbench Monash Forum manifesto plans for a new coal-fired power station in the Valley.
Ms Farmer said she had invited Mr Abbott to the Valley in 2014 during the Hazelwwod mine fire, but he declined to meet with her.
"The Coalition has turned its back on us once again, and they turned their back on us today. We just wanted to ask him to stop playing games with our community and stop playing political football with our lives," she said.
"Mr Abbott has proven his irrelevance."