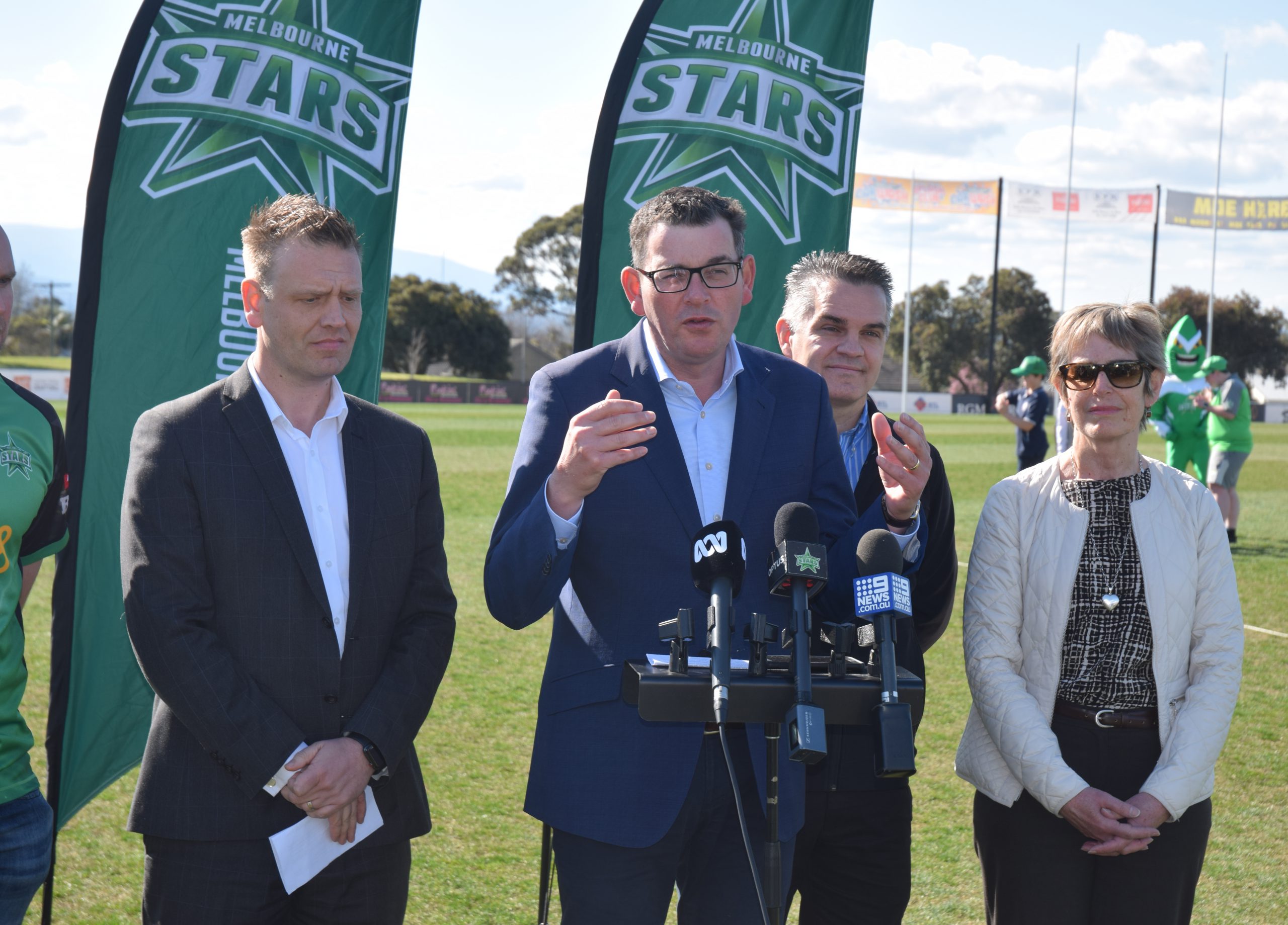 Bryce Eishold
Big Bash League cricket will return to the Latrobe Valley this year with a blockbuster season fixture in January which is expected to draw upwards of 8000 people to Moe's Ted Summerton Reserve.

The major sporting announcement was made at the ground on Friday during a visit from Premier Daniel Andrews as part of the state government's $85 Latrobe Valley Sports and Community Initiative.
The Melbourne Stars will take on the Adelaide Strikers in January – a game which could attract a television audience of more than a million people – following a pre-season practice match between the Stars and cross-city rivals Melbourne Renegades in December.
It comes after the inaugural Valley Smash pre-season practice match between the Stars and Hobart Hurricanes in December last year, which drew thousands to the Traralgon Recreation Reserve.
Mr Andrews said the games would bring new visitors to the region and give locals a chance to meet some elite sports stars in their own backyard.
"Sport, team sport particularly, holds communities together – it's really important for fitness, for wellbeing but it's also that social network that comes from it. These sports hold people close in times that are tough," Mr Andrews told media on Friday.
"This is all down to the partnership we've been able to forge between Cricket Victoria, the league and of course the work that the Latrobe Valley Authority has done on enhanced facilities here particularly.
"Those investments we've made really are delivering not just great outcomes for the local community but bringing elite sport to the Valley as well."
Melbourne Stars chief executive Clint Cooper said the announcement was a result a strong foothold the club had developed with south-east Victoria over a number of years.
"Our players need opportunities to play on good facilities and hopefully in front of crowds so they can perform on the big stage," Mr Cooper said.
"The closeness of the venue will be something quite spectacular. If we can get 8000 to 10,000 people in here on that day, it will be one amazing event and we'll be ensuring we put on the best show for our fans.
"We obviously play at home at the MCG but what we're hoping to do down here is make this the home away from the MCG where we possibly can."
Mr Cooper said broadcasters Channel 7 and FOX were originally sceptical of taking the season game to a regional area.
"Initially it was a bit of 'Where are we going?' but since they've understood the motivations and reasons and how great this will be, they've been 100 per cent behind it," he said.
"This facility here, they have million-dollar footballers running around during the February and March period and I expect it will be the same here in December and January."
Moe Cricket Club treasurer Michael Walshe welcomed the announcement but said the club would require some assistance to help ensure the facility was up-to-scratch and ready for the big game.
"I did hear that the game at Traralgon last year they did have consultants come down and help them with the preparation of the wicket. We'll probably be doing the work – but I've never hosted one of the games before, so we'll need some help," Mr Walshe said.
Latrobe Valley Authority chief executive Karen Cain said the organisation would assist the club to ensure it had the support it required to pull off the event.
"We have events funding and we can certainly provide that but we're conscious of our volunteers and community working so I'll actually have a discussion with [the club] about it," Ms Cain said.