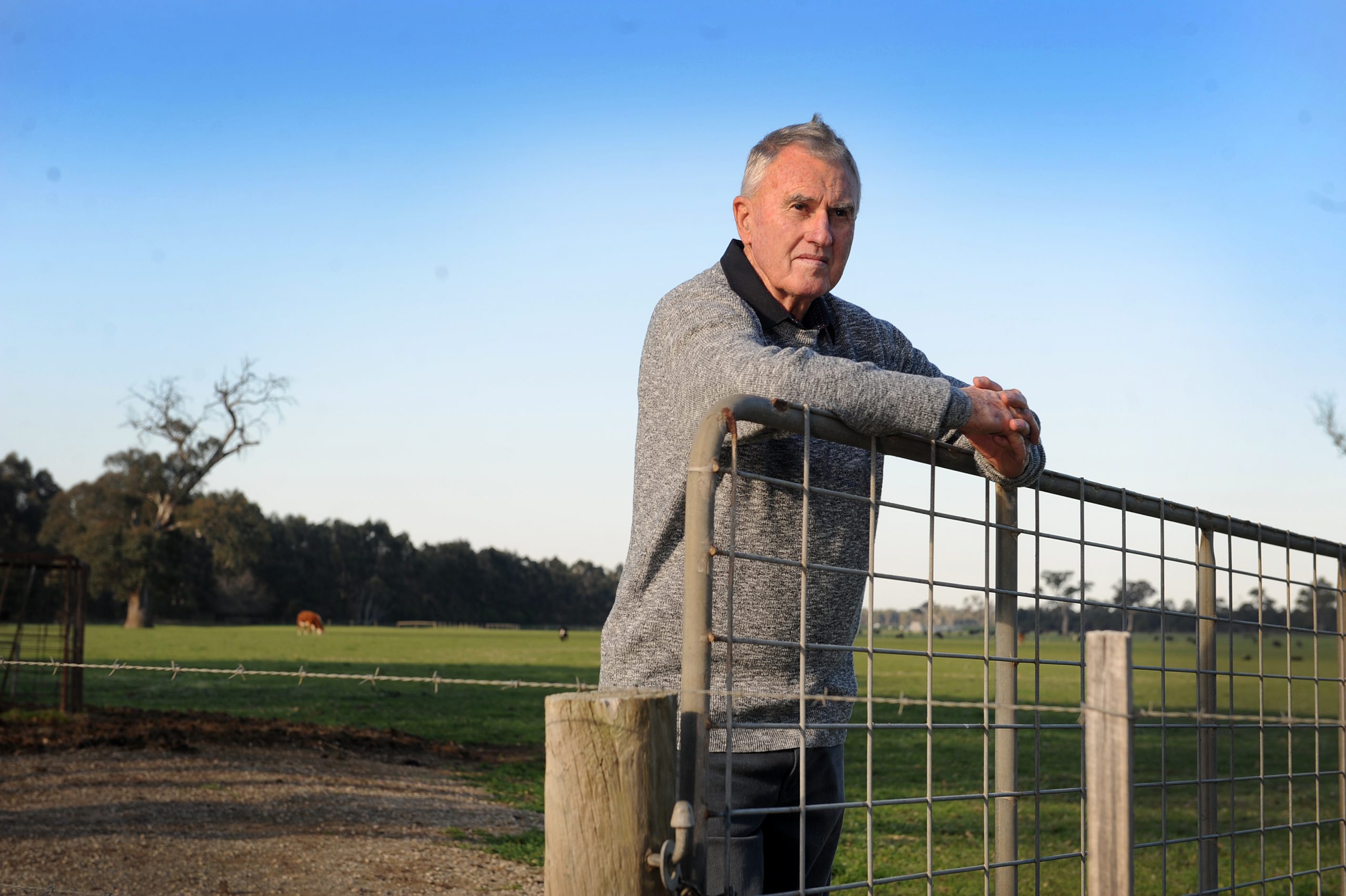 Bryce Eishold
Traralgon East residents have slammed a proposal to compulsorily acquire a section of land near Minniedale Road for a rail stabling yard, claiming a parcel of land has already been allocated for the project at an industrial site in Morwell.

Minniedale Road landowner Robert Farmer, who owns East Melrossa – a 206-acre property his grandfather bought in 1913 – felt "startled" and "taken back" when the proposed acquisition was flagged with him three weeks ago.
He's described the proposal as "sketchy" and "lacking in detail" but understands 25 acres – the width of his property on the northernmost end of his farm which runs along the rail line – could be acquired for the project.
Nearby residents said land in the Gippsland Logistics Precinct Project near Mid Valley Shopping Centre in Morwell was allocated for the project several years ago – and would be a more suitable option than developing farm land at Traralgon East.
Regional Rail Revival – the body tasked with $530 million Gippsland rail upgrade – confirmed yesterday the Minniedale Road location was one of several sites between Morwell and Traralgon East being considered for the stabling yard.

"It is a viable farm. I've got two good tank dams which I will lose during the summer period. I use all low-flow water to my stock watering points … because of the cost of water," Mr Farmer, 81, said.
"I've also got a plantation the entire length of my property which is 860-odd metres and I planted those 30 years ago for the amenity of living rurally and having some protection from railway and highway noise.

"I value them and they would certainly go under the proposal – there's 550 trees and the taller trees being blue gums would be worth standing about $800 in firewood – but I put a far greater value on them in terms of visual aspect."
Mr Farmer, who runs about 250 head of Angus and Hereford on the property, said the development would not only impact his working farm, but his lifestyle as well.
"I'm not happy about it at all. I've lived here 51 years and my intention was to be carted from here in the proverbial box and that will still occur, I realise that, but my trees will be gone and so will my farm," the father of two said.
"I don't know to what extent it will devalue the balance of the property and only time will tell that."
While the project is still in its planning stage, residents believe the land acquired could be up to 80 metres in width up Minniedale Road, and almost one kilometre in length – meaning it would extend into Mr Farmer's neighbour's property.
Latrobe City councillor Graeme Middlemiss said there was a long-term lease on the Gippsland Intermodal Freight Terminal in Morwell near Mid Valley Shopping Centre, with land already reserved for stabling facilities as part of the Gippsland rail line upgrades.
"Having listened to the residents they are concerned that a train stabling facility, and then possibly a maintenance facility, would destroy the lifestyle they have purchased in that location," Cr Middlemiss said yesterday.

"It is really up now to the government to explain in government what it has proposed because there is not enough detail for residents at the moment."
"We're currently negotiating with some companies that would like to use the site [at Morwell] for rail operations, however, the intermodal depot and train stabling could be handled simultaneously on the same site."
In a statement, Regional Rail Revival director Mark Havryluk said a preliminary assessment identified the site east of Minniedale Road and south of the rail line on Mr Farmer's property as a preferred option from a technical and operation perspective.
"But there are a number of sites under consideration," Mr Havryluk said.
"We're in the early stages of a rigorous options assessment to determine the most suitable location for the new stabling facility and we'll be engaging with the Traralgon community every step of the way.
"The new and improved Traralgon stabling facility is a critical part of the Gippsland Line Upgrade. With it, we'll be able to deliver more train services, more often for the people of Gippsland."
Regional Rail Revival is still assessing a number of sites and will host a community session on the potential sites on Wednesday, September 19, with details to be confirmed in the next week.
It said any stabling on the west side of Traralgon station would require trains to run against peak direction trains to reach the station, causing increased congestion and limiting the ability to run additional services on the line.