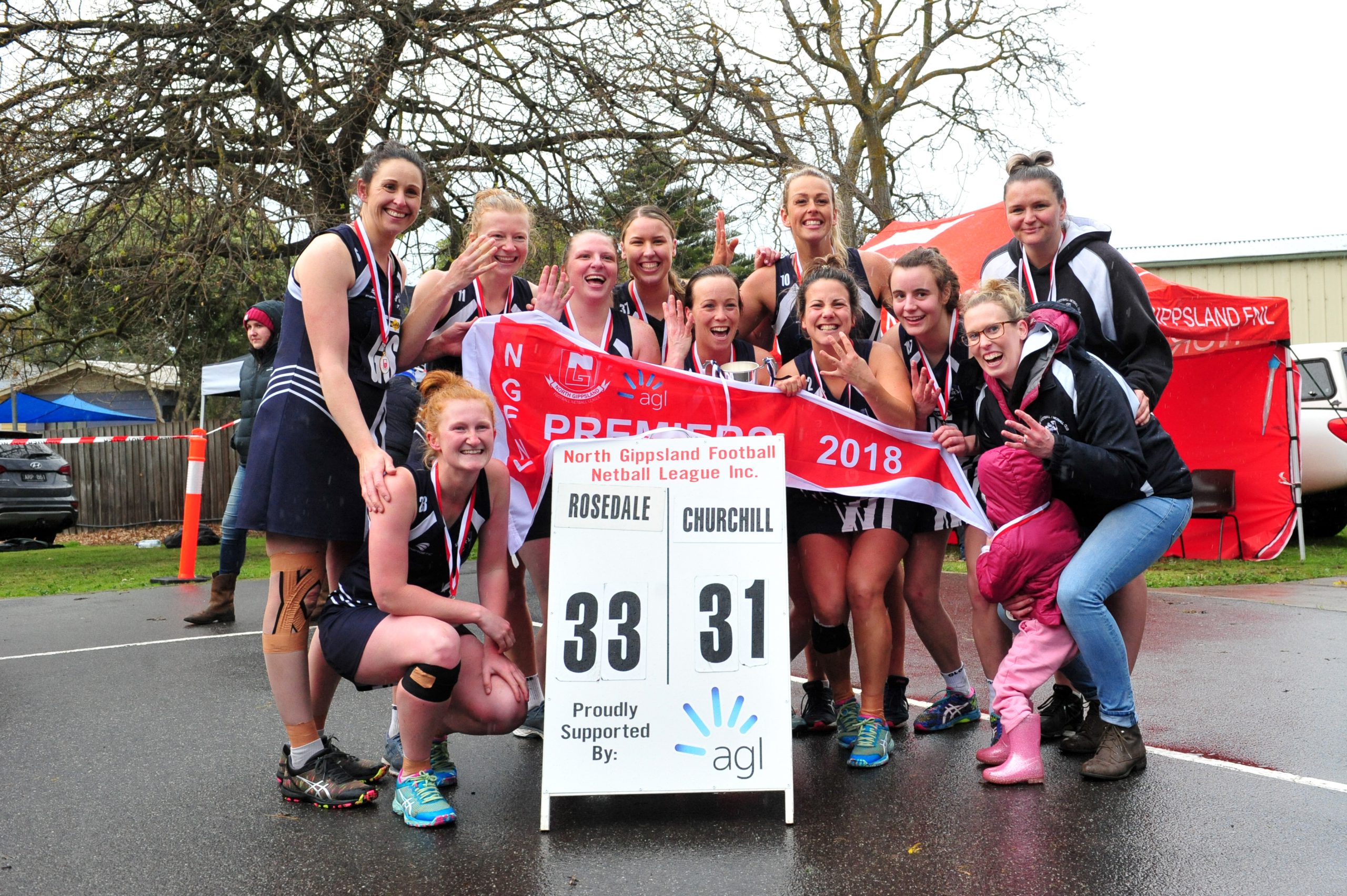 Kate Withers
NETBALL
NORTH GIPPSLAND

Rosedale have fended off Churchill in a fiery battle to take out the North Gippsland A grade netball flag and complete a near-perfect season, 33-31.
Both sides were hot in defence in the opener and it took six minutes of high pressure play before Churchill drew first blood and hit the scoreboard.
A stretch of goal-for-goal play followed, driven in the midcourt with an intense centre stand-off between league best and fairest Blue Carly Johnstone and Churchill's Rachael Loechel.
Scores were level at seven goals apiece towards the end of the first term before the Cougars shot true on the whistle to take a one-goal lead into quarter time.
They carried the momentum into the second and had teamed away to a three-goal lead by the half-way mark of the term.
With stakes high and pressure mounting, tensions flared as umpires issued two cautions in as many minutes as play became physical as players spilled on the slippery court.
The Cougars goal circle, led by shooter Kassie Meall, was on song and seemingly couldn't miss as they went into half-time with a three-goal lead.
Rosedale's defence, led by Amy Harrison, returned with a surge after the main break and began to force turnovers at every opportunity.
The Blues hit the front mid-way through the term, as coach Staci Scott started to assert herself in the goal circle and helped her side overturn the deficit to lead by one at the last change.
Churchill emerged more desperate in the fourth quarter and looked to have the upper hand, but Rosedale took full advantage of their opportunities and managed to stem a late surge to win by two goals.
Best on court was awarded to Rosedale's Amy Harrison for her stellar performance in defence.
Coach Staci Scott praised Churchill in the wake of the Blues' win.
"We've had a lot of very close games with Churchill throughout the season so we didn't think this was going to be any different," Scott said.
"It really does mean a lot to us and our girls did a fantastic job today and it's testament to the season."
She said Rosedale were "focused on intensity and maintaining that for four quarters".
"We did dip and trough but we hit the peak at the right time and I'm really, really proud of [them] all.
"I think today's standard of netball, if we can continue that across the whole league we're heading in the right direction."