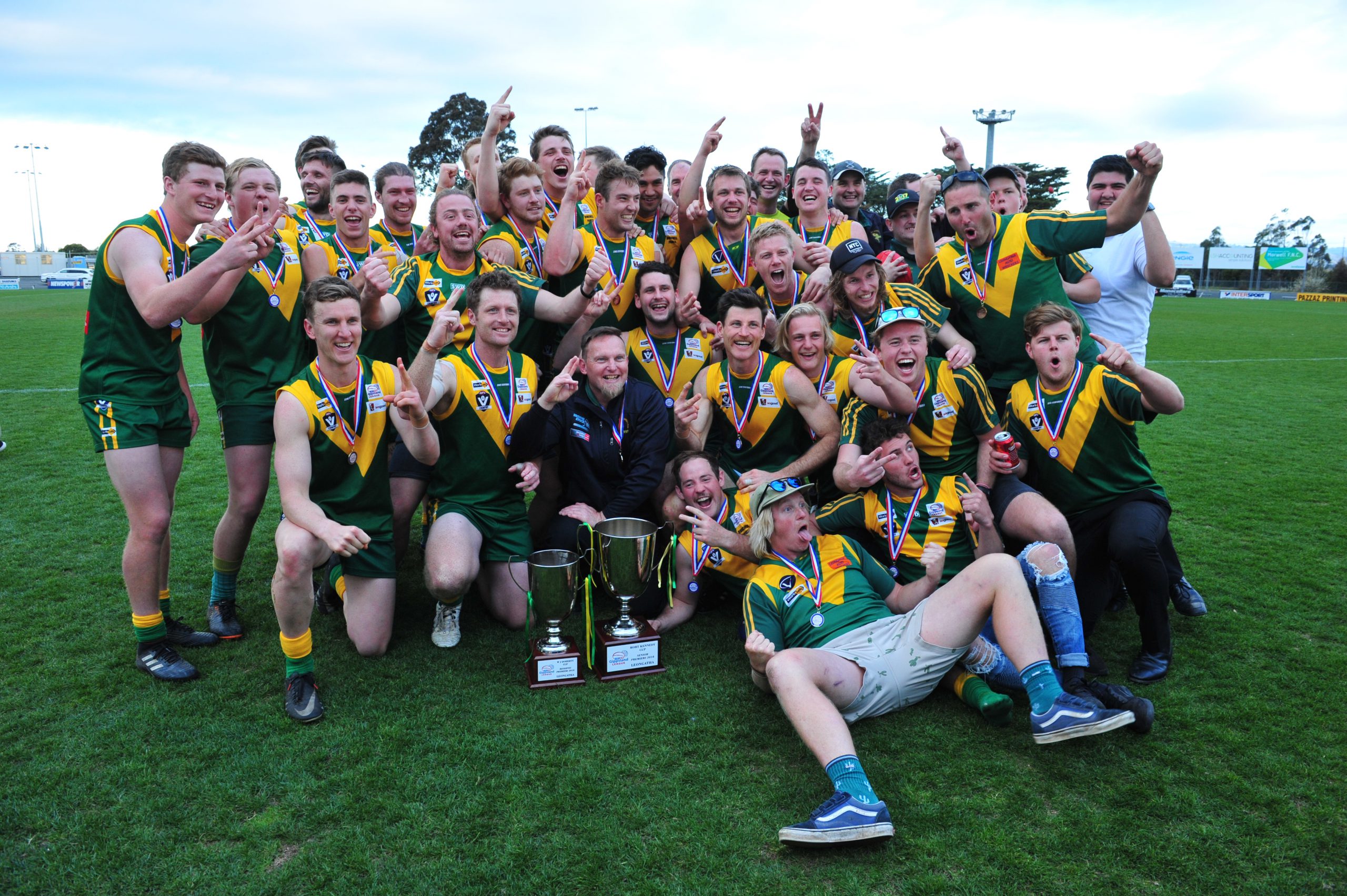 Kate Withers
FOOTBALL

Leongatha have won back-to-back Gippsland League senior premierships with victory over Maffra in the grand final for the second consecutive year on Saturday, 10.13 (73) to 10.4 (64).
With scores level at three-quarter-time, the Eagles looked like they were going to atone for last year's loss with the first two goals of the term.
But at the 18-minute mark and 15 points down, Leongatha began a late surge with a mark and goal from 45 metres out through Cade Maskell for his fifth of the day.
League best and fairest Tom Marriott followed suit soon after and mowed down Alex Carr to earn a shot on goal and put the Parrots two points up.
League leading goal-kicker Chris Dunne scored the final major of the day in fitting fashion to seal the win for Leongatha.
Coach Paul Carbis, in his first year at the helm, described the win as "unbelievable".
"I was a bit worried, especially after the AFL [on Friday] night with Richmond and I said 'right, I've got to get these boys right', because you just never know," Carbis said.
"I thought we just took a while to get going, and I don't think we ever did to be honest, not like the other week.
"When Maffra got two-and-a-half [goals] up I thought 'we can still get it going', and then late in the quarter I went 'I think we've blown it'."
Carbis said his directions to the playing group at three-quarter-time were to "keep poking the bear" and return to basics.
"Then finally we got that one goal and I thought 'that's all we needed, just that one goal', and then the boys will get going, and that's exactly what happened," he said.
"I thought we looked like we were going to open them up at stages and then they got a couple of goals, but this is what the boys have been doing all year.
"They just keep playing the game."
He said coming into Leongatha in the middle of a dynasty of sorts was made easy thanks to the co-operation of the "pretty special" playing group.
"I've coached a lot of bottom teams and you're almost carrying the load, whereas this year I was taken back by the amount of leadership in the team," he said.
"They're really coachable, and little things I've implemented they've picked up really quickly and I went 'wow, this team is pretty special', and they rebounded really quick after losses … I'm rapt for them.
"It probably shows the resolve of the group, what they did in that last quarter and the last 10 minutes to win the game. It was just super."
Cade Maskell took out the Stan Aitken Medal for best on ground and the AFL Victoria Country Medal went to Colin Sanbrook.