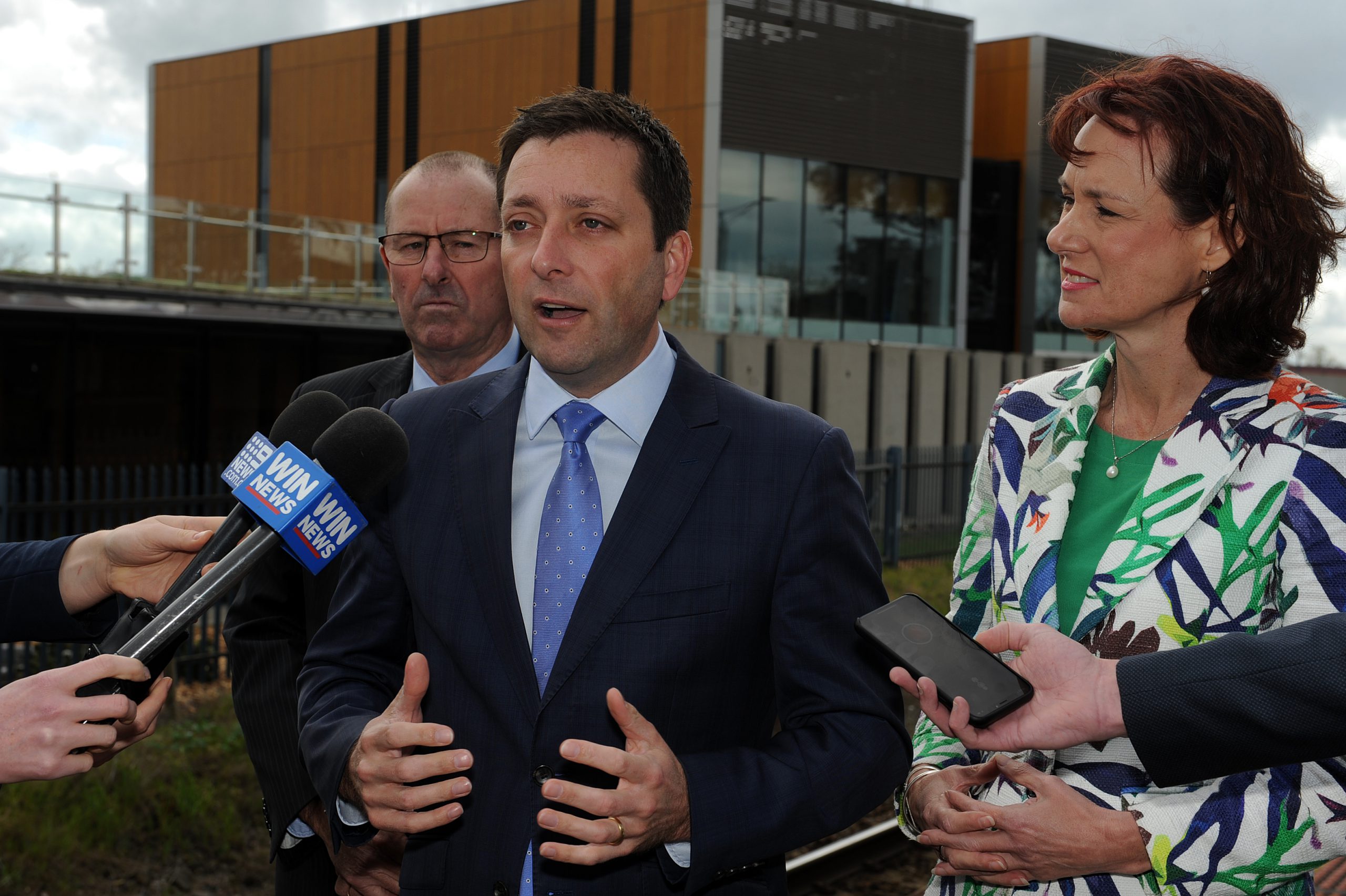 Bryce Eishold
Opposition leader Matthew Guy has pledged a high-speed rail authority office for the Latrobe Valley – creating about 130 jobs – if the Coalition wins next month's state election.

Mr Guy made the promise at Moe Railway Station on Friday, days after the Coalition announced its plans to overhaul regional rail across the state, including the introduction of "European-style" fast rail.
The office would be built in "probably Moe or Morwell", Mr Guy told media as he spruiked his plans for the Moe station, including a second platform to improve efficiency and timetabling on the troubled Gippsland line.
The announcement on Friday followed a visit from opposition public transport spokesman David Davis on Wednesday who said the $19 billion project would be a "game-changer" for Gippsland and improve opportunities for decentralisation.
The Coalition claims commuters would be able to travel from Traralgon to Melbourne in 62 minutes.
Project staff would be based at a site in either Moe or Morwell if the Coalition wins government with the Latrobe Valley becoming the base for the rollout of the Gippsland track upgrades.
Mr Guy said the project would "bring a huge number of more services to Moe because then you've got two [platforms] and rather than using a cross point … you've actually got the platforms here."
"That means you can have the trains stabled while the other comes and crosses rather than sitting out in the middle of nowhere waiting for another one," Mr Guy said.
Despite a Coalition claim trains could travel at speeds up to 200 kilometres per hour on the Gippsland line, Mr Guy admitted trains would not run at full speed along certain sections of the line due to track limitations.
"We will also commit to locating more than 130 jobs of the high-speed rail authority to be headquartered here in the Latrobe Valley," Mr Guy said.
"It's about time we had our authorities in places where they're going to benefit … rather than all being stuck in downtown Melbourne."
However, despite next month's looming election, Mr Guy would not specify his plans for the Latrobe Valley Authority – an Andrews Government initiative set up to administer the $266 million Hazelwood transition fund.
"When we get to government, if we win at November 24, we'll have a look at the Latrobe Valley Authority. We don't want to take any money out of the Valley … that's been promised here," Mr Guy said.
"We'll make sensible and reasonable suggestions about how we can make that more efficient by spending more money in the Valley and not just on outside sources."
In response, member for Eastern Victoria Harriet Shing questioned the Coalition's motives and raised concerns there would be cuts to a number of sectors.
"Not only has the Coalition already confirmed that they will gut the LVA where their own candidate [Dale Harriman] for Morwell is employed in creating "jobs for locals", many families and communities right across the Valley are also increasingly concerned that free TAFE, the hi-tech innovation precinct, the Food and Fibre Taskforce, Morwell GovHub and tech school – all created under Labor – will also be cut if the Coalition wins government in November," Ms Shing said