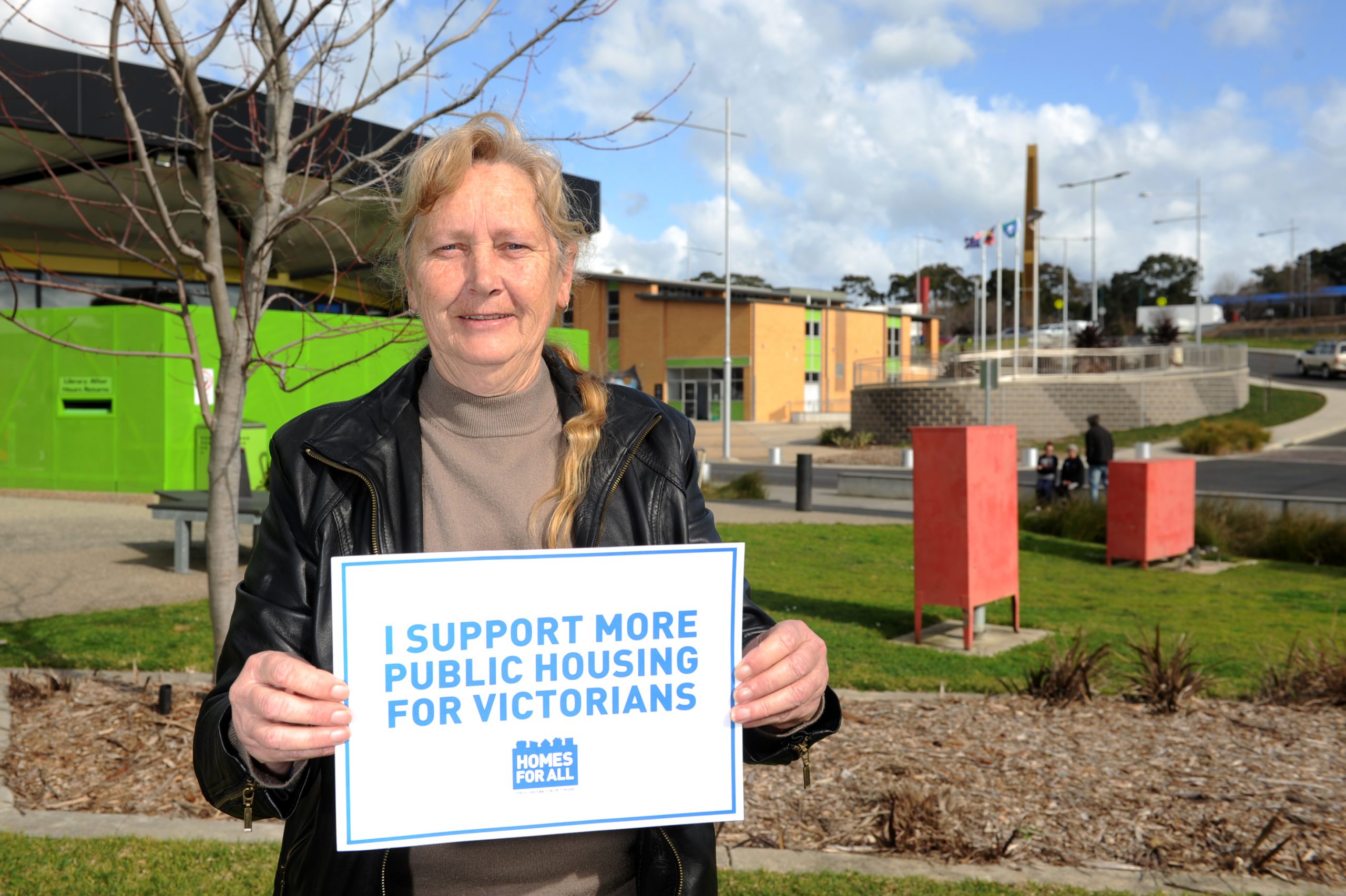 Heidi Kraak
Increased public housing in Gippsland should be an election issue, Victorian Public Tenants Association chair and Churchill resident Margaret Guthrie said.
Ms Guthrie said she had met with a number of Gippsland politicians, including member for Eastern Victoria Harriet Shing, member for Morwell Russell Northe, as well as candidates for the seat of Morwell independent Tracie Lund and Labor's Mark Richards, who all acknowledged the lack of public housing in the area was a significant issue.
"[The politicians we met with] were certainly interested in the issue, supportive, but no one had any clear promise or commitment," Ms Guthrie said.
"Harriet Shing did allude to the fact the Victorian government might be working on something, but no announcements have been made."
The Victorian Public Tenants Association has been advocating all sides of politics commit to building 2000 public housing properties per year for the next decade.
Ms Guthrie said public housing had reached a "crisis point" in Victoria, stating that the number of public houses in the state had not increased significantly in 20 years despite the growth in population.
In terms of building public housing, she said "there is no argument that we have stagnated in Victoria".
"There are lots of ordinary, low-income people that are struggling … in private rentals because that is all that is available and paying half their income and sometimes even more [on rent].
"We know research done by the Australian Housing and Urban Research Institute shows that if you provided more social and public housing, it takes the pressure off the private rental market and prices will come down, making it more affordable."
Ms Guthrie said increasing the numbers of public housing in Victoria could assist in stimulating the economy.
"I think that many people think there is a problem with a lack of affordable housing in Victoria, but it might not immediately come to people's minds to build more public housing, but it will ease the pressure on the private rental market," she said.
"If you established a building program for the next term of government or the next decade, you're actually providing job opportunities. Building housing consistently provides employment, apprenticeships and traineeships and has a flow-on effect to other sectors.
"If people have jobs, they have money in their pockets to pay bills and buy groceries. It stimulates the economy."
Ms Guthrie said public housing was also a more cost-effective way of assisting the homeless.
"Currently we spend an awful lot of money providing services to the homeless on the streets," she said.
"These support services that are currently supporting the homeless on the streets, they could be supporting people in social housing, getting better tenancy outcomes and to deal with their issues, chronic health conditions or what have you."