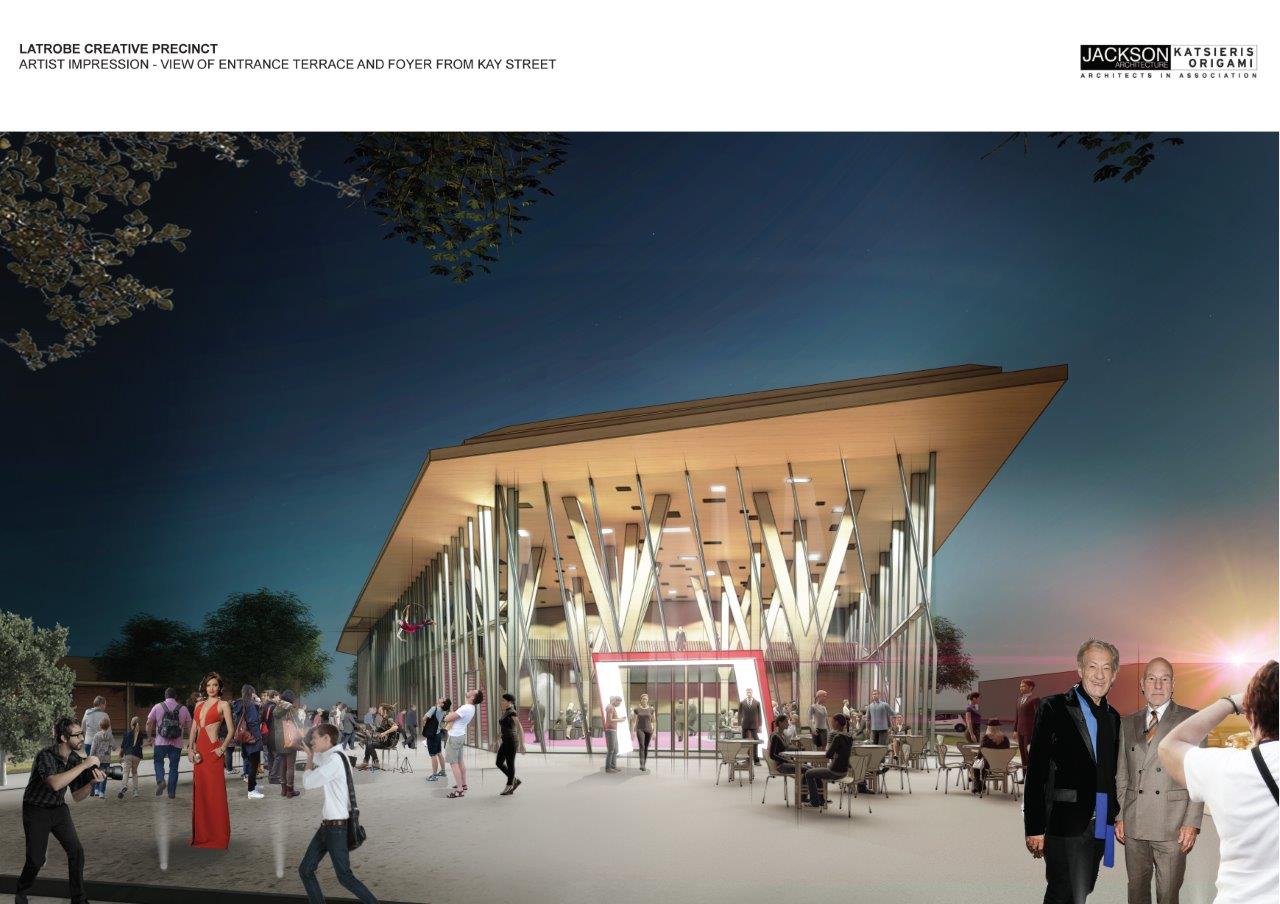 Latrobe City Council has revealed the concept design for the much-anticipated Latrobe Creative Precinct and appointed Becon Constructions as the preferred builder for the project under an early contractor involvement process.
The state and federal governments have each contributed $10 million to the new theatre complex, and council has committed $12.65 million.
The creative precinct, which will be located on the corner of Grey and Breed streets in Traralgon, will feature a 750-seat theatre, a multi-purpose studio, meeting rooms, an indoor/outdoor café and an outdoor event space.
Construction will begin in February next year and the precinct is expected to open in September 2020.
The design team also includes Jackson Architecture and Katsieris Origami.
Federal member for Gippsland Darren Chester launched the concept design in Traralgon on Friday and said council was finalising design aspects with builders.
"I know the community is keen to see building works commence, and has shown great patience to this point, but it is vitally important the council is diligent during this preparation and design phase to create a community centre that will best serve the Latrobe Valley community for decades to come," Mr Chester said.
"Importantly, council has asked that local subcontractors be used wherever possible to support local business."
Latrobe City mayor Darrell White said the delivery of the concept design made the creative precinct more than just a nebulous idea.
"[The design] is the next step in what is going to be an exciting journey towards delivering this cultural centre that will see a new 75-seat theatre, associated conference and training rooms, café and complementary outdoor spaces along with the refurbishment of the current performing arts centre," he said.
"When it is built, the new theatre will bring the corner of Church and Kay streets alive."
The concept design will be available for viewing on the council website and will be on display in the Morwell, Traralgon, Churchill and Moe service centres and libraries, as well as in the foyer of the Latrobe Performing Arts Centre.
For more information about the Latrobe Creative Precinct, visit latrobe.vic.gov.au.